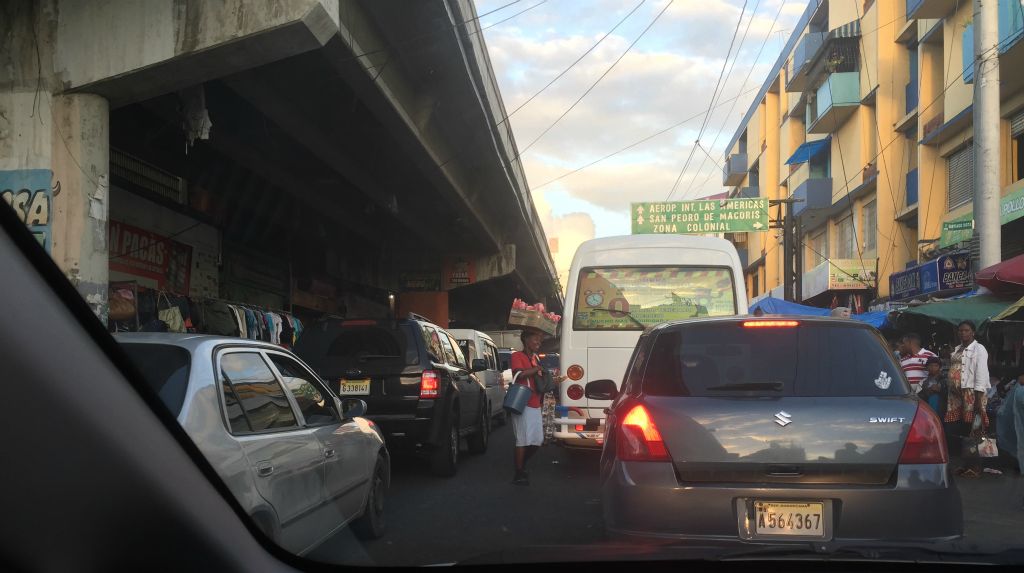 In the summer of 2016, my family rented a charming townhouse by the beach, packed our bags and took on what would be one of the most eye-opening experiences we've ever had.
Ideally, being in Punta Cana sounded very opulent, when in reality, it was everything but. From little details, such as having zero air-conditioning— as it was a luxury few could afford— to making due with the quaint 'grocery store' a few blocks away which carried the most basic food.
Punta Cana, though beautiful, didn't have much to offer. The clear blue waters that I adored to bathe in daily, and the hiking back and forth from the beach to our house— nobody has cars there, everyone has motorcycles, also known as, 'motoconchos'— eventually got tiring and so one day we decided to borrow a friend's old, busted up Toyota for the day and take the 2-hour trip to the capital.
Santo Domingo was in one word: overwhelming. With Chance the Rapper's 'All Night' blasting through the dilapidated stereo, we got lost in the mayhem that the Dominican streets are. There no such things as road lanes or even car blinkers. People would stick their fingers out their rolled down windows as makeshift blinkers. Women would walk through the throng of cars with baskets of vegetables perfectly balanced on their heads. There was no such thing as self-preservation, there was just life and the thrill of living it.
In our journey, we found ourselves in a shanty town where the poverty clawed at my heart. With glassy eyes, I watched children playing in the middle of the streets with makeshift pants that were actually tatters and yet their eyes held a sort of purity and bliss that I had yet to see back home in the States.
They were poor, yes. But they were just poor materialistically speaking, because in actuality, as I saw an old woman grasp her son's hand to move him out of the streets, I also saw wealth in other things. Things like love, happiness and the simplicity of living without malice.
If anything, they were the wealthiest people I had ever seen.
We soon found a way out of the clutter of cars, and decided to eat dinner at a tiny restaurant. The waiter was a sweet older man who took time from his waiting to tell us about the places that the island had to offer and even some heart-wrenching stories about his pals that had made it to 'alla fuera'— meaning the States— and those that didn't. Those that did, barely did due to the arduous journey the sea offered.
By nightfall, my family and I bid our farewells to the waiter, leaving him a $50 tip. I snuck a glance back as I left and saw him clutching the bill to his chest like it was the most money he'd ever seen.
We went home with a new perspective.
Dominican Republic was beautiful, yes. However, it wasn't the powdery white sands or the delectable piña coladas. It was its simplicity and its purity. The trip wasn't lavish— it was cathartic. I am beyond thankful to that little boy in the shanty town and that waiter with the knowledgeable crinkles in his smile, because thanks to them I can see the little things I am so blessed to have and others aren't. And I left that beautiful island with the thought that if I saw life for its simplicity and its thrills, instead of the materialistic things, I would one day be as undeniably blissful as that little boy.
Dear Reader: This page may contain affiliate links which may earn a commission if you click through and make a purchase. Our independent journalism is not influenced by any advertiser or commercial initiative unless it is clearly marked as sponsored content. As travel products change, please be sure to reconfirm all details and stay up to date with current events to ensure a safe and successful trip.
---