The theme of Earth Day 2023 — #investinourplanet – has prompted the Carnival Corporation cruise brands to share their investments in sustainable cruising.
Cruise lines are among many tourism companies (see our Sustainable Aviation report) that are working hard to reduce their carbon footprint. Carnival Corporation, whose nine brands make it the world's largest cruise line, just announced it is the only major cruise company producing fewer greenhouse gas emissions today than in 2011. Emissions are expected to be down by 15% in 2023 vs. 2019.
Ultimately, they have committed to using innovative solutions including technology upgrades, plus port and destination projects and more in their long-term aspiration to achieve net carbon-neutral operations.
Energy Conservation is Crucial to Sustainable Cruising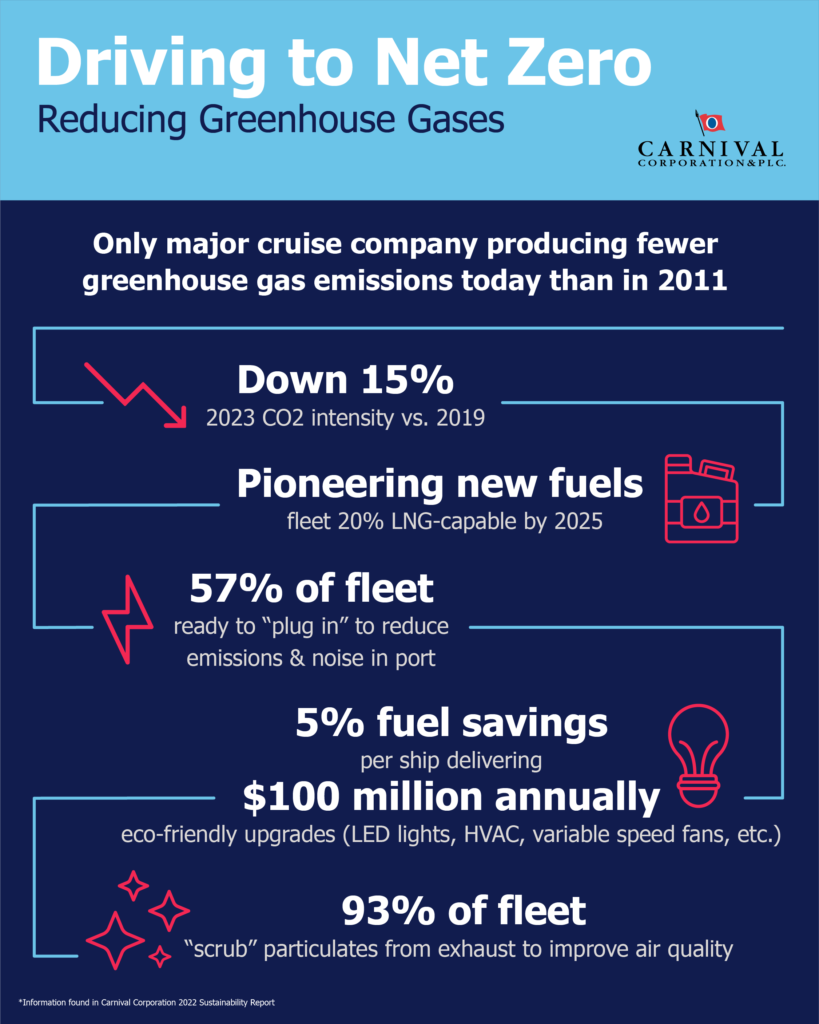 Princess Cruises,in partnership with the city of Juneau and Alaska Electric Light and Power Company, pioneered "plug in" shore power in Juneau more than 20 years ago. In two decades, this sustainable technology has expanded to a number of port cities globally including Seattle, Vancouver, San Francisco, Los Angeles, San Diego, New York and Halifax, Nova Scotia in North America.
Today, more than half the fleet including ships flying Princess, Holland America, Carnival, Costa, AIDA, P&O Cruises and Cunard flags – is capable of using shore power where available, which reduces emissions and noise in port. Setting up shore power — also known as cold ironing — can cost up to $20 million per berth reports Cruise Habit. Currently, Carnival Corporation is working with the ports of Miami, Galveston, Barcelona, Savona and Genoa to support their shore power development efforts.
Special hull paint reduces friction. New propulsion fuels help cruise ships sail more fuel-efficiently. Carnival Corporation has led the industry in the development of ships powered by liquefied natural gas (LNG). At present, Carnival Corporation has eight LNG-capable ships in service. The company continues to take delivery of LNG-powered ships, with three more due by 2025.
For example, the Arvia, a sister ship to Iona, became P&O Cruises' second LNG-powered, Excel-class ship in December 2022. Arvia boasts the latest energy-efficient technologies to improve the quality of air emissions, treat wastewater and manage food waste on board. It is one of the fleet's greenest members and among Britain's most environmentally friendly ships.
Other innovations include Advanced Air Quality Systems (AAQS) — installed on 93% of the company's fleet — which use sea water to "scrub" 99% of sulfur from the ship's exhaust.
Unseen Technologies Reduce Environmental Impact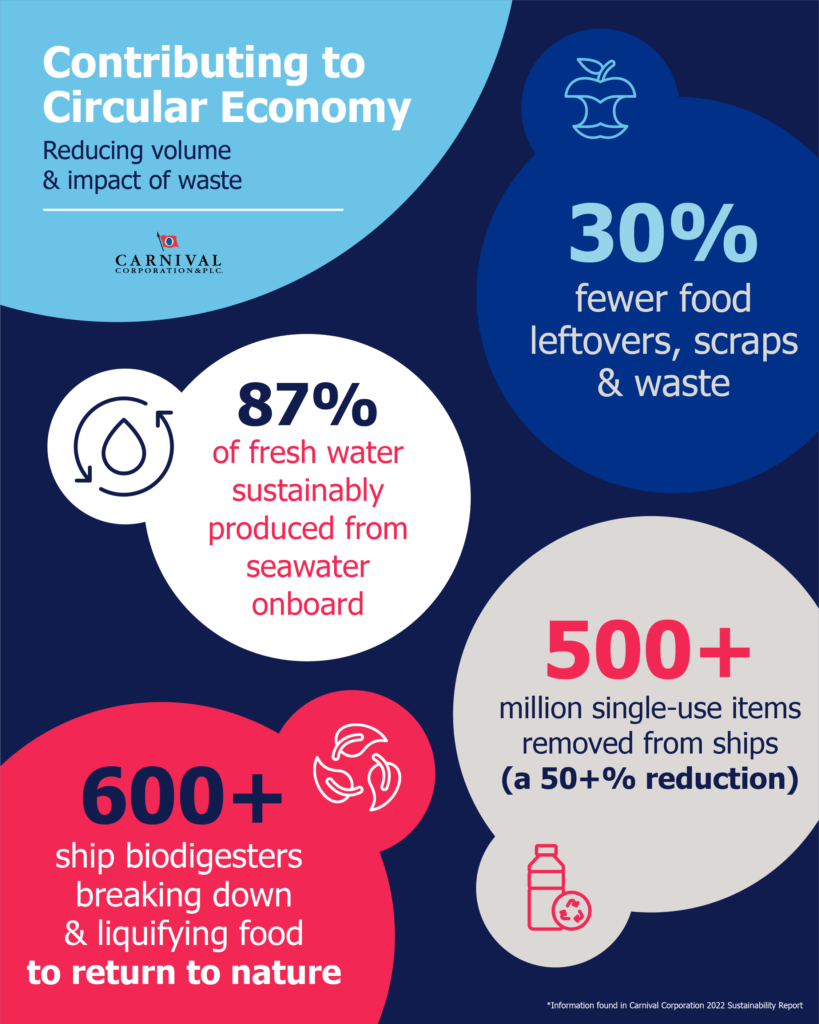 There are a lot of conservation efforts passengers may not notice. For example, Discovery Princess recycles nearly 15,000 pounds of glass, 8,800 pounds of plastic and 132 gallons of cooking oil each week.
Princess ships have the ability to make their own water through both desalinization and reverse osmosis — up to 474,000 gallons a day. Carnival Corporation reports that 87% of water aboard its ships is produced sustainably from seawater.
At Carnival Corporation, 500 million+ single use items have been removed from ships and replaced with sustainable alternatives — a big plus for sustainable cruising. Additionally, 30% fewer food leftovers, scraps and waste were produced per-passenger in 2022 vs. 2019. Programs support biodiversity and conservation, helping the communities the ships visit to maintain and improve their ecosystems. At the same time, cruise companies encourage their passengers to be more environmentally conscious.
Port communities and maritime organizations in Alaska and the Pacific Northwest work with Carnival Corporation to explore ways to reduce greenhouse emissions. They have also orchestrated multiple costal cleanups involving shipboard and shoreside employees and partners in various locations around the world. Alongside them, Carnival has planted mangroves in the Dominican Republic, generated tons of compost soil and enabled treated wastewater to be reused for landscape irrigation.
Each ship in the fleet has a full-time Environmental Officer on board whose responsibilities include monitoring environmental compliance and implementing safe environmental procedures. Seabourn Venture uses technology that is marine life friendly with low underwater noise. Across the fleets, thousands of bridge officers have received special training to protect whales.
Food Waste is a Crucial Area of Focus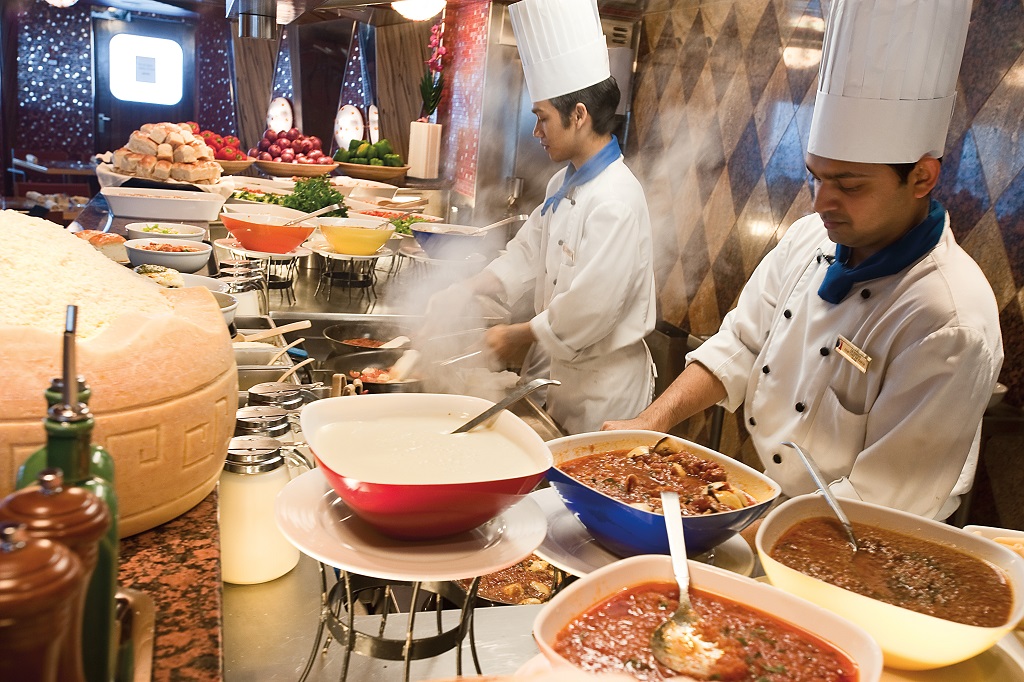 Did you know that more than seven in 10 Americans throw away food at least once a week, according to a new survey from Beko? The European home appliance company, which is introducing special light technology to keep produce fresh and vitamin-rich for up to 30 days, found that 48% of those surveyed felt guilty about food waste.
Carnival Cruise Line, recognizing the issue, has produced videos with Chief Fun Officer Shaquille O'Neal which encourage guests not to waste food.
"Thanks to the concerted dedication of our onboard food and beverage teams, we proudly
achieved and surpassed our 2022 goal to reduce food waste per person by 30%," Josh Weinstein, President, Chief Executive Officer and Chief Climate Officer of Carnival Corporation, says. The new goal of a 40% reduction by 2025 relative to the 2019 baseline is noted in Carnival Corporation & PLC's 2022 Sustainability report.
Another item guests don't see are the hundreds of biodigesters installed in ship galleys. Basically, these are mechanical stomachs that break down and liquify food to sustainably release it to nature. F&B teams monitor guest dining flow behind the scenes for real-time food preparation and batch cooking needs. Kitchens only prepare as much food as guests are likely to eat. Culinary teams are also creating delicious new recipes using leftover scraps and ingredients, like crispy skin-on potato chips that have become very popular with guests.
The Costa Toscana, among other ships in the Carnival Corporation fleet, uses food waste dehydrators. A portion of the proceeds from every dinner served in its new Archipelago restaurant are donated to the Costa Cruises Foundation to support environmental and social products.
All Hands On Deck Promote Sustainable Cruising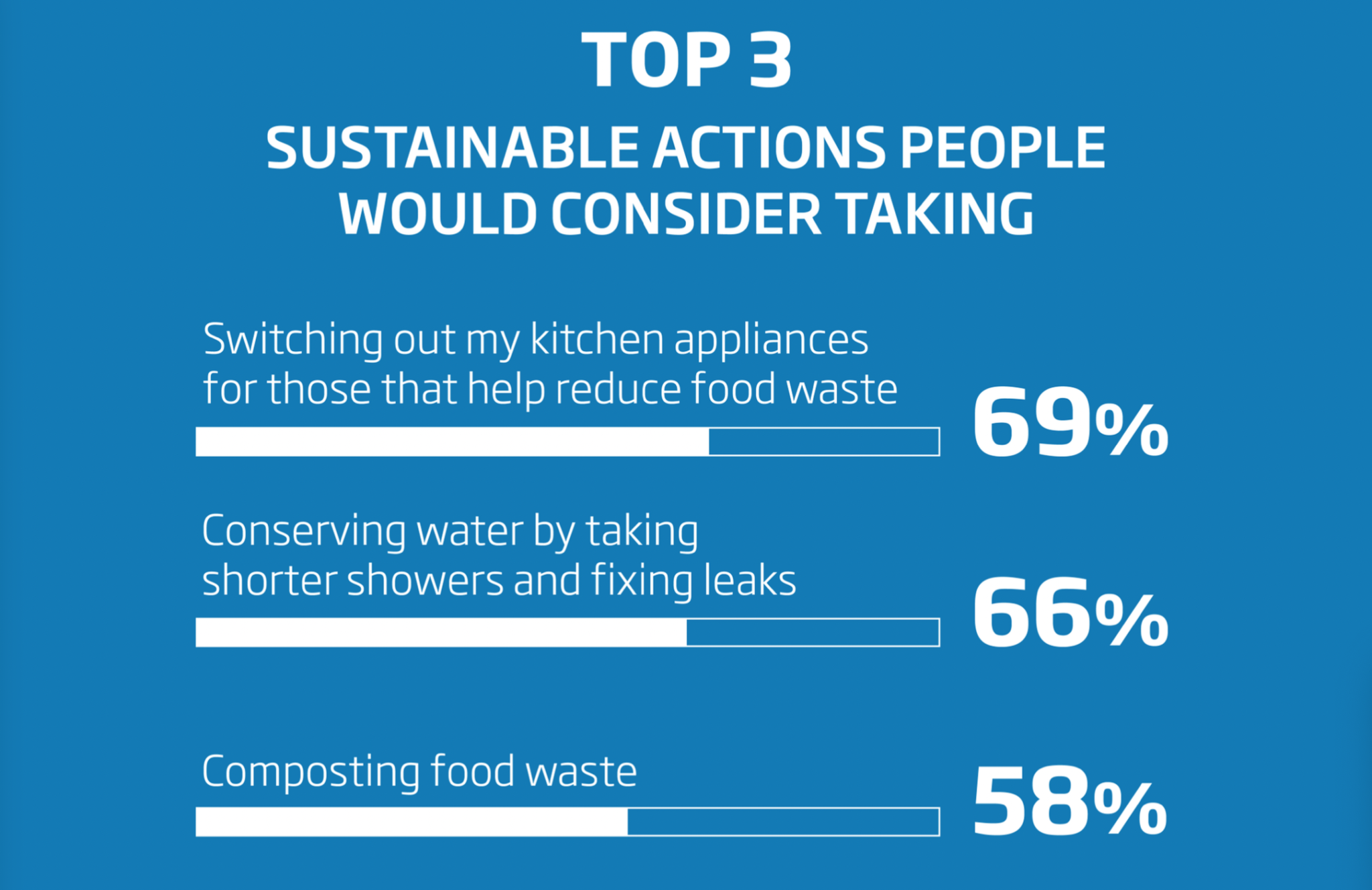 Passengers will notice other changes in onboard procedures – think reusable water bottles.
Holland America has become the first cruise line certified sustainable for Alaska Seafood by Responsible Fisheries Management. "We've pledged to buy and serve only local, sustainable, fresh seafood on Alaska voyages," Gus Antorcha, president of Holland America Line, says.
"RFM certification is a crucial step in the commitment to sustainability that we share with our guests and fishing families of Alaska."
Cruisers can be their own environmental stewards with simple efforts. Ask the kids how they feel about taking shorter showers, turning off lights, reusing towels, recycling on board and in port, and not putting more food on their plates than they can eat. Encourage the kids to select the many shore excursions that focus on conservation efforts.
How Passengers Can Contribute to Sustainable Cruising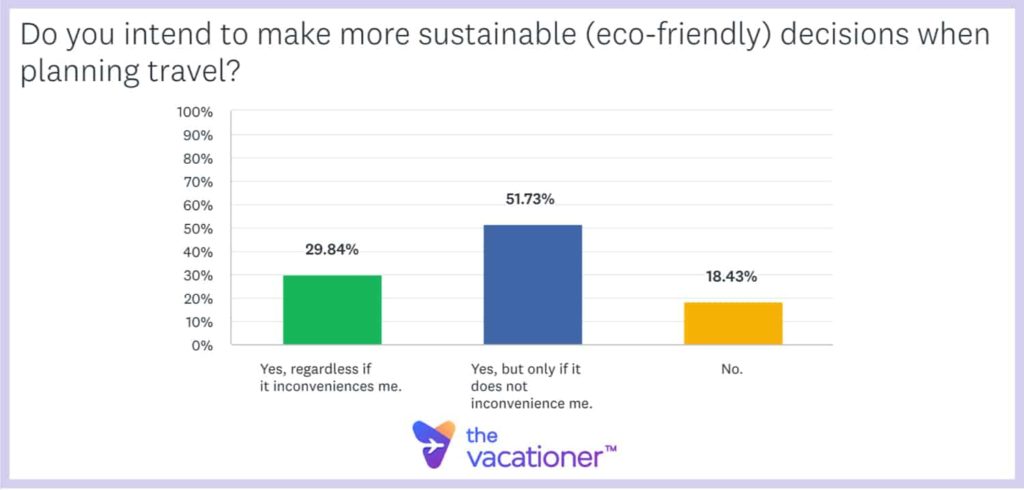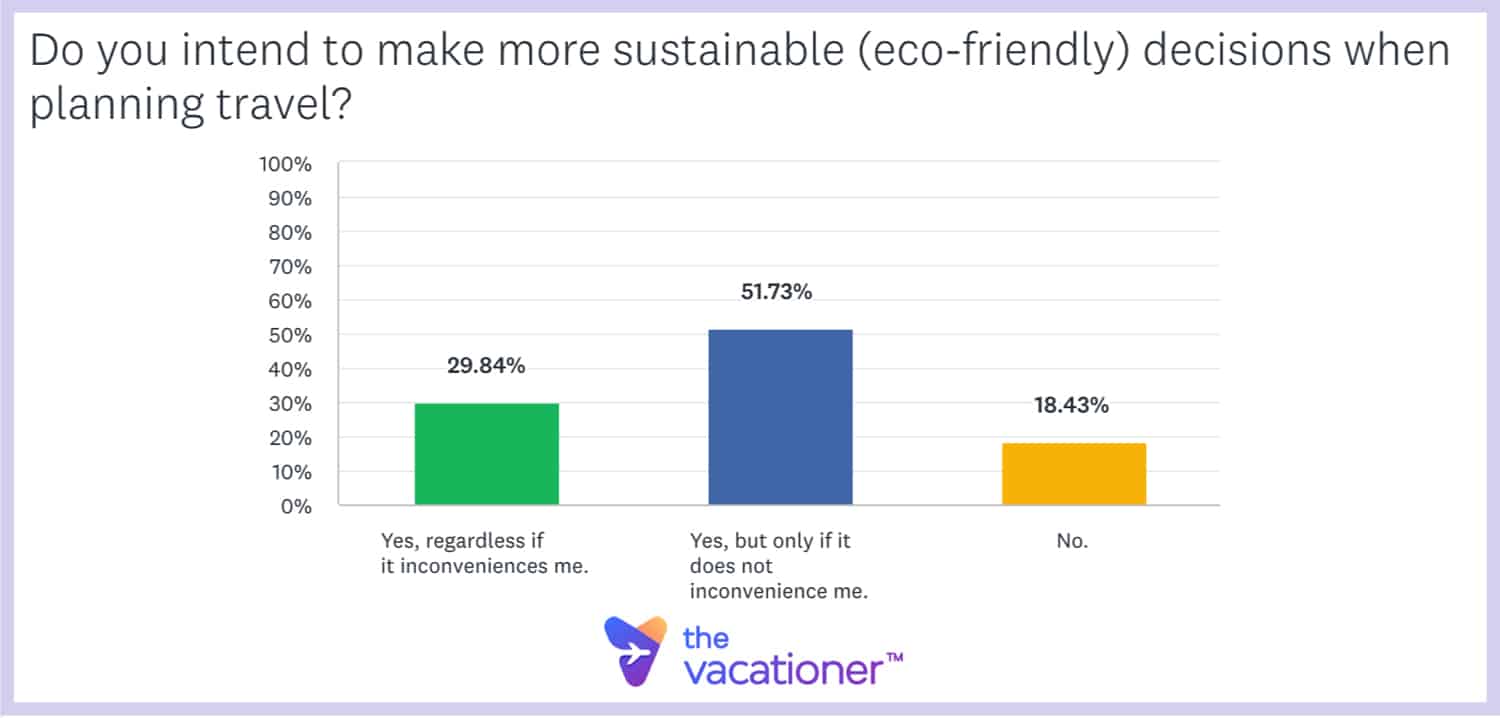 Sustainable cruising and travel are important to 225 million American adults, according to a recent survey from The Vacationer reported by AAA. More than eight in 10 vacation planners say they now make more environmentally friendly travel decisions. Nearly the same number are ready to pay more to lower the carbon footprint of their adventures.
Kids, steeped in environmental science at school and inspired by climate activists such as Greta Thunberg, are especially concerned. Involve your family in trip planning by asking them to research the environmental record of companies you are interested in purchasing from. Charge them with planning what you can all do to be better environmental stewards at your destination.
Check out Recreation.gov for ways to give back to public lands and waters in your region. They're asking volunteers at several Federal agencies to commit to removing 30 pieces of trash over the next month. The National Park Service, US Forest Service, Army Corps of Engineers, Fish and Wildlife and BLM all welcome family volunteers.
The End Plastic Pollution campaign and The Great Global Cleanup also provide opportunities to remove trash from green spaces, urban areas and waterways. Check the live map for nearby cleanups or create your own event. Work together.
You won't be alone. More than 1 billion people now participate in Earth Day activities each year, making it the largest civic observance in the world.
Happy Earth Day!
Eileen Ogintz is a national syndicated columnist, author and creator of Taking the Kids. Her family has happily traveled with several of the Carnival Corporation cruise brands who sponsored this post. Any editorial comments and opinions are her own.
Dear Reader: This page may contain affiliate links which may earn a commission if you click through and make a purchase. Our independent journalism is not influenced by any advertiser or commercial initiative unless it is clearly marked as sponsored content. As travel products change, please be sure to reconfirm all details and stay up to date with current events to ensure a safe and successful trip.
---