It's late spring, my daughter takes her last steps out of preschool, and we prepare for a future of working remote in our camper. We pack up only the necessities, throw everything else in a storage unit, and set off on one year of travel.
It feels euphoric, the dream we dreamt up over seven years ago is actually happening.
I tamp down my excitement because it might bubble over. I know I need to settle my mind. Not too much excitement, not too much fear — somewhere in the middle to fuel myself for what's to come — which to be honest, was largely unknown.
What Will Remote Work and Life Be Like?
I tried to imagine – endlessly — what it will be like.
We've taken lots of road trips as a family, tent camped with our daughter since she was only months old, traveled international a couple times… we've got this. Piece of cake, right?
While all of these thoughts are brewing, I can't forget — but I often do — that this year of travel is taking real life with it.
This Is Not Just A Road Trip Or Vacation.
The working remote, the chores, the tending to child and animals (yes, we have a dog and cat in tow), the sacrifices, are all coming with us.
The only difference is those things are happening in places we've never been, with incredible mountain views in our front yard and forests in our back yard.
Will It All Be Worth It?
As we set off, one question lingered in the air, "Will it all be worth it?'
After being on the road for over four months now, I can officially report that, yes, it is worth it.
Is Remote Work and Life Easy? Not at all.
Is it easy? Not at all.
Does it look the way it's presented on social media? Not even close.
Does the whole family love every single moment of every day? How could they? Why? Because it's still life. Some moments are scary, some are taxing, yet I don't regret any of it.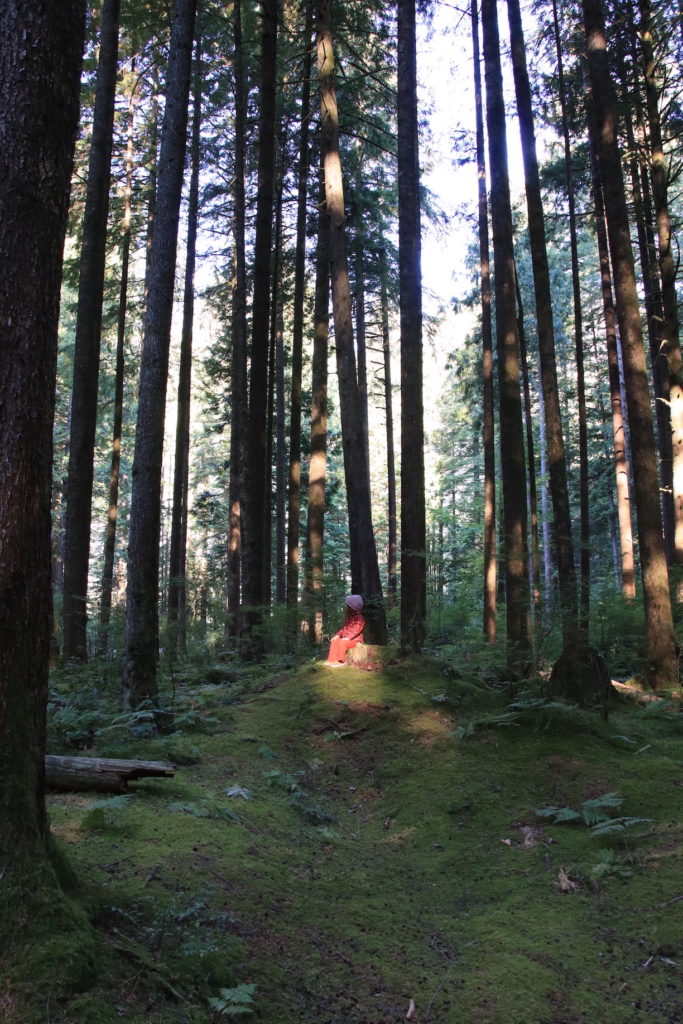 Learning To Manage My Life.
As an artist and a mama, I have learned quite a lot about how to manage my days. For this remote work life to work I had to discover how to be productive and adventurous without burning out.
In these last months I have had to weave my 3 deepest desires: my need for adventure, my passion for my work, and my love for my family.
My name is Lindsey Scot Ernst. I am a jewelry designer from the high Rockies of Colorado. My husband and I decided to build a mobile jewelry studio in our 22ft Travel Trailer and take my craft, our life, and our family on the road for a whole year.
If I've sparked your interest, or maybe this is also a dream of yours, I have some tips for you. You don't need to travel full time like us in order to put this advice to good use. Here are five things I've learned so far…
FOMO happens.
No way around it. This summer we have traveled a good distance. We made it all the way up to Jasper, Alberta and are currently in the Redwoods of the Pacific Northwest. We try to set up our travel so that we are in one area for a week at a time.
During a week, one day is a travel day, four days I work in the studio, and two days (and sometimes afternoons and evenings) we explore and play as a family. My studio is set up in the slide of our trailer, so when I am working remote my husband and daughter are either outside or out and about.
No matter how much I want to work (or need to), there are days when they are exploring, let's say in Glacier National Park hiking, and I am not joining them.
These are the Tough Days When Working Remotely.
I really want to be with them but I am not.
My husband tries to save the epic trips for me, but there are some places we visit where everything you do is going to be a cherished memory.
It is in these moments, the only thing that re-centers my focus is to remind myself of my situation. I'm in a beautiful area, doing what I love and at any moment I can walk out of my front door and take in my surroundings.
I am able to see these moments when my family is gone as motivation. They push me to use my time wisely, because every moment counts when you have a long list of ToDos for both work and play.
Learning how to manage time is more than a priority, it is the beginning of sanity.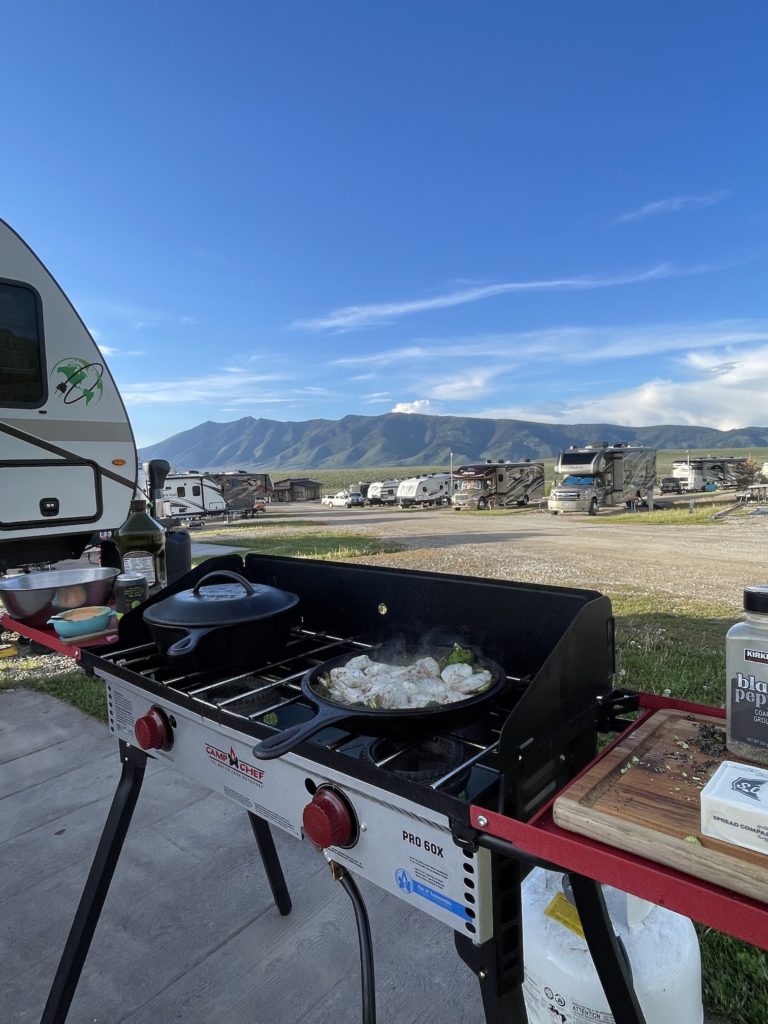 I had to find a way to harness the eagerness to get outside and be with my family and release that excitement into my work.
When our daughter was in pre-school I was able to predict my day to day routine plus my nights. I used to work nights pretty often after my daughter went to bed. Now, while I still do it sometimes (when I need to), working at night isn't as available to me as it once was. This is because my studio is in our common space and my work is not quiet. A lot of my work involves hammering and sawing metal.
With the absence of nights available, I don't always have the privilege of extra time to get ahead, catch up, or just create with no distractions. This is why having my flow and sticking to it is so important. This also brings up one of the most important factors of working on the road for us…
Traveling on the road and working on the road are two very different things.
If this has not been said yet, it should be.
Traveling on the road and working on the road are two very different things.
We are not on vacation. We live for short periods of time in many different places.
As a metalsmith and jewelry designer I have many different facets to my work, the two major ones involve fabrication and engraving, or construction and finish work. I literally have two different studios with us on the road.
At home these were all in one space, but now, due to space my studio is amorphous and changes.
Know Your Campgrounds When Working Remote
Know the differences between each campground, their facilities and how your campsite helps your work.
How it changes is dependent on what I am working on and what type of campground we are in. To work out a schedule I must know my campgrounds.
Knowing the difference between RV resorts, campgrounds (national park, national forest, state parks, etc.), and primitive camping allowed me to build proper expectations of what they provide. This was an important lesson.
As Coloradans, primitive camping — or wild camping — is what we're used to. We know and understand how to find and go to our nooks and havens in national forest — or BLM — land that is not a part of a campground.
Of course, every campground has its own unique characteristic, but similar ones fall into similar lines.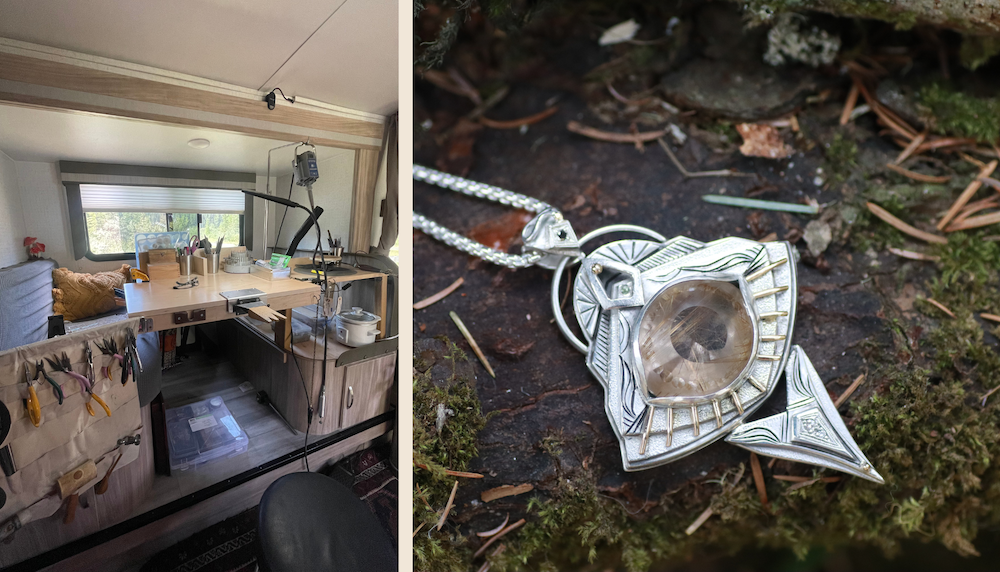 Why We Don't Like National Park Campgrounds
National Park campgrounds are not typically our favorites but we visited many of these gems and they became common characters in our trip — especially when traveling in the Canadian Rockies since we weren't familiar with their wild camping scene.
Time is important for the working traveler and being close to the areas we are exploring is vital for adventuring.
Often, national park campgrounds tend to be packed and the campsites are closer together. Many come with perks, facilities such as bathrooms and showers, playgrounds, and trails. They also have educational talks that are really fun for the whole family.
However, more often than not, these campgrounds did not have power hookups for our trailer. This means we had to manage our power consumption leading us to be very strategic about what equipment is needed i.e. my engraving studio requires an air compressor and that takes a lot of power!
Why We Do Like RV Resorts for Remote Work
Until recent years we never stayed at an RV Resort. They are a different style of camping altogether than what we're familiar with and in truth, they took some getting used to. Now though, a quality RV Resort is a pleasant layover for us.
Where you may lose on being fully engrossed in nature, the upsides are undeniable. Guaranteeing electricity, water, wifi, and laundry facilities allows relaxation in the world of managing batteries, resource control, and dirty clothes. Most of the ones we stayed at had playgrounds and nice walking trails.
Though sites are typically close together, the amenities make up for it.
To give you an idea of how we utilize RV Resorts, we stayed at them in between portions of longer travel, taking advantage of the Resort portion of their label.
Favorite Yellowstone and Glacier National Park RV Resorts
For example, we stayed at Red Rocks RV Resort when we arrived to Yellowstone National Park. They are located only 20 minutes from the west entrance and have really nice facilities. There was a great camp store on site which had a couple of things we were happily surprised to find.
Pacific Northwest RV Resorts
Another resort we used near a National Park was Polson KOA Resort near Glacier National Park, and it was beautiful. They had a full outdoor lounge set and fire pit which invited us to soak in their gorgeous views of Flathead Lake. Polson was just a short drive away and has a really cute downtown with dining and shopping.
Traveling in a trailer isn't all about nature, we love visiting cities too and went to visit Astoria, Oregon. When we did so, having the peace of mind of hookups allowed us to keep the animals in the trailer with temperature control. That beats bringing them with us when the weather is hot.
Staying at Thousand Trails in Long Beach allowed us to visit the southern end of Washington and have a much welcomed day and dinner out.
As a foil, when we stayed in a Provincial Park outside of Vancouver we took our dog Dante with us into Vancouver, BC, and though we had a great time, it is nice not needing to find outdoor patios which allow dogs. Dante also loved the beach at Thousand Trails.
Feeling At Home At Divided Creek Campground
One place we came to love wasDivided Creek Campground just outside of the East Glacier National Park entrance (literally a 7 minute drive). They are a mom-and-pop style campground that sat on the Saint Mary's River and welcomes RV's and tent campers alike.
Their style was more primitive — no hook ups — but had amazing open air showers, campsites on the river with a nature trail to the river for the rest, beautiful tent and RV campsites. Plus they were the kindest people we've met. They made us feel at home — so much that we stayed there for 9 days, one of our longest stays yet.
So it goes without saying, we highly recommend Divide Creek Campground.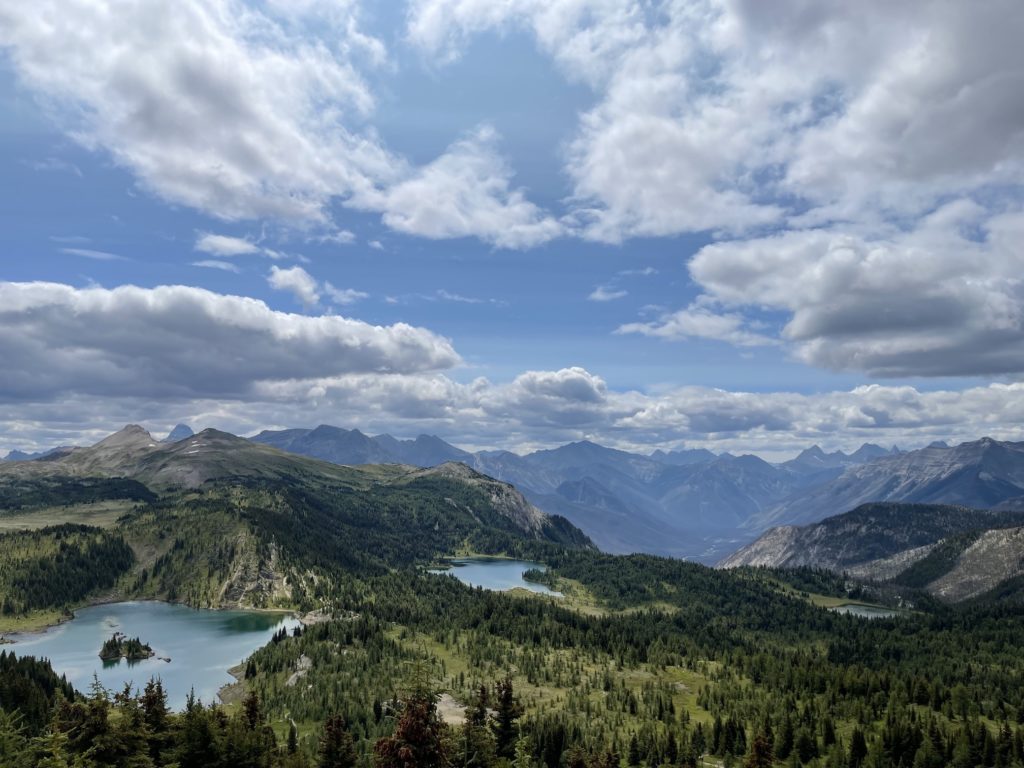 Even Traveling Families And Remote Workers Need Vacation Days.
Part of the challenge of having my studio in the trailer is that my home and my work space are the same. Work can get tough and, to not get overwhelmed, taking time away from our campsite is needed.
We live in Colorado and love skiing and a couple times in our trip we wanted to check out places for future trips.
Banff Sunshine Village inBanffNational Park, became one mini getaway for us. During the winter they are a ski resort but during the summer, they are a refuge for families like ours — we were able to take a long (20 minutes!) scenic gondola ride up to the base of Mt. Standish. From there we hiked we took a chair lift to Sunshine Meadows and took in the breathtaking views of the continental divide overlooking both British Columbia and Alberta.
Seeing the difference in climate so starkly in one view was very cool. After the hike we ate at Trappers, an old ski cabin turned restaurant. You can feel it's history. Plus the food was delicious!
Vacay days, void of work, without schedule, nowhere to be but with each other are so refreshing.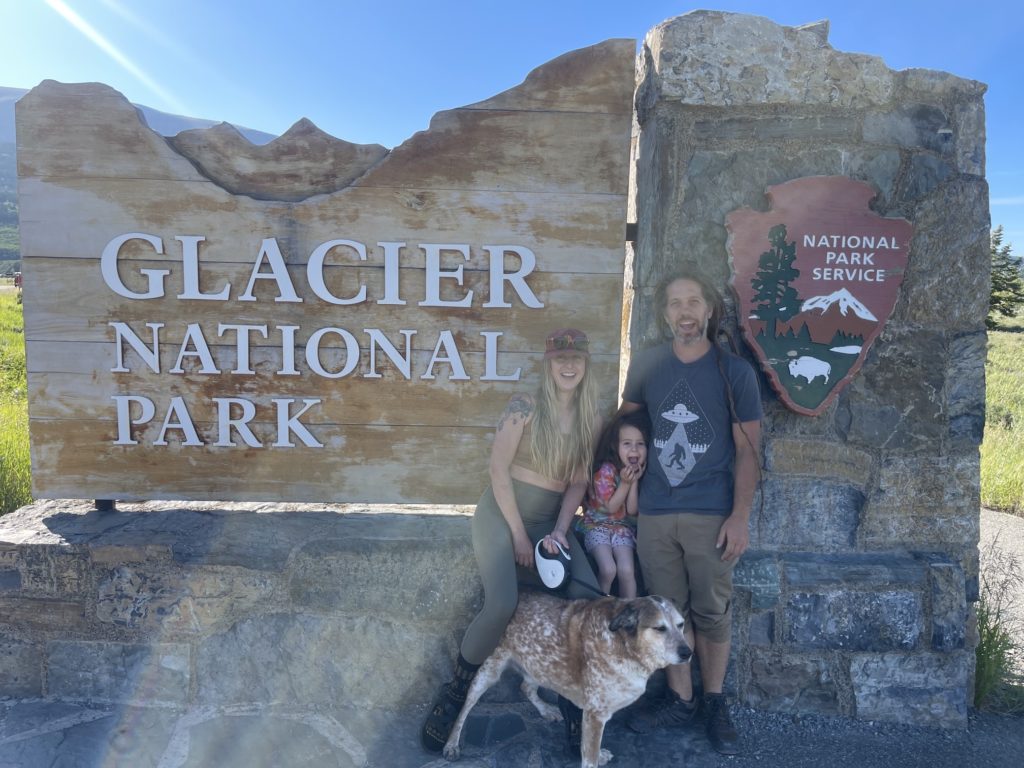 The Realization: Dreams take time.
I can with certainty say our choice to travel for a year has been totally worth it.
If traveling long term is something you're also interested in, just know that it takes time and that time looks different to everyone. My husband and I knew we wanted to do this long before it became the thing to do. Long before the pandemic, before social media created #vanlife and before we even had our daughter.
We looked at our first trailer in 2016 and kept it in our mind's eye. Over time, what was a nebulous conversation began to materialize.
In 2019 we had our daughter, we purchased our truck in 2020, we then purchased our travel trailer, a 22-foot 2022 Winnebago Micro Minnie FLX in 2022.
Finally, in June 2023 we set tire to pavement!
Instant gratification was not our mindset.
We've worked really hard to achieve our travel dream. We were patient and took our time, planned our working remote, made realistic goals, and after seven years, we are exploring our bucket list.
We love sharing our story and we love answering your questions. If I've given you a spark of inspiration and you'd like to know even more, please do not hesitate to reach out. to us via our Instagram @lindsey.scot.ernst or @familytravelforum. We'd love to hear from you.
This blog post by jeweler, artist and mom Lindsey Scot Ernst is sponsored by GoRVing and the wisdom shared here is soley her own. You can find her story and the work she's creating on the road on Instagram.com/lindsey.scot.ernst/ and Facebook.com/lindseyscoternst.
Dear Reader: This page may contain affiliate links which may earn a commission if you click through and make a purchase. Our independent journalism is not influenced by any advertiser or commercial initiative unless it is clearly marked as sponsored content. As travel products change, please be sure to reconfirm all details and stay up to date with current events to ensure a safe and successful trip.
---