We love signs that spring is on its way and with it – spring break -- one of the easiest and best value vacations families can plan. Tucked between the pricey winter holidays and the crowded summer high season, vacations between February and April are often easier on your budget, too.
Read on for our pick of the best spring break experiences, chosen with the experts at Taking the Kids and guaranteed to please, whatever your budget or appetite for adventure.
And, for more ideas for memorable family vacations in the US and Mexico during every season of the year, here is how to receive a complimentary download of our e-book, America's Most Popular Family Vacations, with a special savings offer from Diamond Resorts International.
Spring Break Beach & Watersports Getaways
More than 42% of U.S. travelers plan an annual beach vacation and, for students, spring break is the best time to take it. Before you picture a flash mob in bikinis, we can recommend some wonderful resorts in great beach destinations where spring break will be all about you and the kids.

Instructors at Clearwater Beach's Pier 60 Sugar Sand Festival demonstrate how to make a sand sculpture like the professionals. Photo courtesy Visit Clearwater
For example, consider Clearwater Beach, Florida, whose sunny skies, warmer temperatures and sugar white sands earned it a "Top 25 US Beaches" by Trip Advisors Traveler's Choice Award. Stroll through over 21,000 square feet of sand masterpieces created by professional sand sculptors during Pier 60's Sugar Sand Festival from April 14-23; head out to Spectrum Field to take in a Phillies Spring Training Game between February 28 and April 2; enjoy the smooth sounds of the Clearwater Sea Blues Festival in Coachman Park from February 18-19, and enjoy beautiful sunsets every evening. With the opening of the Wyndham Grand Clearwater Beach, Opal Sands Resort and Fairfield Inn, Clearwater Beach continues to offer a wide-range of accommodation choices including a host of eclectic boutique motels along the beach.
Pack wet suits for the kids if you're headed to Mission Bay in San Diego, a popular beach area for surfing and sun with several resort hotels. After you pack up your beach umbrella, head to California's world-famous San Diego Zoo, home to three rare panda bears, where there is an add-on option to enter the zoo before opening to experience an Early Morning Visit with Pandas while they eat breakfast. Another two-hour add-on takes you behind the scenes to learn how the zookeepers care for the animals. From March 14-19, Petco Park hosts the second round of the World Baseball Classic, when professional teams from 16 nations compete in six games. Check out the Kid's Guide to San Diego (Kid's Guides Series)
for more great ideas.
Alternatively, spend spring break in Montego Bay and you will be in the heart of Jamaica's second largest city, near the island's famous beaches and attractions such as Dunn's River Falls. This is the gateway to family-favorite all-inclusive and luxury resorts, with spring packages at all price points.

You don't even have to leave your family suite to go to the pool at the beautiful Generations Riviera Maya Resort, by Karisma in Mexico. Photo courtesy Karisma Hotels & Resorts
This spring, it's easy for parents to include the whole family at Generations Riviera Maya, by Karisma because of its full service suites and easy elevator access to all facilities. A luxurious all-inclusive, the beachfront Generations Riviera Maya has oversized one, two and three-bedroom suites, six restaurants and bars catering to all tastes, and activities for kids and teens. That means plenty of fun for kids and time for adults to catch up with each other, too. For 2017, Generations Riviera Maya is welcoming grandparents to stay free in a three-bedroom suite when traveling with the whole family. Visit the website for more info about springtime rates at their other resorts.
Tip: Call ahead to the beach resort you're interested in and make sure they're not hosting a coed party week during your stay unless, of course, that's what you're looking for.
Spring Cruises for Kids, Teens, Couples and Grands
Cruises are always a good bet for relaxing reunions because meals and accommodations are pre-arranged and paid for, and there's no worrying about getting to the next destination. If grandparents are along, the supervised programs for infants, tots, kids and teens – not to mention the scheduled bridge games – keep everyone in the family busy.

Carnival has developed the high-tech Ocean Medallion system to make cruising more fun and personalized, at sea or on land. Photo courtesy Carnival Corporation
What's new in cruising is technological innovation, as Carnival announces OCEAN (One Cruise Experience Access Network) an experiential computing device, sure to please your family's techies. The 1.8 oz. Ocean Medallion disc unites smartwatch technology, concierge services, and machine learning to personalize each traveler's cruise experience. The free medallion interacts with thousands of sensors, kiosks and smart devices throughout the ships and ports to speed up embarkation and disembarkation, open staterooms as guests approach the door, and help to locate friends and family around the ship. OCEAN will debut in November, 2017 and Princess will be the first of the 10 Carnival Corporation brands to feature the program.
Explore more itinerary options in our Family Cruise Section, where you'll find reviews of the major cruise lines and their family offerings.
Tip: Expert advice is crucial to success. Contact a travel agent who is a cruise expert by looking at Cruising.org, the website of the cruise industry's trade association, or ASTA, the professional travel agents association, for cruise specialists near you.
Spring Festivals & Cultural Events
According to Family Travel Forum's 2016 Teen Travel Trends Report, compiled with data from the annual FTF Teen Travel Writing Scholarship, teens are looking for meaningful experiences on vacation. Whether your family is passionate about history, Legos, museums, multimedia events or Mardi Gras, these upcoming events will enhance your spring vacation.
The increased interest in cultural exploration is surely a trend that will boost visitation to Montreal as it celebrates its 375th birthday. The largest city in Quebec will feature many free or low-cost events such as Les Hivernales, celebrating winter in the parks with snowshoeing, curling, winter biking, ziplining, dog-sledding; and an outdoor hockey tournament from January 6 to March 11. In May, the beautiful Jacques Cartier Bridge will be illuminated and the Royal de Luxe street theater company will perform "Walk of Giants" on the city streets. Montréal AVUDO will bring free multimedia shows to the Old Port nightly in summer, along with dozens of concerts, arts events and museum exhibits.
Whatever your family vacation plans are, the state of Florida has something going on to interest the entire group. This spring, Florida is home to a variety of events and festivals, including the Florida Strawberry Festival in Plant City, March 2-12; LeMoyne Chain of Parks Art Festival in Tallahassee, April 16 and 17; Nature Connects Art with LEGO Bricks event running now through May 6 at McKee Botanical Garden; and International Museum Day on May 20 at the Ponce de Leon Inlet Lighthouse.
When you think "Mardi Gras," you probably are not thinking Biloxi, Mississippi, right? In addition to their family-friendly Mardi Gras celebrations taking place January 22-February 28, this down home and down-to-earth city on the Gulf of Mexico offers budget-friendly indoor and outdoor attractions (including casinos) and an interesting memorial to victims of Hurricane Katrina.
If you have always fancied showing your kids the sights of London, now may be a very good time for your wallet. Bring the family during the U.K.'s weeklong mid-term school break in mid-February, and take advantage of extra programming for kids at already free museums. Celebrate a green St. Patrick's Day March 17-19, and watch the public gardens at Kew burst into bloom. Use the Brexit break to find deals at posh, five-star hotels like The Athenaeum, with 144 rooms and suites, plus 18 connected Victorian residences each fully serviced by hotel staff. We love these for families, because of their spacious living areas and D-I-Y kitchens (moms: there's 24-hour room service from Galvin at the Athenaeum, their highly regarded new restaurant). Rooms begin at US$455 per night with 33% off for second rooms and 15% off for five or more nights. Or go spartan, at the Premier Inn London Angel Islington, in one of our favorite hip yet central neighborhoods, where a family room costs US$176 for a mid-March stay. Take that money you saved on the exchange rate and plan a trip to the Harry Potter Studio Tour outside of London.
Spring is The Netherlands' favorite season, the time when tulips burst into bloom at Keukenhof Gardens and visitors can catch the latest museum shows. Families with younger children will love the Innovation Gallery at the new NeMo Museum for science, and the viewing booths at the Eye Film Museum (open till 10pm nightly) whose ship-like architecture stands out on the harbor. Among the many Amsterdam attractions for families is the small Hermitage Amsterdam, where traveling shows from the extraordinary palace museum in Moscow can be paired with a delicious lunch in the pretty outdoor garden.
Tip: With the British Pound Sterling continuing to drop in value as details of the U.K.'s Brexit plan are announced, London is almost a bargain, and foreign currencies are in flux in relation to the U.S. dollar.
Short City Breaks In Spring
If you research carefully, you'll find the weeks before and after Presidents Day or Easter can bring big hotel savings in major cities. That makes spring the time for an urban getaway packed with culture and shopping, and you can fit in some campus touring while you're there.
Washington, DC boasts some of the nation's finest museums and annual festivals, totally free. It's also a great base to explore programs at the 20 colleges and universities in the area. Learn about our cultural ties to Japan during the National Cherry Blossom Festival which runs March 20-April 16 and includes a special Blossom Kite Festival on April 1. During May's international Passport DC event, 70 embassies will open their doors and present a cultural exchange to visitors of all ages. They also host an International Children's Festival and a China-inspired Dragon Boat Festival on the Potomac on May 21-22. Don't forget that the tips in Eileen Ogintz' "Kids Guide to Washington DC" will help kids lead the way.
Grandparents and Boomers will lead a multigenerational charge to San Francisco, a city celebrating the 50thanniversary of the colorful Summer of Love in 2017. The nearly 100,000 young people who converged on the Haight-Ashbury neighborhood in 1967 to share their love, music, psychedelic art, fashion style, and communal spirit began a movement that still resonates. Plan your visit around the full year's worth of museum shows, concerts, historical exhibits and special hotel packages in San Francisco, Berkeley and Oakland to keep free spirits alive.
UC Berkeley, the gem in California's higher education system, gives free, 90-minute general tours as well as tours customized to students' unique interests. Since the university is connected by public transportation to San Francisco, and is at the heart of this small city packed with culture, arts, sports teams and more, you can see quite a lot from the public bike path through the center of campus. Berkeley hotel rates are generally much lower than in nearby San Francisco and, for added insight and local flavor, you can book a Gourmet Ghetto Food Tour.
As we get into March and the Easter break, Chicago's Grant Park warms up with sights of spring. At the 360 Chicago observatory atop the 1,000 foot-tall John Hancock Building, the brave ones in your group can try "Tilt," a glass chamber that leans out over the skyline to create the feeling of floating over the view. Among other Chicago family attractions is the similarly terrifying "The Ledge" -- an enclosed platforms at the Willis Tower Skydeck observatory where you can look straight down. Inclement weather? The Chicago Art Institute, where kids 14 and under enter free, has several spring shows opening in February, including a study of the famous portrait, "Whistler's Mother" and other works by the artist. Last but not least, don't forget to take in a ball game with the World Champion Chicago Cubs at Wrigley Field.

Cities and colleges come in all shapes and sizes; even the tiny state of Vermont has 24 institutions of higher learning to choose from. We love funky Burlington, a fun student town that has been feeling the Bern for generations. In addition to being able to ski at Middlebury Snow Bowl and tour that campus, the Consortium of Vermont Colleges provides school information about regional colleges and universities, plus itineraries to help you find the best options for your children.
Tip: Remember that children get a better feel from a campus tour when school is in session, so plan your travel dates carefully.
Get Active Outdoors: Recreation In The Spring

Playing in the mud on the Colorado River rafting trip through Canyonlands National Park. Photo courtesy O.A.R.S. Adventures
There's no time like spring to take a ride down a wild and scenic river on an all-inclusive family vacation with the rafting and adventure experts at O.A.R.S. Since 1969, O.A.R.S. has offered VIP access to our country's most cherished landscapes with top-notch guides, delicious meals and comfortable accommodations. More than 10,000 families have trusted O.A.R.S. with what they call " "the best family vacation ever!" whether they went whitewater rafting at the Grand Canyon or standup paddleboarding, sea kayaked in Grand Teton National Park or hiked at Macchu Picchu. Request your free copy of the 2017 O.A.R.S. Family Adventures Catalog today.
Henry David Thoreau who wrote "In wildness is the preservation of the world" would certainly have been a frequent visitor to our treasures, the National Parks. This year, thanks to the government's Every Kid in the Park program, 4th graders and their families can visit all national parks, lands and waters for free. Order your parks pass, and start planning at their website, which notes that Amtrak is giving a 75% discount to all 4thgraders traveling with adults as part of the effort to reach 500,000 children this year.
Similarly, Canada is sharing in the celebration the 150th anniversary of its confederation, by offering a free pass to all Canadian national parks, historic sites and marine conservation areas throughout 2017 Thanks, Canada, and Happy Birthday.
If sports rule in your household, this is the time to take your team to spring training, a mainstay at small stadiums in Florida (hosting the Grapefruit League) and Arizona (hosting the Cactus League). You'll find special lodging packages close to every stadium. The new Ballpark of the Palm Beaches, Florida – opening February 18 -- is the place to catch the Houston Astros or Washington Nationals in training, followed by an afternoon at the beach. The Palm Beach Marriott Singer Island Beach Resort & Spa has a spring training package (February 28-March 31) that includes an oceanfront 1BR suite with kitchen, ballpark tickets and breakfast starting at $799 through the season. Similarly, you can join The Phillies at Spectrum Field in Clearwater and the Baltimore Orioles at Ed Smith Stadium in Sarasota.
In Peoria, Arizona, spend the afternoon watching the San Diego Padres or Seattle Mariners get into form. The San Francisco Giants polish their game at Scottsdale Stadium, where you can relax in one of many great family resorts, then head out to do a night vision tour of the starlit desert and get to know the region's nocturnal creatures. Here's an account of a family's experience checking out the Cactus League.
Tip: If you're trying out a new sport or outdoor skill during spring break, make sure to reinforce it during the summer so that it becomes an ongoing part of your family's fitness routine.
Snow Sports in The Spring Sunshine
With record snowfalls this year – more than 20 feet of snow has fallen at Lake Tahoe the first three weeks of January -- we look forward to a long season on the slopes and competitive rates during the spring months.
To encourage this new generation of snow sports enthusiasts, AspenSnowmass has a special offer to get your kids on the mountains more often this spring. Rent your kids equipment (ages 7- 12) from Four Mountain Sports, and they'll get a free lift ticket. Rent as often as you like and they'll get complimentary lift tickets for the same amount of days on their rental. This world class Colorado resort has found that skiing and riding more often on the latest equipment, and improving technique with a group lesson, are sure-fire ways to build up confidence on the slopes.
The authentic, hip Colorado town of "Breck," as it's known to locals, is welcoming and friendly, with over 200 restaurants, bars, and shops and numerous year-round activities and events. Five huge peaks, four terrain parks, a 22-foot Superpipe, 11 bowls, the highest chairlift in North America, family-friendly terrain and a world-class ski and snowboard school, make Breckenridge Ski Resort one of the most popular in the Western Hemisphere and a great spring break destination. This resort has a variety of learning options for singles, groups, families and more. Enjoy the ski day together with a family private lesson, during which Breck's instructors will cater to each member of the group and make sure everyone has fun and gets to enjoy their favorite runs. Breck Breaks provide lodging deals when there are great snow conditions during January, February and March. Stay two nights and save 30% percent from January 17- March 11 with the Breck Break or save 30% on lodging from March 3- April 13 with a Spring Break deals.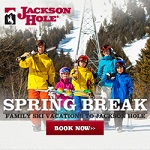 Wildlife viewing, the proximity of Yellowstone and Grand Teton national parks, an historic western town full of shops and galleries, and great skiing make Jackson Hole an ideal location for your family ski spring break, especially if there are family members who enjoy time off the slopes too. With terrain to suit the entire family, the mountain's ski and ride school focus is on fun learning techniques as well as raising the next generation of passionate skiers and riders. Couple that with majestic mountain, valley and forest views plus farm to table dining at Piste Mountain Bistro at the top of the Bridger Gondola, and you'll understand what make this corner of Wyoming so memorable.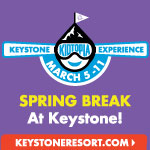 Spring traditionally brings plentiful snow and sunshine to Keystone, just 75 miles from Denver, where families can play day or night (they have night skiing – perfect for teens) on more than 3,000 skiable acres. The Keystone Ski & Ride School welcomes all ages with Family Private Lessons among many options; there's also mountaintop snow tubing, snowcat tours, and free Kidtopia family activities such as scavenger hunts, a daily parade and fireworks, and the world's largest Snow Fort. With the Kids Ski Free program, kids 12 and younger can ski and ride for free all season long with just two or more nights of lodging booked through the resort. The Kidtopia Experience, March 5-11, is spring's weeklong family-friendly celebration with free on- and off-mountain activities, live music performances, and the first-ever Snow Pants Dance Party on Saturday, March 5.
Tip: How many websites do you have to visit to plan the perfect family ski or snowboarding vacation? Our annual roundup of the Top Family Snow Sports Resorts has more reviews and destination ideas to help you plan a spring break skiing or riding adventure.
Spring Break Adventures and Volunteering
If your family is interested in experiencing indigenous cultures, resource conservation, and hands-on education, put an eco-tourism vacation on your spring agenda and don't neglect to purchase travel insurance. Why? Because, if your flight is delayed, insurance can help you catch up and if you have to cancel the trip, travel insurance can reimburse you. If anyone in your party suffers a medical crisis, insurance can cover your evacuation and emergency medical care. Travel insurance from Allianz Global Assistance includes many other benefits, such as lost/delayed baggage coverage, trip delay coverage, trip interruption coverage and more, affordably priced.
Spring is a fun time of year to get your speed fix in North Carolina, home to the NASCAR Experience hosted at the Charlotte Motor Speedway. However, families will find a lot of other reasons, including great hotel and attractions bargains, to visit Cabarrus County, including animal rescue facilities, museums and great barbecue.
America's 50th state is a great destination for outdoor adventures, especially the Big Island of Hawaii with its diverse habitats and eco-systems. Did you know your family can swim with manta rays in the dead of night, hike across lava fields to catch a live volcanic eruption, and summit the world's tallest mountain for stargazing? Here are "3 Bucket List Adventures to Check Off in Hawaii" so you can start planning now.
An Abercrombie & Kent Galapagos cruise is a rare opportunity to experience sunbathing sea lions, skittering Sally Lightfoot crabs, penguins, blue-footed boobies, even century-old tortoises close up. Shore activities include panga rides around an island, a hike to the top of a dormant volcano for a stunning view, kayaking and snorkeling; a Young Explorers Guide oversees special kids programs from wildlife photography and scavenger hunts, to star-gazing and family-friendly movies. The Family Galapagos 10-day cruise begins at $9,195 per person; children 17 and under sharing with an adult save $800; checkout this A&K cruise to Antarctica to understand this tour operator's luxury service.
For other escorted adventures, G Adventures is offering a Spring Break Squad Sale in which travelers can take bigger and bigger discounts -- 10% to 20% -- depending on how many friends and family they bring along on 14 different itineraries in seven countries in the Americas. Book by March 31 for travel by April 15, 2017. There are several wallet-friendly adventure options that include giving back to the destination you are visiting. Many non-profit organizations organize volunteer vacations where you can work together on sustainable projects, and there are even half-day give back opportunities at most resort areas. Opportunities for VolunTourism are varied and exist in countries throughout the world.
Tip:You can always start giving back close to home, especially with young kids. Check with your local charities, church and schools about local opportunities to volunteer as a family.
Theme Parks In The Springtime
Family spring breaks are all the rage at the major U.S. theme parks, where all ages can find thrill rides, themed attractions and live shows to their liking. The parks are especially welcoming for those with special challenges too.
West Coast Parks
In 2017 at Legoland California, look for an expansion of the Legoland Waterpark, and, in March, an addition to Lego Star Wars Miniland (in time for the June 3 and 4 Lego Star Wars Days). Also, you can book a Lego Ninjago room at the property's hotel. Nearby, SeaWorld San Diego will debut Ocean Explorer with multiple aquariums (called research pods), rides and thrilling experiences. This interactive and educational attraction combines adventure, science, technology and fun.
From January 20 through June 18, the beloved Main Street Electrical Parade returns to Disneyland Park, Watch Engineer Goofy pulling Mickey and Minnie on his locomotive and see floats with Alice in Wonderland, Cinderella, Pinocchio and more. Originally appearing in June of 1972, it thrilled young and old alike in Anaheim through November of 1996, and continued in other Disney Parks throughout the world.
East Coast Parks
In Williamsburg, Virginia, combine a visit to the living history museum at Colonial Williamsburg with the thrills of Busch Gardens Williamsburg, whose 2017 season runs from March 25 through October 29. Buy a Fun Card for unlimited visits through September 4 for the same price as a one day visit during the entire season. InVadR, the park's first wooden roller coaster featuring a 74-foot plunge at almost 50 m.p.h. will debut in April.
Two and a half million visitors during the season make Orlando, Florida one of the country's top Spring Break destinations, and ease is a big factor. The latest attractions at Disney World include the largest expansion of Animal Kingdom with the debut of Pandora - The World of Avatar, featuring bioluminescent rainforests, a Banshee flying attraction and the family-friendly Na'vi River Journey ride, opening May 27. Other news includes a seven-hour VIP guided Star Wars tour at Disney Hollywood Studio; the Epcot International Festival of the Arts presenting visual, performing and culinary arts from January 13 to February 20, and Miss Fortune Falls, a new family-style raft ride at Typhoon Lagoon.
The news at Universal Orlando Resort, is the opening of Volcano Bay on June 1. The waterpark features a Fire and Water Volcano which streams water during the day and lava effects after dark, plus other volcano-based experiences, as well as a relaxing beach, and river and rainforest villages attractions. Race Through New York Starring Jimmy Fallon debuts on April 6. Challenge yourself against Jimmy in a race through iconic NYC landmarks.
SeaWorld Orlando opens deep sea mission themed Kraken, Florida's only virtual reality rollercoaster, and Electric Ocean, an evening spectacle. Ninjago World will open at Legoland Florida early in 2017, and Legoland Beach Retreat opens mid-year.
More good news: central Florida in spring is not as hot and humid as in July. Just an hour from Orlando is the Space Coast and the Kennedy Space Center, whose space camp and astronaut encounters allow everyone's imagination to take flight.
Tip: Couples with babies in tow can take advantage of the Rider Switch policies at the major theme parks, which allow one parent to wait with baby at the head of the line while the other one rides, then switch without waiting again.
We look forward to hearing where you dream of spending your spring break and where you actually end up enjoying some time off. And if you can't get away just now, remember, summer's almost here.
Wherever you see ads or images within this special FamilyTravelConsulting.com travel section, the advertising and custom content has been brought to you by our sponsors. All other content and opinions are based upon the authors' actual travel experience and knowledge.