Family roadtrips, whether over busy holidays like spring break, the height of summer or for end-of-year festivities, can be made easier with preparation and these handy driving tips for road trips.
When it comes to travel, if things can go wrong, they usually do. Do we agree that few things spoil a pleasant journey like car trouble, major congestion, unexpected toll roads or needless fines?
What about the 1.2 million weather-related vehicle crashes across the U.S. each year?
Road Trip Preparation and Driving Tips
You can guarantee your family a more relaxing road trip by making time to prepare your vehicle before heading out.
Then, plan your itinerary carefully; involve the kids in choosing your stops. Make sure to follow all the safety road trip tips for car seats and boosters and if you haven't mastered entertaining the kids, checkout our top 50 tips for road trips.
Read on for 11 more helpful road trip tips from the experts at Rand McNally, Goodyear EU and AAA.
Avoid the busiest weekends.
Driving to or returning from your vacation might suit you best during long weekends. Unfortunately, everyone else has the same idea. Instead, try to plan your journey during the week because this will save you a lot of time on the road.
But whenever you set out, don't forget to take a break every two hours. That means everyone. According to the U.S. National Safety Council, more than 40% of drivers have admitted to falling asleep at the wheel at least once during their time at the wheel. That allows you to stretch your legs and lets kids unleash some energy.
Avoid major highways.
Study a map before heading out because once that GPS is on, you'll lose any perspective on alternative routes to your destination. In Europe, for example, skip the German A3 and A8 due to the great chance of getting stuck in traffic jams. The same goes for the A2 in Switzerland, the Austrian A10 as well as the French Boulevard Périphérique and Autoroute du Soleil.
Ask for more driving tips! For example, ask locals at gas stations and rest stops where you're likely to encounter traffic in the route ahead.
If you drive an electric car, download an app that shows electric charging stations to plan a route with the necessary charging stops.
Understand local laws and regulations.
Research the regulations in states along your route because rules of the road change from time to time and place to place.
Did you know for instance, that you are not allowed to smoke in a car in France in the presence of a minor and you must carry two alcohol testing kits in your car?
Did you know that, to reduce congestion and pollution, most major German cities have installed Umweltzones which require a paid permit to drive through? Every destination has its own rules.
Pull over if it's difficult to safely drive in bad weather.
Whether it's a deluge, a hailstorm or a whiteout, if you unexpectedly find yourself unable to drive, try to pull over and park your car out of harm's way. The driver and all passengers should stay inside. Sit tight and wait for help or until the dangerous conditions have passed. Ensure that your exhaust pipe is free of blockage to avoid any harmful carbon monoxide incidents.
Note that you can safely run the heat in your car for 10 minutes every hour to help warm up and keep the battery charged.
Slow down and keep your distance.
In any weather, our biggest driving tip is proceed with caution. If the roads are icy, it can take longer to brake, so make sure you are going at a speed that allows you to maintain traction and avoid skidding. Allow for three to twelve times more stopping distance in winter conditions than in normal dry conditions, depending upon the size of your vehicle. If you're driving 75 mph, you should drive at least 60 yards behind the car in front of you.
In foggy or wet weather, increase your distance even more and put on your headlights for safety's sake.
Stock up on emergency safety gear.
The U.S. National Safety Council recommends that you have certain items on hand for any road trip, such as a small shovel; jumper cables; a bag of kitty litter to create traction if you happen to get stuck in mud, sand or snow; a flashlight; a small tool kit; an ice scraper; a first aid kit; matches; blankets; non-perishable, high-energy foods like dried fruits, and water.
Keep windows clean.
Regularly check your windshield to ensure that the washer reservoir is full – and stash an extra bottle of fluid in your trunk.
In winter, buy window-washer fluid with extra alcohol or de-icer because it works better at lower temperatures.
Keep your gas tank full.
In winter, cold temperatures can cause condensation to form on the walls of a low fuel tank; the water may then find its way into the fuel lines, freezing and blocking the flow of fuel to the engine.
Cool off the car for summer travel.
According to AAA, overheating is a common cause of breakdowns on summer road trips. They advise topping off coolant levels and checking all fans and hoses to be sure they are in working order.
Check tire pressure regularly.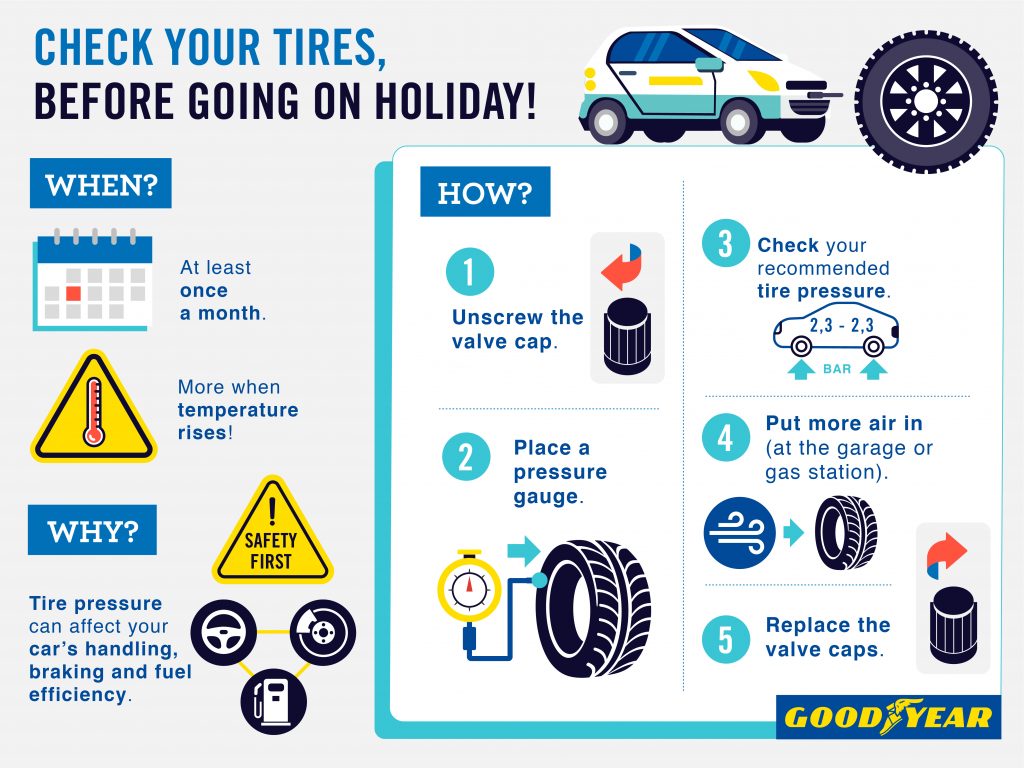 The NHTSA recommends checking your tires at least once a month and before long road trips – it only takes a few minutes. If you receive a low tire pressure warning from your vehicle, stop as soon as possible to check it. Cold temperatures can lower inflation pressure, closing up the tread and decreasing traction, increasing the possibility of a skid.
In a rental vehicle, make sure there's a run flat tire in the trunk. And while you're checking, make sure the tire treads still provide good traction.
Keep your cell phone charged.
Carry a spare charger in the car. Just in case.
As always with kids, safety first.
Never leave children or pets alone in a car during severe weather, in summer or winter. Additionally, everyone in the vehicle should wear seatbelts. Children should be seated in a car seat or booster based on their age and size. According to the NHTSA, car crashes are a leading cause of death for children ages 1 to 13 – not a holiday outcome anyone would want.
Dear Reader: This page may contain affiliate links which may earn a commission if you click through and make a purchase. Our independent journalism is not influenced by any advertiser or commercial initiative unless it is clearly marked as sponsored content. As travel products change, please be sure to reconfirm all details and stay up to date with current events to ensure a safe and successful trip.
---