The spiritual traditions behind the Sacred Mayan Journey (Travesía Sagrada Maya), a canoe trip paddling to Cozumel in Mexico, have put this journey on many bucket lists.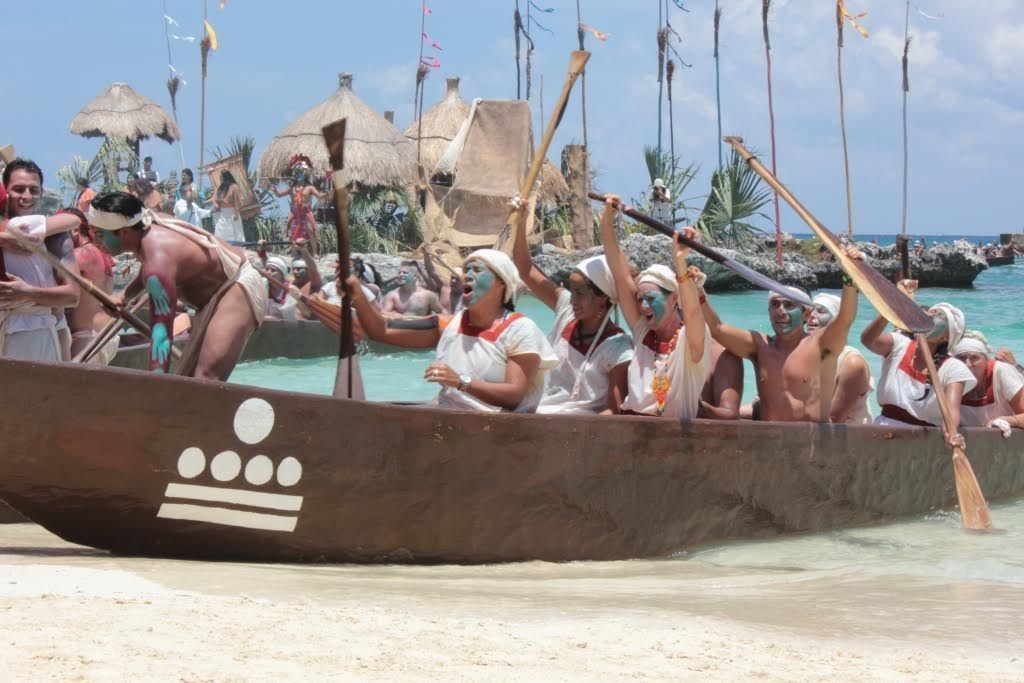 A Bit of Maya Background on the Sacred Mayan Journey
The Sacred Mayan Journey is a pre-Hispanic (1250 to 1519 A.D.) ritual to honor and worship Ixchel, goddess of the moon, tides, fertility, birth and medicine. Ixchel's temple was on the island of Cozumel, and Mayans, hoping for fruitful crops and families, paddled there from the mainland in canoes to pay homage and bring gifts in a ritual that had not been practiced for 500 years.
Many details, including maritime routes of the voyage, were uncovered and led to the timing of the annual event during the month of May. It takes place annually in mid May and all ceremonies and rituals use traditional music and dances. It's a very special time to visit and you can read Riviera Maya's Underground World and My Kind of Beach at Playa Del Carmen — other stories on FTF — for an full overview of the region's attractions.
Canoeing to Cozumel and Back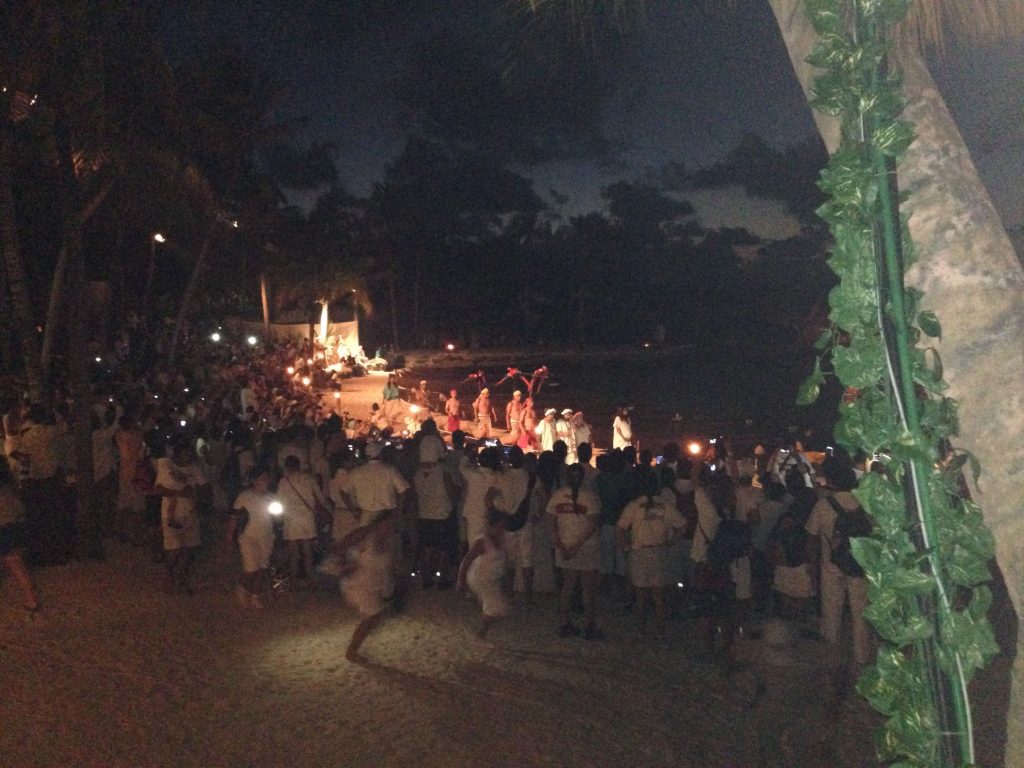 Gathering before dawn on the shore of the Caribbean Sea, we were greeted by music, tribal drumming and chanting, burning torches, and native dances by groups of young women and small children.
Also on the beach were the families and friends of the oarsmen, and traditional Mayan wooden canoes were lined up at the water's edge. Finally, the proud and energized men and women dressed in native garb arrived to welcoming applause and climbed into their vessels.
Timed perfectly, they took off one by one, with the last canoe leaving our line of sight at sunrise, while colorful scarlet macaws flew overhead.
It was a stunning moment.
Day 2 The Return of the Voyagers
The next day saw an even larger crowd gather at the beach anticipating the return of their family members and friends. The mood was celebratory, but some were anxious to see their loved ones again and to hear how they fared.
More music and dances were performed, signs and banners waved, and trays of fruit were carried to the shore.
Finally one, then another, and another of the canoes appeared in the distance and, with adrenalin pumping, the oarsmen paddled furiously in unison to reach home. Once they hit the shore, exhausted but elated, they jumped out of their boats, raised their oars, and hugged each other and those who were welcoming them.
It was such a moving sight, it brought many of us to tears.
How Participants Prepare for the Sacred Mayan Journey
Each leg of the Sacred Journey (a total of 18 miles) takes from 4 to 12 hours depending on the currents and condition of the open sea, and the participants spend the night on Cozumel before arriving back on the mainland in the middle of the next day. Knowledge of swimming is required and training is rigorous. Requiring a real commitment (including, for some, moving to the area in order to train), preparation takes place from 6am to 8am three times a week for four months.
Participants must be between 18 and 65. In 2014, 500 people, mostly Mexican but some international participants as well, signed up for this remarkable challenge. In the end, 370 people – 15 oarsmen had participated in every yearly event – made the journey and completed the round-trip. The eldest paddler was a 64-year-old woman from Veracruz.
Captaining a Canoe is a Sacred Honor to the Maya
The crew on each canoe selects a Captain, who must have completed the journey before.
Extensive safety precautions are taken to protect the participants: canoes are followed by a convoy of wave runners, Navy and Coast Guard ships and each is outfitted with GPS.
People participate in this event for many reasons: physical challenge, spiritual connection, in honor of someone, and to pay tribute to the Mayan forefathers. As I watched the returning canoes, I was struck by the realization that this is not a race. It doesn't matter which canoe hits the shore first. This event is all about teamwork, camaraderie and honoring the past.
One of our hosts had participated last year and spoke about how the experience was "truly life-changing and unforgettable."
A Glimpse Into the Heart of Maria Beatrix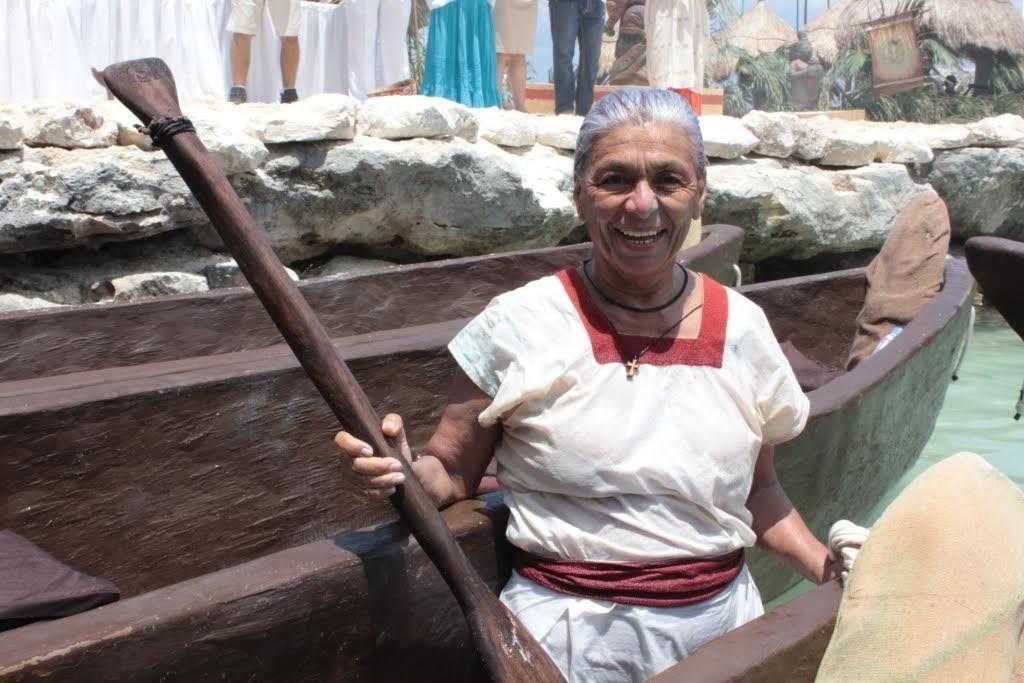 Beatrix del Perpeturo Socorro Solis Ramirez
Who is this woman with the very long name? After her safe return to the mainland, we were thrilled to meet with the 64-year-old eldest participant in the journey. Born in the Yucatan, Beatrix spent her adult life in Veracruz and came home to visit a relative last May, coincidentally at the time of the Sacred Journey. Moved and inspired, this energetic, exercise-loving woman decided to temporarily re-locate in order to train, and to participate before her 65th birthday.
Guess what. She's ready to do it again next year!
Ms. Solis Ramirez said that the hardest part was doing the push-ups during training and that the journey itself was easier than expected because "the ocean was merciful." Her canoe consisted of five men and five women; the youngest was a 21-year-old man. She said that her teammates accepted and cheered for her, and her trainers told her, "Trust us. We know you can do this."
She won our group over with her humble and unassuming nature, and we teared up when she described how she was so filled with emotion.
Visiting Xcaret
Xcaret Park is a cultural nature park combining animal and natural elements with a focus on Mexican culture.
Observing the Sacred Mayan Journey is open to all guests at Xcaret every May (check their site for the exact dates, and if you want to participate), and visiting during this time would add a memorable dimension to your vacation. If you can't make it then, there are many other reasons to vacation here any time of the year.
This visit, my second to Xcaret, was extraordinary. While the outstanding event was the Sacred Journey, I smile while thinking about the beautiful new butterflies we set free, riding on a raft on the underground Paradise River (I'm not much of a swimmer), feeding the flock of sea turtles swimming in the lagoon, and visiting with a sea turtle who was severely injured and lost her front two legs.
Visit Xcaret Park and live the Mexican traditions, colors and flavors of this amazing culture. Your entrance includes shows, white sand beaches, underground rivers and much more! Save 15% booking online.
Xcaret Celebrates Mexico's Culture
Do not miss a visit to the Chocolate Workshop to watch chocolate being made in the traditional way. Grinding cacao beans by hand, pulverizing them with seasonings such as cinnamon and hot pepper, our guide explained about chocolate's connection to the Mayans. He also made some traditional hot chocolate which he served to us in tiny clay cups to the sound of many "oohs," "aahs," and "mmms."
The Xcaret Mexico Espectacular night show is the cherry on the top of the cake of a day spent at Xcaret. The gourmet meal (an added fee) was excellent, and the exciting and colorful show includes a demonstration of the ancient ball game of pelote with fire-lit balls, and presentations of regional folk music and dances by more than 300 costumed performers.
It exemplified again Xcaret's dedication to revive and nurture the history and culture of beautiful Mexico.
Dear Reader: This page may contain affiliate links which may earn a commission if you click through and make a purchase. Our independent journalism is not influenced by any advertiser or commercial initiative unless it is clearly marked as sponsored content. As travel products change, please be sure to reconfirm all details and stay up to date with current events to ensure a safe and successful trip.
---