In revised traveler requirements, only non-citizen, non-immigrant travelers with proof of vaccination will be allowed to board an airplane for the United States.
Additionally, as of Dec. 8, 2021, all foreign visitors, U.S. citizens who are unvaccinated, or lawful permanent residents must also provide negative viral test results taken within one day of entering the U.S.
The new Executive Order and U.S. Centers for Disease Control and Prevention (CDC) revised traveler requirements and guidelines confirm that children under age 18 will not have to present proof of vaccination but will, if above age 2, have to present negative Covid-19 test results.
CDC Recommends Against Non-Essential Travel Abroad
These new travel regulations have been established in response to the continuing spread of COVID-19 and the discovery overseas of several new, more contagious strains of the virus. Cumulatively, the effect is to discourage travel.
The State Department and CDC recommend against travel abroad primarily because it increases risk of exposure to the virus.
Additionally, testing availability and turnaround times — not to mention medical care — vary widely around the world. To aid travelers, all foreign U.S. embassies are noting COVID-19 testing information on their websites.
What About the Travel Bans in the Revised Traveler Requirements?
There has been plenty of confusion about these new travel restrictions, particularly for those affected by prior travel bans — rules and border restrictions — imposed since the pandemic began.
As we go to press, the CDC has issued new travel restrictions on travelers who have been in southern Africa countries in the 14 days prior to their arrival in the U.S. The exceptions to this rule are extremely limited.
The travel bans imposed by the Trump administration on the United Kingdom, Ireland, the Schengen countries, Brazil, Iran and China remain in effect. Note that several categories of travelers such as U.S. citizens and military personnel are exempt from the bans. Please research your family's status carefully before making travel plans.
Getting a COVID-19 Test In a Foreign Country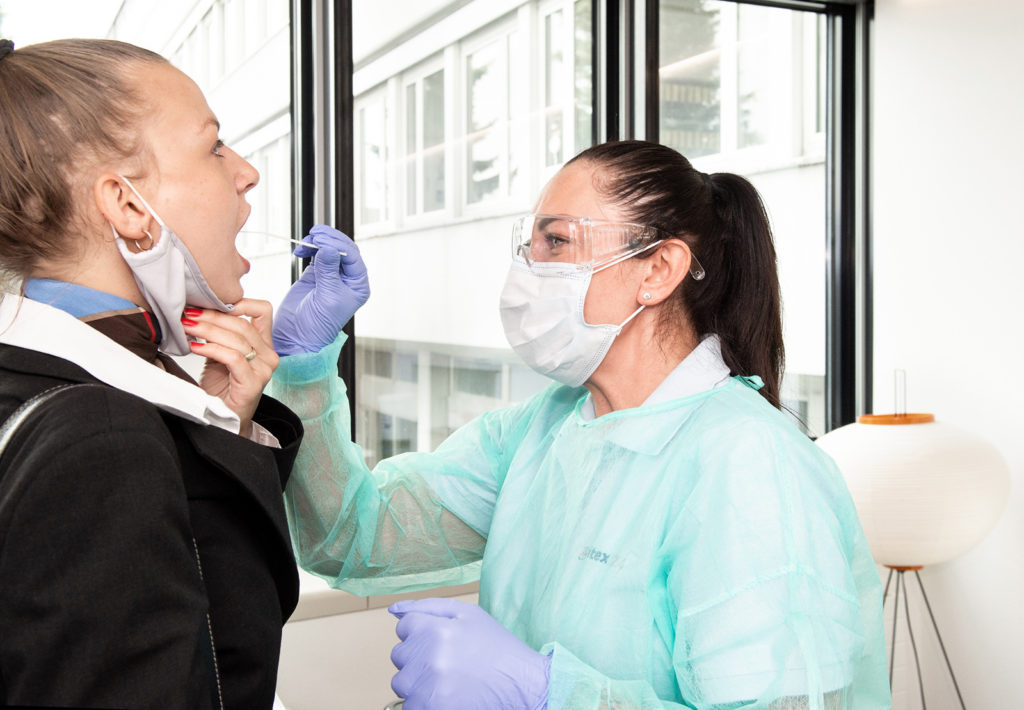 With the latest revised traveler requirements, several popular resort destinations in Mexico and several Caribbean island nations have been working to establish testing facilities. Many resorts are offering Covid-19 tests free of charge to their guests. (Be sure these are viral tests.) Some resorts anticipating a winter family getaways rush have even said they will host guests who test positive free of charge — whether it's for an additional 14 days or until they leave quarantine and return to the U.S.
Yet, accessing a test abroad can be a challenge in many countries. The CDC revised traveler requirements say travelers need to get tested no more than one day before you travel and show your negative result to the airline. Alternatively, travelers may show documentation of recovery (proof of a recent positive viral test and a letter from your healthcare provider or a public health official stating that you were cleared to travel).
What If You Test Positive Before You Travel to the U.S.?
With an estimated 40%-50% of COVID-19 carriers being asymptomatic, there's a real possibility that you or someone in your travel pod will test positive and have to stay abroad.
Depending on what type of travel insurance you have purchased, you may or may not have coverage for trip delays and interruptions. If you're not staying in a resort that has committed to footing the bill for room and board, you'll be taking on a big financial burden. Postponing the return flights of everyone involved could be costly. That's in addition to the lost revenue for those not returning home to work.
"Travelers should be aware that the availability and quality of healthcare varies around the world, and that private health insurance may not cover expenses incurred abroad," warns the State Department.
While some travel insurance policies cover medical expenses for those who contract COVID-19 while traveling, many do not. If you require hospitalization and believe the local medical care is inadequate, you may need medical evacuation coverage to pay for a flight to another hospital.
Useful Tips Required for Travel If It's Really Necessary
Even with revised traveler requirements, the State Department and CDC strongly recommend against travel abroad. For those who must travel, here are four traveler resources to stay informed. First, monitor the State Department Travel Advisory for your destination.
Next, be sure to enroll in the Smart Traveler Enrollment Program to receive updates from the nearest U.S. Embassy or Consulate in your location. Purchase travel insurance with as broad a coverage policy as possible.
Lastly, follow the evolving travel guidance from the CDC with information on current infection rates and new pandemic variants wherever you travel.
Revised Traveler Requirements After You Return to the U.S.
The CDC has maintained a strict post-travel protocol that in some cases, is exceeded by certain state and county regulations. Before you travel, check with your local health authorities about regulations required for travel from and re-entering your home state and county.
In addition to taking a COVID-19 test one day prior to departing your destination, CDC guidelines call for getting tested three to five days after you return from travel. (It can take a few days after exposure to the COVID-19 virus for it to be detectable by certain tests.) Additionally, the CDC says all travelers should stay home for seven days after travel. Even if you test negative, the CDC says stay home for the full seven days.
Given how much scientists still don't know about COVID-19, they recommend that all travelers in your pod keep face coverings on and remain socially distant from anyone who did not travel with you, regardless of your test result. Wear face coverings outdoors and on all public transportation, where it is now mandated. Wash hands often and monitor yourselves for any symptoms of COVID-19 exposure.
Of course, if you've contracted COVID-19 during your return travels and your test is positive, you will have to isolate yourself or family members to protect others from getting infected.
If you or your family are not able to get tested, the CDC recommends that everyone stay home in self-quarantine for 10 days after your return.
Dear Reader: This page may contain affiliate links which may earn a commission if you click through and make a purchase. Our independent journalism is not influenced by any advertiser or commercial initiative unless it is clearly marked as sponsored content. As travel products change, please be sure to reconfirm all details and stay up to date with current events to ensure a safe and successful trip.
---