Having survived a night of gleeful terror at Universal Orlando Resort's Halloween Horror Nights, I can report that #HHN is a blast. Before you die, take just one autumn night to explore these remarkable haunted houses. Tip toe through scare zones and succumb to screeching entertainment designed to put your nerves on edge.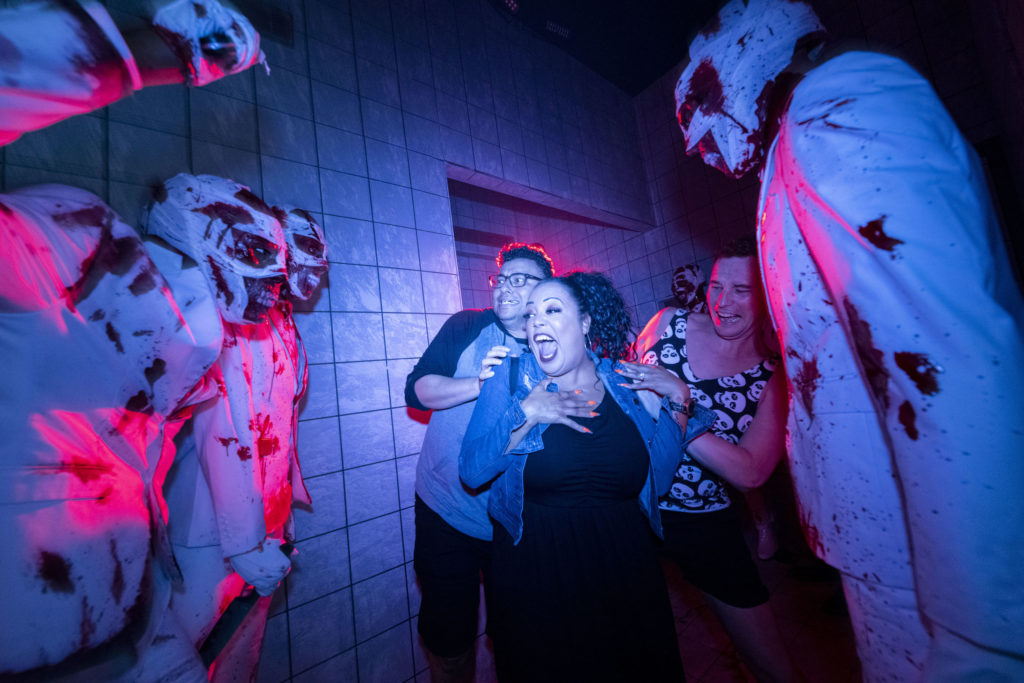 Just do it! Work up the courage to book this frightful fest of doom in Orlando, Universal Studios Hollywood or at the Singapore and Osaka theme parks. You may not survive… but we guarantee you won't be disappointed.
Looking Ahead to Halloween Horror Nights
The 2022 event takes place over 43 nights (the most ever!) between Sept. 2 and Oct. 31, 2022.
For my family of fright fans, this is a Halloween event that's worth repeating annually.
Each year, the Universal creative teams reach out to a fresh crop of master storytellers. Discover original and classic tales, there are always new horrors to survive.
Next Year's Horror Makes #HHN Worth Returning To!
Join me on my own experience that October 31st oh so long ago…
Unbeknownst to us, zombies, living dead, aliens, horror movie extras are among the thousands of park-goers out for a fright. Call them what you will, these energetic people are expertly made up, costumed and choreographed to come up from behind and breathe down your neck.
"Aaargggh!!!" shrieked my companion, complaining. "They get so close you can even smell what they ate for dinner."
How Horror-ible is Halloween Horror Nights at Universal?
Halloween Horror Nights is well crafted yet touchey-feeley.
Look closely because there's much more than meets the eye when you arrive at the gate next the spinning Universal globe.
Typically, the "Halloween Marathon of Mayhem" takes over the lagoon where terrifying moments inspired by Halloween classics are projected on giant water screens.
Get splashed by… blood? No, get splashed by more than 100 fountains bathed in special effects, pounding techno music, lasers and massacre-like sounds.
Skillfully Spooky and Admirably Scary Horrors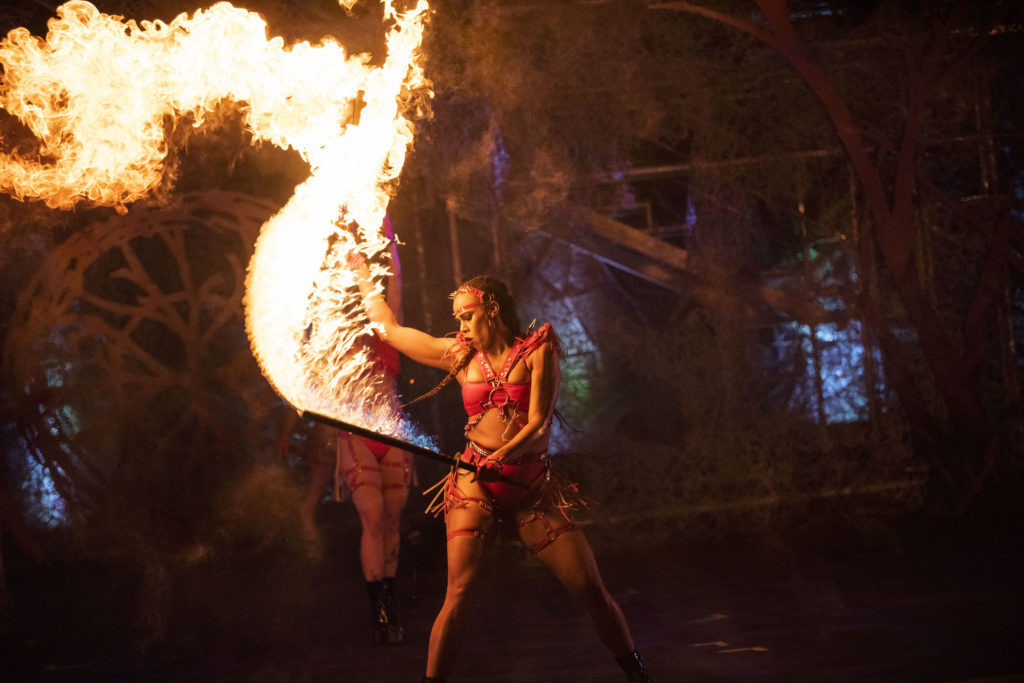 Survive, as we did, the machine gun attacks between aliens and law enforcement. Run from a huge variety of almost-dead creatures with bad breath. The very first haunted house we visited had so many entrails and organs being consumed by amphibious-looking aliens that we wished we hadn't eaten so much dinner.
Relax. Just keep going — always maintain your cool on the streets and in haunted houses.
Expect 10 new haunted houses, five sinister scare zones, two outrageous live shows and exhilarating attractions this season. This year's haunted house themes include "The Weekend: After Hours Nightmare." The multi award-winning artist's haunt stars grotesque characters and themes inspired by his record-breaking music and short films.
Count on admiring 20 vampire flappers in 1920s fashion in "Spirits of the Coven" from Blumhouse. Beware the escaped monster inmates from "Hellhouse Horror." Get everyone in the family to bet on whether The Wolf Man, Dracula or The Mummy will win in "Universal Monsters: Legends Collide."
Our crystal ball says the top scare zone will be "Horrors of Halloween."
Make Halloween Horror Nights Affordable and Your Own
There are ways to save. Rates are lowest in September, starting at $73.99, and rise as you approach Halloween night. Keep in mind that all these prices vary upwards according to date and weekday/weekend.
Love Halloween Horror Nights too much? Get a Frequent Fear Plus Express Pass ($219.19), giving you several nights of repeat terror, and pronto.
Save by avoiding several possible add-ons such as an Express Pass (cut the line) for an additional $129.99 per night. Or, use the Express Pass to go to the head of the line at each haunted house.(That means you have no guilt about leaving them quickly either.) Otherwise, lines averaged 20-30 minutes' wait at our visit. Not bad, and with several vendors selling Blood Shots, beer, and steaming cocktail confections, the wait was as important a social event as the environment itself.
It's an adult affair; Universal Orlando Resort recommends HHN to those over 13. Still, if you have kids of any age in tow, that Express Pass comes in handy, especially after a long day on thrill rides. There's only so much excitement a body can take, right?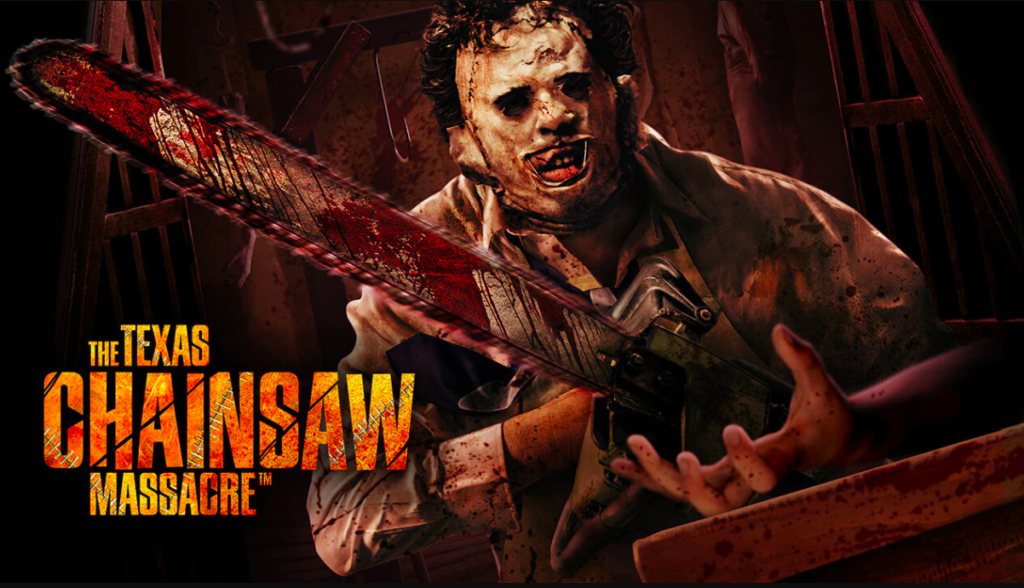 End of the Line Halloween Horror Nights Tips for Halloween-Goers
Universal Orlando Resort (and several other parks) also has good value hotel packages that provide a special entry gate for #HHN festivities. Rates start at $91/night per person on a four-night minimum stay if you book early.
Go in fall for street performances, haunted houses and vendors. Several popular rides and coasters remain open after dark at Universal Orlando and some are decorated, too. We certainly got our money's worth of scare and had a lot of laughs after we got safely back to our hotel.
Keep in mind that no costumes or masks are allowed so, other than drinking to steady the nerves, the crowd is pretty tame. For more information, visit Universal Orlando's Halloween Horror Nights or Halloween Horror Nights Hollywood.
Buy ahead or be caught dead; these events do sell out quickly.
Dear Reader: This page may contain affiliate links which may earn a commission if you click through and make a purchase. Our independent journalism is not influenced by any advertiser or commercial initiative unless it is clearly marked as sponsored content. As travel products change, please be sure to reconfirm all details and stay up to date with current events to ensure a safe and successful trip.
---