As the travel industry attempts to reduce its environmental impact, sustainable cruise travel has become a priority for cruise companies. An April 2022 survey by The Vacationer found 78.28% of travelers would pay more for an environmentally friendly travel experience. Consumers already have tools to search for flights with the lowest carbon footprint. Governments are banning short haul air travel in favor of high-speed rail transportation.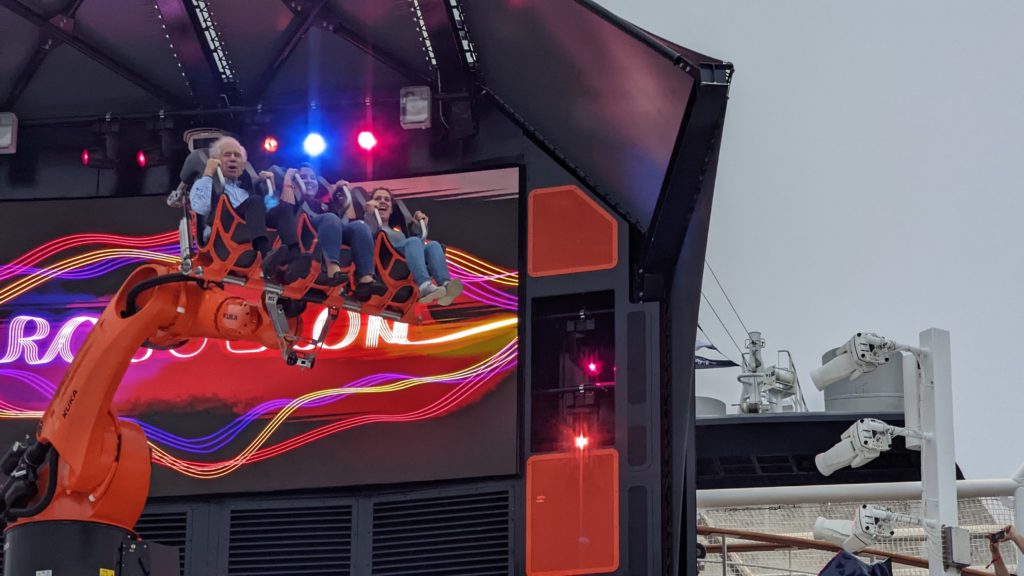 "I know that younger cruise travelers and potential ones are more interested/concerned about how cruise lines are helping our world, the planet," Bill Miller, a maritime historian and author known as Mr. Ocean Liner, adds. In the year ahead, expect travel companies to attract new cruisers and save money by promoting sustainable cruise travel.
What is Sustainable Cruise Travel?
Expert Dr. Rachel Dodds recently published a guidebook on how families can make their own travels more sustainable. Sustainable cruise travel requires increasing energy efficiency, reducing emissions and improving ships' wastewater treatment facilities.
It takes millions of dollars and years to design and build a cruise ship. Therefore, the structural changes required for sustainable cruising come slowly.
That's why travelers are just beginning to experience the technologies which major cruise lines employ to promote sustainable cruise travel.
Carnival Pioneers LNG for Sustainable Cruise Travel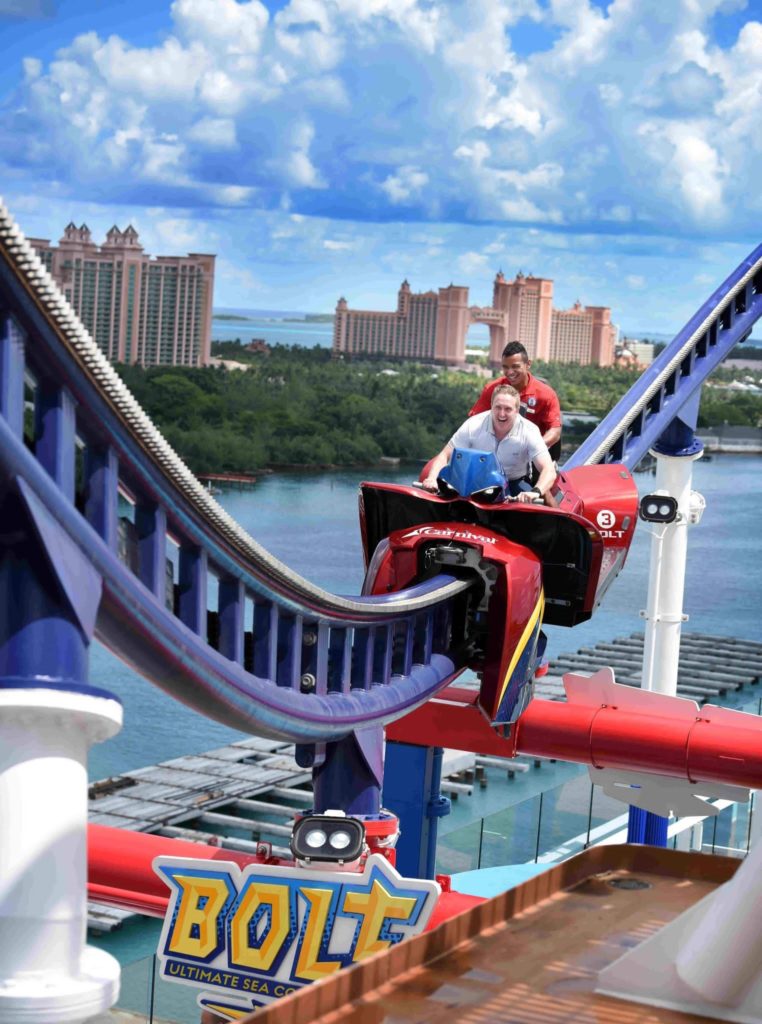 Twenty-four ships make Carnival's fleet one of the largest and most affordable at sea. Over the company's 50 years of operation, Carnival Cruise Lines has pioneered many technologies.
Several innovations are designed for families because Carnival carries more passengers under age 18 than any other line. Look onboard Carnival ships for BOLT, the first roller coaster at sea. Another milestone for the company was the 2020 Carnival Mardi Gras launch using a Liquified Natural Gas (LNG) propulsion system.
The Carnival Celebration also uses LNG fuel. LNG is made by super cooling natural gas. Made up of 85%-95% methane, it's cleaner than other fossil fuels, producing 40% less CO2 than coal and 30% less than oil.
Scientists consider LNG a transitional fuel on the path to NetZero emissions. Others argue that the production of LNG uses so much energy that it emits more greenhouses gases than burning coal.
MSC Cruises Makes Sustainable Cruise Travel a Priority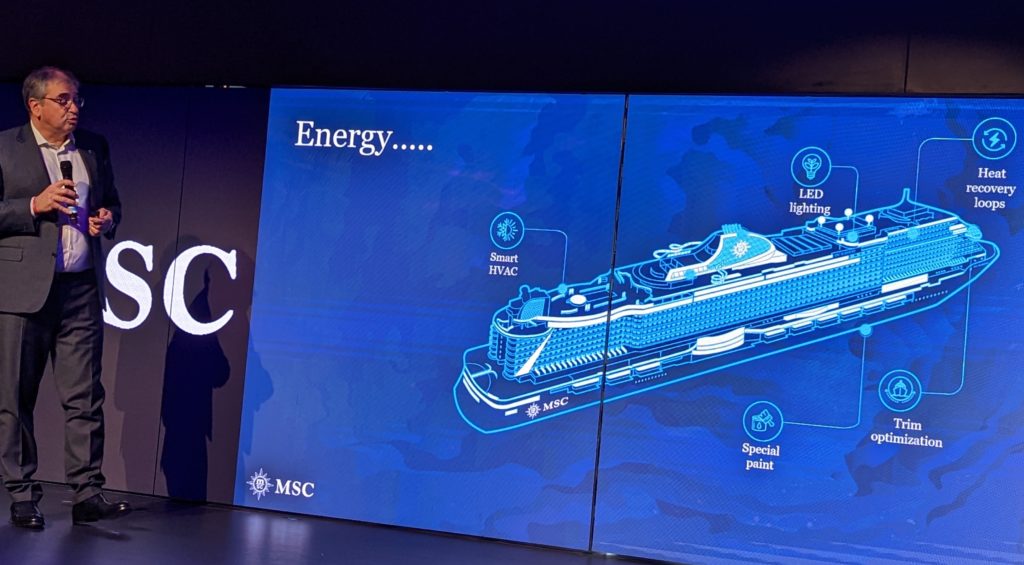 MSC Cruises, a family-owned, Italian cargo line, has become a powerhouse in the leisure travel industry. In addition to nearly 600 freighters operating under the MSC Mediterranean Shipping Company flag, they sail 19 MSC passenger ships (three more to come by June 2023) in 24 countries.
MSC may be best known in North America for their luxury ship, MSC World Europa, which housed many FIFA dignitaries during the 2022 Qatar World Cup. When MSC World Europa debuted in 2022, it was the first ship to run on solid oxide fuel cells powered by LNG.
We recently spent a night on their newest ship, MSC Seascape. It gave us a brief experience with the environmental technology that promotes sustainable cruise travel. The use of LNG, however, is not among the ship's many innovations. 
Linden Coppell, MSC's Vice President of Sustainability & ESG, and Michele Francioni, Senior VP MSC Cruises, spoke to the media prior to the ship's naming ceremony. MSC is taking a leadership position in sustainable cruise travel, she said, particularly in alternative fuels, by working towards net zero emissions by 2050. Coppell noted that their goal is to achieve a 40% carbon emission intensity improvement (over base year 2008) by 2030. They're almost there already by designing and building more efficient, hydrodynamic ships.
Cruise Industry Focuses on The Marine Environment
While many think of environmental issues as 'green,' MSC staff reference 'our blue planet.' That's because of their commitment to the world's oceans. Coppell said that most cruise companies are designing ships that are future-proofed in environmental terms, anticipating that global regulations will be stricter over time.
For passengers, the most visible environmental victory is indeed blue: the private island, Ocean Cay. Cruise with MSC and experience an idyllic tropical paradise that was once an industrial waste zone.
MSC bought the island from The Bahamas, cleaned up 1,500 tons of scrap metal and planted 75,000 trees. They redeveloped Ocean Cay into a wildlife habitat and port of call. It is now known as the Ocean Cay MSC Marine Reserve, a hub for marine scientists studying coral die-off. The project supports more than 120 Bahamians who live and work on the island.
Sustainable Cruise Travel Technology Aboard the MSC Seascape
Look under the hood to see the many environmental technologies in use aboard MSC Seascape. Energy efficiency is the first port of call, because it saves the company money and appeals to cruisers. At MSC, every ship's energy use is monitored remotely by a team in London who adjust systems.
Several innovations contribute to energy efficiency. They include a Smart HVAC system that purifies onboard air and optimizes heat and air-conditioning use.
Heat recovery loops and trim optimization make sailing more fuel efficient. Examine the navy-blue hull closely and notice the special paint that increases the ship's buoyancy and reduces friction at sea.
A Top Down Approach to Making Cruise Travel Sustainable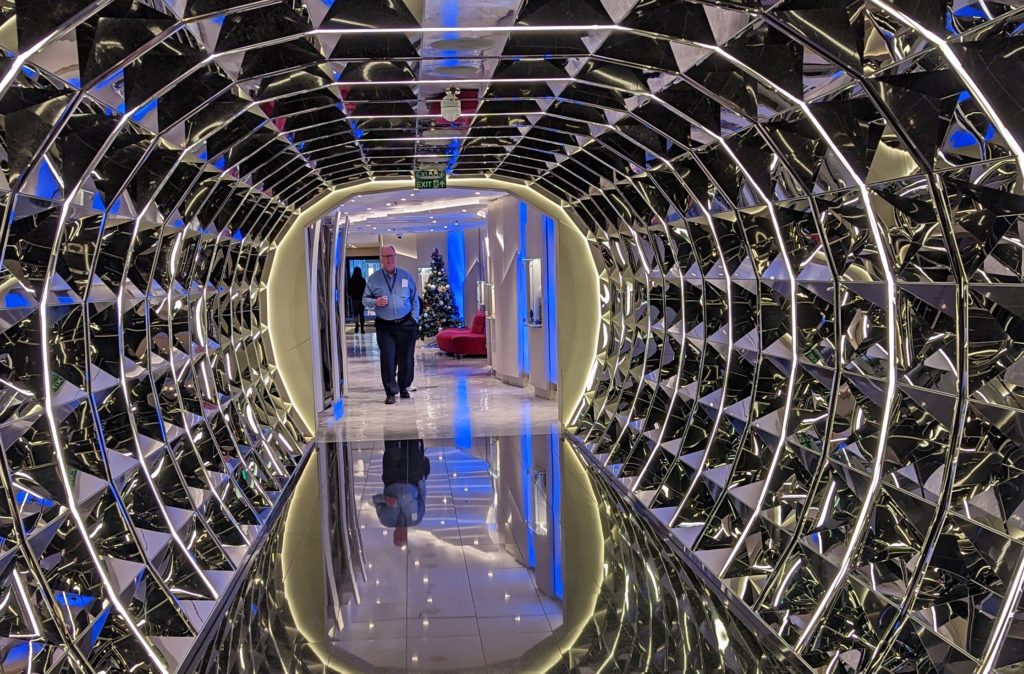 Every aspect of the ship's design works towards energy efficiency and a sustainable cruise travel model.
First, each itinerary is optimized to reduce fuel consumption. At Ocean Cay, all beach furniture is made of polywood comprised of recycled milk bottles and aluminum. Guests in port buy from Bahamian vendors who sell locally sourced products. Swimmers are sold reef-friendly sunscreen.
Ms. Coppell used the MSC Seascape retail outlets as another example of sustainability. Shop the onboard boutiques to see ecolabeling on products. More sustainable items include plush toys made from natural rubber and cotton that can be recycled. Menus are designed around locally sourced proteins and produce.
The philanthropic MSC Foundation works with UNESCO and other NGOsOn a larger scale. Their funds support education and disaster relief to ports around the world. Avoiding overtourism and preserving destinations are other priorities. On each of their itineraries, MSC controls the number of visitors in port. Each ship promotes at least one local tour focused on environmental issues.
Décor and Design Contribute to Resource Efficiency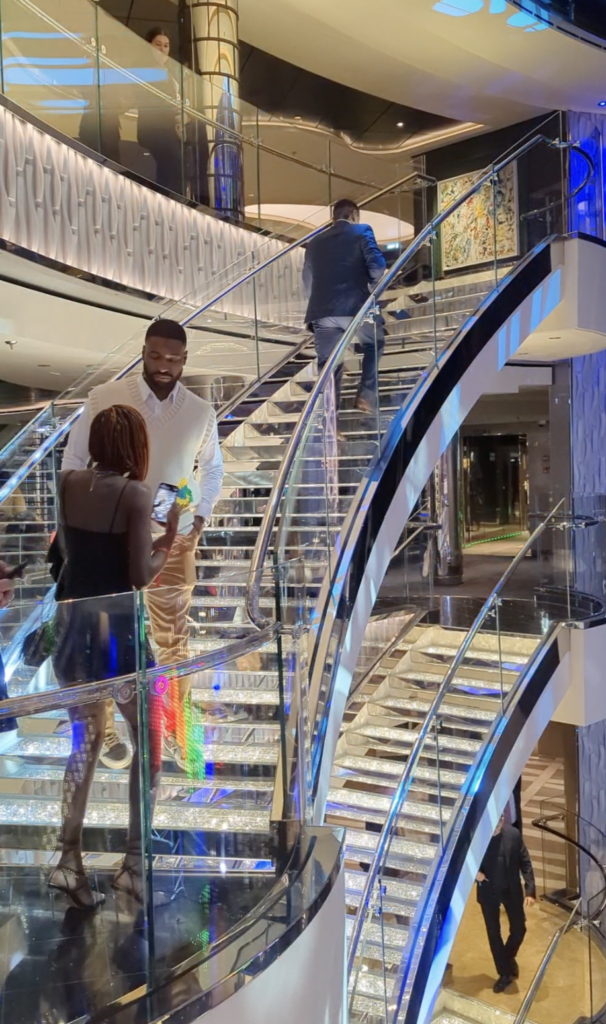 The European-minded MSC stresses design concepts such as sophistication, elegance and glamor. Tiktok-worthy spaces like a diamond-encrusted staircase and an interactive photo booth are wildly popular. VR entertainment abounds with motorbike and Formula 1 race simulators.
We found the use of light and architectural elements to ornament the ship very innovative and energy efficient. The beautiful Holland America Rotterdam II, for example, is decorated with an impressive collection of fine art, paintings and sculpture. In contrast, MSC Seascape's digital décor is comprised of light projections and multi-functional LED screens.
In another example, the impressive new Disney Wish boasts elaborately built themed environments for each restaurant and lounge. Guests love Disney Cruise Lines' immersive, magical environments. Décor promotes Disney films and characters.
The family-owned MSC company uses character-themed environments to enrich programming for the diverse cultural mix of families on each cruise.
Don't miss the top deck Robotron thrill ride. Families love the tropical pools, Pirates Cove aquapark and kids clubs featuring LEGO and Cicco products. The huge Doremiland kids zone is broken up into seven distinctive, supervised environments for ages 6 months to 17 years. Welcoming counselors are multinational and multilingual.
Reducing Pollutants and Developing New Fuels Key to Sustainable Cruise Travel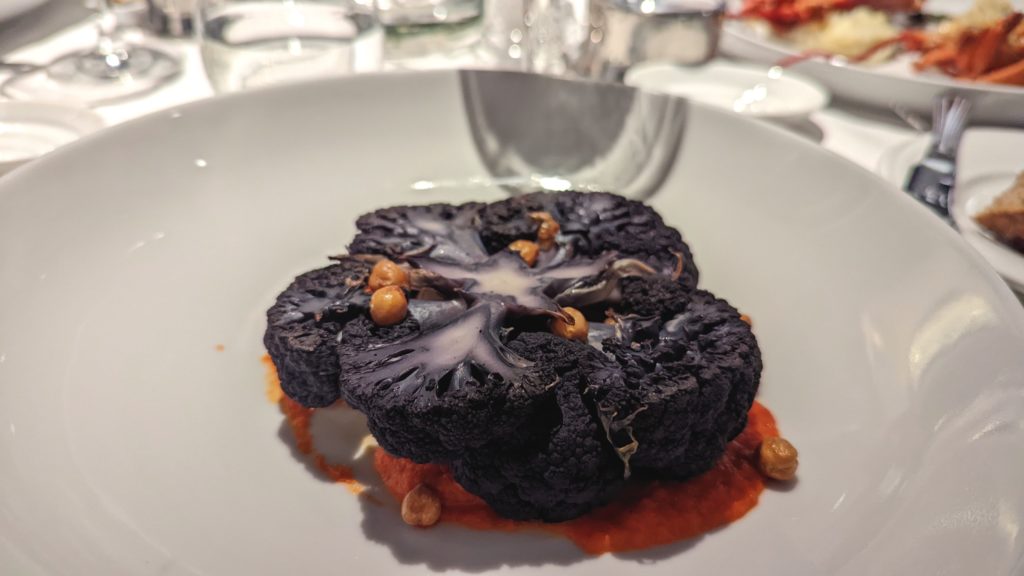 Just like land vehicles, many ships clean their exhaust to reduce emissions. On MSC ships, Mr. Francioni explained that both their hybrid exhaust gas cleaning and selective catalytic reduction systems reduce nitrous oxide in emissions.
Shore power, where available, is another go-to solution to minimize air pollution from idling engines.
Achieving sustainability in cruising is a long journey. That voyage includes examining optimal ways to power huge new ships. The focus in on hydrocarbons until biofuels like methanol are more practical. An LNG propulsion system cost more than it would save according to a Travel Weekly report.
Instead, the company chose to build advanced internal combustion engines that can one day be adapted to new fuels. Francioni says MSC is currently researching bio and synthetic fuels, hoping to phase out hydrocarbon fuels by 2035. Methanol and green hydrogen are good, clean fuels, he explains, although the latter's low energy density requires a huge volume to power a ship.
And What About those Plastic Water Bottles?
MSC's environmental experts described the ship's advanced wastewater system. Reverse osmosis produces more than 800,000 gallons of drinking water from seawater daily. This water satisfies the ship's laundry and cleaning needs. It also means that MSC ports of call don't need to supply MSC Seascape with precious water.
Drinking water, however, still comes from plastic water bottles. Despite the damning reputation of single use plastics, MSC says they are more energy-efficient than trying to purify the ship's water for human consumption.
All wastewater is treated before it is released back to the sea.
Trash is sorted for recycling. They currently segregate glass, aluminum, plastics, paper, cooking oil, food waste and general waste. Onboard waste management is so sophisticated that an Italian mayor recently toured the ship's state of the art recycling facility. He wanted to determine what would work on land.
When asked whether guests can tour the facility, the team said it was under consideration.
We'll be the first ones to sign up for a tour of the next big thing in sustainable cruise travel.
Dear Reader: This page may contain affiliate links which may earn a commission if you click through and make a purchase. Our independent journalism is not influenced by any advertiser or commercial initiative unless it is clearly marked as sponsored content. As travel products change, please be sure to reconfirm all details and stay up to date with current events to ensure a safe and successful trip.
---