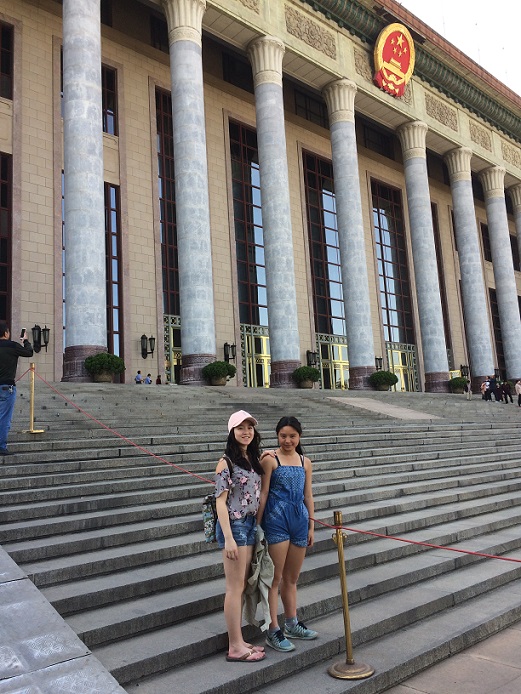 (New York, NY – October 5, 2017) Family Travel Forum (FTF) and its travel industry partners are pleased to announce the winners of the 2017 FTF Teen Travel Writing Scholarship. Completing its 11th year, this annual merit scholarship has been hosted by the award-winning vacation guide publisher to promote teen literacy and reward teens' best travel blogs with cash prizes for college or future travels.
Between May 1 and July 14, 2017, over 2,000 students in US, Canada, American-International schools or home-schools applied to blog about a travel experience, whether near or far, that had a meaningful impact.
The generous sponsorship of Allianz Global Assistance USA, ScholarTrips, Travel Media Showcase, TMS Family Travel, Society of American Travel Writers (SATW), CityPASS and Lonely Planet made the 11th annual scholarship possible.
"We are honored to be part of the eleventh annual FTF Teen Travel Writing Scholarship," said Daniel Durazo, director of communications for Allianz Global Assistance USA. "Providing students with an opportunity to learn through travel creates greater opportunities for them to succeed in life and have a better understanding of global cultures and ideas. Allianz Global Assistance is dedicated to helping students explore their world and we're happy to support both the FTF Teen Travel Writing Scholarship and our very own ScholarTrips program."
"Once again, we are extremely appreciative of our sponsors for their sustaining support," said FTF Senior Editor Fran Falkin. "It is very gratifying to acknowledge this impressive work and know we've encouraged more than 55,000 teens over the years to share their travels."
Three preliminary rounds of judging were done by FTF interns, members of the Journalism Education Association (JEA) and FTF editors who selected Quarter-Finalist, Semi-Finalist and Finalist blogs comprising 14% of the essays submitted.
Winners were selected from the top 1% by a team of professional educators from the JEA, writers from SATW, and representatives from the Society of Professional Journalists, and Tourism Cares, the charitable arm of the travel and tourism industry. Finalist essays were judged on creativity and eloquence; a sense of place; emotional impact; vocabulary and style; and grammar, punctuation and spelling.
We congratulate the winners of the 2017 Family Travel Forum Teen Travel Writing Scholarship and thank all bloggers for submitting such great work.
2017 FTF Teen Travel Writing Scholarship Winners:
Winners receive a cash stipend plus a GoPro Travel Bag:
1st Place – $1,000
"Dust Motes," by Joy Xie, Boonton Township, New Jersey
2nd Place – $500
"Undressed in Atami," by Vanessa Hu, Livingston, New Jersey
3rd Place – $250
"Religion and Revelry in Cuba," by Alana Webre, Sacramento, California
2017 FTF Teen Travel Writing Scholarship Honorable Mentions:
Honorees receive a Certificate of Commendation and a subscription to Lonely Planet Magazine:
"Amber Eyes," by Jennifer Lupinacci, Grapevine, Texas
"Answering a Mother's Call," by Kaycee Binder, Merino, Colorado
"An Underwater World of Wonder: A Glimpse Into My Future," by Ronja Steinbach, Albuquerque, New Mexico
"Ashes to Ashes, Dust to Dust," by Jessica Peoples, Lakeland, Florida
"The Blessed and The Ravaged," by Silas Hutchison, Mount Juliet, Tennessee
Dirt Roads and Land Cruisers: Why I Love Africa," by Haley Andrews, Arlington, Texas
"A Drive Down Memory Lane," by Jaclyn Biller, Holden, Massachusetts
"Dying Legacies and A Dusty Attic: The Lost History of Hungary," by Veronica Kuffel, Blaine, Minnesota
"Galveston: The (Not So) Pristine, Sunny and Glamorous Beach Getaway," by Emily Humble, Kingwood, Texas
"History Below The Streets," by Gary John Yang, Naperville, Illinois
"How I Traveled the World (and Time) in One Day," by Anika Patel, Fairfield, California
"Looking Past the Skyline," by Shouryaman Saha, Frisco, Texas
"On Becoming an Active Spectator," by Jackie Medina, Sparks, Nevada
"The Paper Airplane Wars," by Ashley Schuliger, Lewis Center, Ohio
"Pickett's Charge – When Even God Mourned," by Madeleine Barth, Richmond, Texas
"Reflections from the Last Frontier," by Michelle Xiong, Riverside, Connecticut
"Like a Scooby Doo Cartoon," by Jennifer Nelson, Fenton, Michigan
"Solace on a Roller Coaster," by Eli Pearl, Melrose, Massachusetts
"Sonqoykipi Apakuway (Take Me in Your Heart)," by Andrea Guzman, Winnipeg, Manitoba
"The Sovereign Joy," by Samantha Lukins, Sequim, Washington
About Family Travel Forum
Family Travel Forum has been the trusted vacation planning resource for global travel with kids and grandkids since 1996. FTF's expert and community content has been seen on Disney's Family.com and other sites, in "America's Most Popular Family Vacations," "The Complete Idiot's Guide to the Best Family Destinations," "Amazing Places to Take Your Kids in North America" and by millions of traveling families. In addition to co-hosting the annual TMS Family Travel Summit and conferences, FTF ventures include the "The Family Vacationist" blog and e-alert; and Family Travel Consulting to the trade in partnership with Taking the Kids.
About Allianz Global Assistance
Allianz Global Assistance is a leading specialty insurance and assistance company with operations in 34 countries. In the United States, Allianz Global Assistance provides insurance to 25 million U.S. customers annually and is best known for its travel insurance plans. Additionally, Allianz Global Assistance supports the education of young travelers by providing them the opportunity to travel the world through their ScholarTrips essay contest. This merit scholarship will be accepting submissions from October 6 to November 6, 2017. Six Grand Prize winners will receive a $2,500 scholarship.
About TTW Travel Industry Partners
Travel Media Showcase and TMS Family Travel, divisions of J. Vero & Associates, are designed to bring together leading print and broadcast travel media with tourism representatives from around the world to showcase new regions for media to cover, and connect destinations with qualified leads. The Society of American Travel Writers, a tax-exempt, professional association established in 1955, includes journalists, editors, photographers, filmmakers, bloggers, and communications professionals who specialize in the travel industry.
###
Contact: Fran Falkin
Email: FTFstaff @familytravelforum.com
Dear Reader: This page may contain affiliate links which may earn a commission if you click through and make a purchase. Our independent journalism is not influenced by any advertiser or commercial initiative unless it is clearly marked as sponsored content. As travel products change, please be sure to reconfirm all details and stay up to date with current events to ensure a safe and successful trip.
---