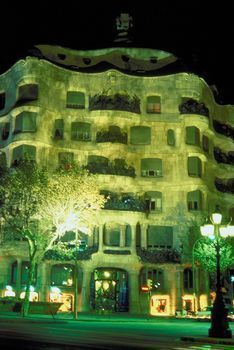 Family is a noun that many teenagers would avoid at all costs, but my heritage rooted with rich history in four countries, makes me want to know and experience more while I can. I knew that I had first and second generation ties to Mexico, Canada, France, and Spain. I truly have had the passion to visit all of the places my family comes from, while gaining family knowledge.
In the past I have been able to visit family in Mexico and Canada, and in 2002 I was able to visit family in Paris. I thought that this was everything to know, but in recent years family history has unraveled and I discovered I had family ties to Spain. With only one last summer before the last year of high school, my family decided to take a trip to Spain to learn the rest of the story.
Our trip plans were to visit southern Spain before heading to see family in Barcelona. We were getting all ready to go, and my cousin called saying he got us a hotel close to their apartment, and they planned to spend the week with us. Then the fun began.
Our three flights to get to Malaga turned into six, and went from 18 hours to 48. This change made us miss our flight to Malaga, so we spent the night in Barcelona. We went out that night to the mall, where we got to experience our first tapas bar.
I was getting to use my Spanish, and more the most part it worked well, except when I wanted ice and they laughed because they like water warm. The next morning we arrived in Malaga, and then were finally on vacation. In Malaga we got ourselves a nice little rental car, a Nissan Note, and headed south 30 miles to Marbella.
Many round-a-bouts later, we found our way to our Marriott Villa. This region was flooded with British people, who took away from Spanish culture, but still the local market where we got food for the week was filled with the Spanish meats, and baked goods, and veggies, with everything else canned. We then lived up the life at the beach and pool, playing football, volleyball, and water polo.
While we were in Marbella, we took day trips to Granada and then to Gibraltar. Granada was interesting, but there wasn't much to it. Then Gibraltar was amazing because we were in a British colony, close to Spain, Portugal, and Morocco, and there were monkeys that almost attacked me. We only got to historic Marbella once, but it was the end of the festivals, and we soon realized that they took every chance they could to party.
After this week, we headed to Barcelona where we met my cousin and aunt. Here we got real Spanish culture. We visited Guadi's park and his Sagrada Familia church. We also took a trip to see Salvador Dali's museum in his hometown. While in Barcelona we went to the 2007 auto show, and that night we saw the lighted fountain show. This experience was amazing, but the best part was spending time with family. We discovered that my great-grandfather was Spanish and he had a brother and sister. Then my great-aunt came to Spain when she was 7 to spend time with her aunt, who was my great-grandfathers sister. Then the Spanish Revolution occurred, and they closed the borders to France, but by the time the borders reopened for my aunt to travel back, her dad had died. In this time, my great-grandmother lost her last child and was institutionalized. Now my grandfather and his sibling were put into foster care, and my aunt stayed in Spain. My family had no idea of Spanish ties at all, as we functioned as a normal family with no idea of foster care. It turns out that in Europe, when a family goes into the system, the kids all have to go to school together. We finally solved the mystery and realized why everyone looked like us while we were in Spain. Not only did we get to experience the history on my mom's family, when we were leaving Spain, my dad shared with us that near Granada, there is a small village named Villalobos, my last name, where his family is from. This vacation was the time of my life, as I discovered my full family history.
Dear Reader: This page may contain affiliate links which may earn a commission if you click through and make a purchase. Our independent journalism is not influenced by any advertiser or commercial initiative unless it is clearly marked as sponsored content. As travel products change, please be sure to reconfirm all details and stay up to date with current events to ensure a safe and successful trip.
---