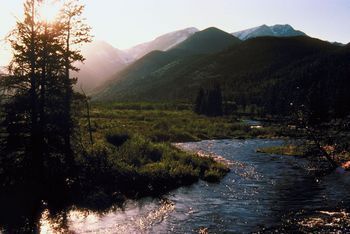 California is, and always will be, where I want to be, where I want to live, and where I want to stay. That's what I thought when my family moved away to Arizona last year. I was devastated — a junior in high school coming to a new school, 300 miles out of my comfort zone. I was miserable. Luckily enough, I found someone I could be miserable with.
My new friend Morgan moved from California around the same time I did and was also finding the adjustment hard. It now seems petty, but Morgan and I found happiness in complaining about our new houses (which we refused to call our homes.) We moaned and nagged about everything from the heat to the rain, our families, and our school. It was nice being able to hate something we didn't know.
It was nice that we could appreciate our loss of homes in California through being unhappy in our new state. Morgan is a year older than me and was glad that she only had her senior year to deal with. I, on the other hand still have a year to go, and up until very recently, was dreading it.
We decided to go on a trip this summer and do something neither of us had ever even thought about. We packed up our stuff, bought a new tent, and took a fifteen hour drive to Canon City, Colorado. Maybe it was being in the car for so long, or maybe it was the lack of coffee, but stepping onto the dusty ground in a peaceful town and breathing in the cool, clean air was something that lasted our entire trip.
The plan was to leave Arizona, pass through New Mexico, and arrive in Colorado on Saturday. We would go white water rafting on Sunday and Monday, and head home on Tuesday. It was the perfect spur of the moment trip.
Sunday morning rolled around and the weather was beautiful. After a short drive through the hills from our campsite to Raft Masters, our rafting company of choice, we checked in, and began our adventure. Our guides drove us down to the starting point of our trip.
The water was amazing and the scenery was picturesque. We had booked the easier course for both days thinking that that should be enough for the both of us. It was wonderful.
The entire day was very mellow and relaxing, and it was a great start, but it simply wasn't enough. We had some time that afternoon to explore the city and found some wonderful things. Everyone was kind and the whole atmosphere was inviting. We even traveled a little out of the way to get a better idea of the place. Not only did we run into the sweetest man who stayed open late to make us some evening drinks, we found perhaps the best coffee at a little place called The Pour House.
Since the first day didn't set much of a challenge as far as the rapids went, we changed our next day's course to the Royal Gorge. It was supposed to be trickier and more complex. It was a rush. I never wanted to leave the water. Not even when I was dragged under, clinging to the raft by one foot and my nails attached to Morgan's arm — she will never let me live that one down.
I found exactly what I wanted to do. I found where I wanted to be. I found home. Living in Colorado had always seemed exciting, what with the rivers and the snow, but after experiencing it for myself, I simply knew. Leaving on Tuesday was just as hard as it was to leave California that previous year. I now have plans to go back next summer.
The trip inspired me to start my life. I don't dread this school year anymore, because I now understand that the faster I get it over with, the faster I can go home to the Arkansas River in Canon City. They have it all. College, where I can better my education, the river, where I can help others experience the thrill of the rapids, and a place where I know I belong.
Dear Reader: This page may contain affiliate links which may earn a commission if you click through and make a purchase. Our independent journalism is not influenced by any advertiser or commercial initiative unless it is clearly marked as sponsored content. As travel products change, please be sure to reconfirm all details and stay up to date with current events to ensure a safe and successful trip.
---