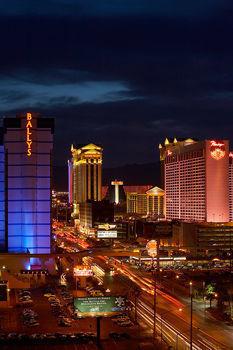 The following story, as unbelievable as it may seem, is entirely true. During the summer of 2006, my family and I embarked on a cross country trip. We left wonderful Tampa, Florida for fabulous Las Vegas, Nevada.
This was supposed to be a nice family vacation, but unfortunately what played out turned out to be a series of unfortunate events. The trip started off fairly smoothly, but things then took a turn for the worse and in the end I was the only one who had a good time. Trust me, you have never had a family trip like this.
On July 5th, 2006, my family and I took off for Las Vegas. Take-off went without a hitch at 5:00 am. That's where the 'nice' family vacation ends. Just one hour into the flight the pilot announced over the intercom that we all had to fasten our seatbelts due to rough weather ahead. The plane bounced and pitched up and down, side to side. We all thought we were going to throw up or die! Next came the emergency landing at Love Field in Dallas.
Turns out it wasn't so much the weather as the ruptured hydraulics that caused all the trouble. Two hours later we re-boarded the plane and went on our way to Vegas. The plane troubles didn't end there. When we finally got to Vegas we had to remain in a holding pattern over the airport. The captain said it was airport traffic because of the 'weather' we flew through. Ha ha! It sounded ridiculous and very possible at the same time.
We finally landed after a couple of hours and the best was yet to come. On July 6th we rented a car to drive to Grand Canyon. Sounds awesome right? Of course it wasn't. The only car that was available for rent was a tiny Subaru that our family of five barely fit into, so I was sandwiched in the back seat with my brother and sister for five hours. The Grand Canyon was awesome and truly the highlight of the trip, but our visit was cut short by a severe storm. We were almost back to Vegas when suddenly our car had a blow out, so we had to change the tire in the 110 degree heat blah! That wasn't even the worst of it.
We didn't get much farther before the crappy little car blew a hose and over heated. The next town was only a mile away so we decided to walk and everyone got sunburned, except for me! I had put on sun block and my trusty Red Sox cap. The guy who fixed our car was anything but friendly and my father made his displeasure clear. The day ended with a busted rental car, burned skin, and burned attitudes.
July 7th would prove to be the worst day for everyone except me. We went to the food court for breakfast and everyone ate at Burger King, but I had spotted a cute girl eating alone so I ordered what she did and sat with her. I struck out, but all was not lost. Everyone who ate at Burger King that morning got sick and it was hysterical! My mom said I could go wherever as long as I stayed in the hotel.
So finally I had the opportunity to do what I had wanted to do ever since we had gotten there. I went to the pool and hit on girls all day. That's my idea of a vacation! The next day we went home or at least we tried. Our plane was delayed, next it had engine trouble so we turned around, then we were delayed again and finally we went home.
My mom said it was the worst vacation ever. My dad was more annoyed about the car and the jerk mechanic we had to deal with. My sister slept through a lot of it, so I don't think she cared. My brother really wished he hadn't eaten so much Burger King and vowed never to eat there again. As for me I had a phone full of new numbers, and I really couldn't care less what anyone else thought. If you're on vacation take it from me you should always be prepared, and make the best of your situation no matter how bad it may seem. In the end a little dumb luck never hurts either.
Dear Reader: This page may contain affiliate links which may earn a commission if you click through and make a purchase. Our independent journalism is not influenced by any advertiser or commercial initiative unless it is clearly marked as sponsored content. As travel products change, please be sure to reconfirm all details and stay up to date with current events to ensure a safe and successful trip.
---