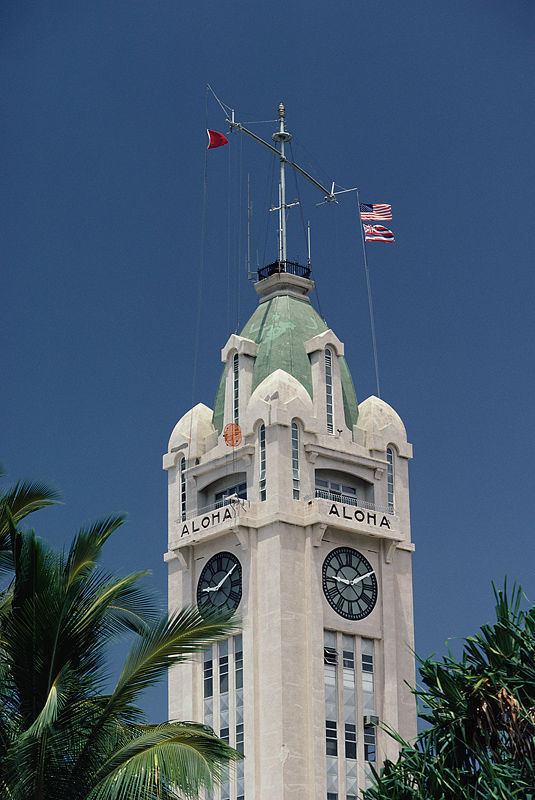 Guilty your Honor! In typical teen fashion, I took my last vacation with my parents kicking and screaming. When I somewhat gleefully realized at the airport that I had forgotten my picture i.d. I magnanimously volunteered to take the train home but my offer and cries of 'You're wasting your money' fell on deaf ears.Yes, I had been falsely convinced that my last exalted exercises in difficulty on our Mendocino trip had exhausted even my parents's irrepressible optimism that family and vacations could coexist.So we flew out to Honolulu and waited my daughter's faxed passport photo to get me on the cruise line.
Truth be it, I'm glad my folks are stubborn and don't believe parenting and always being 'best of budddies' have to go together. I had a hecka good time, after all.Honolulu wasn't exactly my deal. I like to get off the beaten track and Honolulu is not the Road to Hanna.
Still, 'ya gotta love the weather and I found a neat health food cafe several blocks from the hotel. It was also neat to connect a face to the story of Pearl Harbor. The trip to the Arizona was really touching.It was great that my dad's life-long friend, an American Air retiree, flew out on a pass and toured us around his old island stomping grounds.
Best yet, the drive to Sandy Beach in a jeep was fun and the surf was definitley up. It was good to put the tamer Honolulu behind me as I was relating to my dad's god-awful rendition of 'They took paradise and paved it with a parking lot'.Things really kicked into a nice low-gear on he seven day Norwegian Cruise tour. Between homework, sports, scouts, martial arts,leadership and church activities life gets pretty crammed.
I tell you, it was nice to just sleep in. No chores, no activities to run off to. Eating whenever, and whatever, I so desired was hog heaven as I am a fitness buff and try to eat every 2-3 hours.
No mom to beg for food, no Subway change to scrape together. Just mammouth buffets and hamburger grills at beck and call. My parents (the stubborn ones) kept trying to enroll me and my ten year old nephew in a teen and Young Rascals club, but we had absolutely no interest.
It seemed lame and, anyway, there were a dozen decks to roam, girls to flirt with, pools and weight rooms to indulge in, pingpong and basketball to play, food in every possible shape, form and venue. Free and fancy loose; committed to avoid eye contact when passing the parents on deck; and untethered from the folks at all meals (save the formal dining room for obligatory lobster night).I could get used to this good life.In fact, my dad, an inveterate educator, made a 'teaching moment' by saying 'Son, if you have a good education and career, this is how you can live'. Dad, I'm listening loud and clear! Hey, even the on-shore excursions were fun after my dad realized he much preferred renting a car and living by his own tour schedule.
The snorkeling off Kona and surfing on Mauii were dynamite. Kauii, the least developed, was my favorite. Any place Jurassic Park was filmed couldn't be too bad in my book.
Hawaii even has its' own version of the Grand Canyon, which I'd like to explore next time.I could try an island for a year or two. The Aloha spirit isn't a bad way to go. I'm glad my parents insisted I come along.
Dear Reader: This page may contain affiliate links which may earn a commission if you click through and make a purchase. Our independent journalism is not influenced by any advertiser or commercial initiative unless it is clearly marked as sponsored content. As travel products change, please be sure to reconfirm all details and stay up to date with current events to ensure a safe and successful trip.
---