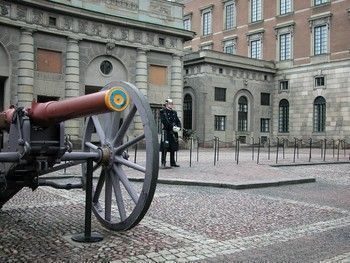 Sometimes in your life you reach a point where you feel you have to get away or you will just explode. I think that is what I was feeling that hot summer day in June, sitting with my best friend in the high school gym. That summer seems so far away now.
It is now, almost two years later, that I can actually comprehend how much that day changed my life forever. I come from a small town in Iowa where every day is the same for an average teenager like me. Sports practice in the morning, going swimming during the day, and hanging out with your friends at night.
Maggie and I were talking after practice, like we normally do. The subject today was her trip around Europe. She would be going next summer — 16 different countries in 14 days! I'll be honest, I was envious.
I had never been outside of the United States and from were I was sitting, the chance to do so was not very great. That was when the idea hit me. I could travel outside of the United States! And I could spend a whole lot longer than 14 days.
I had decided that I wanted to be an exchange student. At first I had no idea where to begin but I talked to my school counselor and he helped me figure out a lot of things that I needed to do to make my trip possible. I decided that I wanted to do an exchange through Rotary International.
Over the next couple of months, I learned a lot about becoming an exchange student. What I found amazed me. Rotary exchange brings together over 82 countries and over 8,000 students from around the world.
That means that more than 8,000 teens from the ages of 15 to 19 see the world the way it is best seen — from the inside out. My school always gets a new exchange student every year, but I had no idea how many there really were. After realizing how many other kids were able to travel across the world and be away from their families, I was determined to become an exchange student, too.
On August 1, 2006, for the first time I stepped onto the foreign soil of Sweden and I would be there for a year. During my year in Sweden, I lived with 3 different families, each one special and unique. I owe them a lot of credit for the wonderful year I had. I could not have done it without them.
I have also met a lot of interesting people, from Sweden and from other countries. What surprised me was how much I relied on my other fellow exchange students during difficult times through out the year. My closest friend, Elizabeth, also an American, lived only forty-five minutes from me so, of course, there was a lot of time spent talking to the wee hours of the night about troubles we were having with our families (here and at home), the things we missed from US, and just the basic things friends talk about.
I also got to see and do amazing things that I would have never been able to do if I had stayed at home. Eating a hundred different types of herring, watching an Australian dancing in the snow, walking in a building that is from the 16th century, and learning in an entirely different language rank at the top of the list. During my year in Sweden, I have realized that I have learned a lot. The most obvious is that I have learned a new language. However, I have also learned a new way of living, looking at things, and I have become more open to new experiences and ideas.
My exchange year was in one word: exhilarating. Moment after moment was exciting and different. It is like seeing the world with a new pair of eyes, where certain things have different meanings than they did before. I think that my year in Sweden was beneficial to me and everyone that I met. I had a wonderful time and learned a lot. It is an experience that I will remember for the rest of my life. I have experienced something that not everyone gets to do, and I am happy to be able to tell people about my year in hope that they too might experience what I have.
Dear Reader: This page may contain affiliate links which may earn a commission if you click through and make a purchase. Our independent journalism is not influenced by any advertiser or commercial initiative unless it is clearly marked as sponsored content. As travel products change, please be sure to reconfirm all details and stay up to date with current events to ensure a safe and successful trip.
---