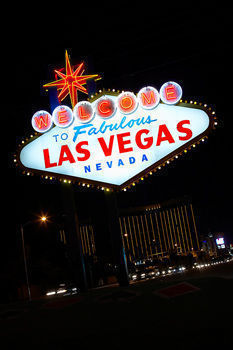 Las Vegas? Whatever!The alarm is set for 3:00 AM. The taxi is coming to pick us up at 3:45 to go to the airport. Who would choose such an hour to travel? 'But,' my mom says, 'We'll have the entire day if we leave early.' We're going to Las Vegas for our vacation.
It's August. It will be very hot in Las Vegas in August. 'But,' my mom says, 'It's a different type of heat, no humidity.' 'Whatever,' is what I'm thinking.
I'm tired, and I just want to sleep.I sleep through most of the flight and arrive in Las Vegas. I can feel intense heat when we walk outside. But she is right, it's not humid.
It's very dry with a breeze. After we checked into our hotel we went out to sightsee. I've been here before, but I don't remember much.
I was only 8. I'm 15 now. I asked my step-dad what is there for me to do.
He said, 'Your mom has the trip planned out, and you will have fun.' 'Whatever,' is what I'm thinking.On our second day we have a day trip planned to the Grand Canyon. My mom says I will be transformed by the sight. I should open my mind and appreciate the opportunity.
I am told we need to leave by 6:30 AM. What is she thinking? I have to be awake at the crack of dawn? I start to wonder what is wrong with my mom. In the morning we meet our guide in front of the hotel.
The driver knows a lot about the area. We stop to walk across the Hoover Dam. On my first visit here I went inside the Dam.
I don't remember that. Today we walk across the dam, and I am amazed at the size. It is hard to believe it is man-made. We decide to stop in a small historic town called Kingman on the famous Rt. 66 highway in Arizona. 'Whatever,' is what I'm thinking. What could possibly be there? But I learn quickly that this two lane highway was what carried many people across the country when it was first built in 1926. At that time, it spanned over 2,450 miles and traversed eight states. Some of the original buildings are still there. We walked around and, I got a chocolate malt from one of the original shops still in business. It wasn't so bad stopping after all.
Onward we went toward our destination of the Grand Canyon. The driver asked if it was OK if he went a 'little over' the speed limit to make up time. My mom had a nervous expression, and said, 'Just be safe.' She didn't anticipate the 90 mph that he drove in order to make up time. Once we reached the Grand Canyon we began our 1 ¾ mile hike up a steep portion of the canyon. There are various layers of color in the canyon. The canyon was created by the continuous flow of the river. Looking over the cliffs, I was amazed to see a great vastness, and felt small in proportion to its size. My mom was nervous about me looking over the cliffs. People are injured or killed by falling each year. It is an overpowering site, and I am glad that we are here.
Once again, she was right. After hiking for some time, we stopped for a picnic lunch and took the shuttle back. As we left, the driver once again decided to 'go a little fast' to make up time in order to get snapshots of the sunset over the Colorado River. My mom again looked nervous. I fell asleep in the back of the van.Our vacation would soon end. It turned out to be a great experience.
My memories will include – a Cirque de Soleil show; the exhibit Bodies which explores the intricate workings of human bodies; visiting family members that had moved there; re-visiting the Hoover Dam; exploring American history on Rt. 66; and last but not least, enjoying the wondrous Grand Canyon. When you begin an adventure, you have no idea of what lies ahead. I think this adventure inspired me to be more receptive to all adventures, no matter how trivial they seem. Back home we talked about where our next trip may take us. My mom was thinking about a trip next year to Alaska, and asked me what I thought? 'Whatever' was my reply.
Dear Reader: This page may contain affiliate links which may earn a commission if you click through and make a purchase. Our independent journalism is not influenced by any advertiser or commercial initiative unless it is clearly marked as sponsored content. As travel products change, please be sure to reconfirm all details and stay up to date with current events to ensure a safe and successful trip.
---