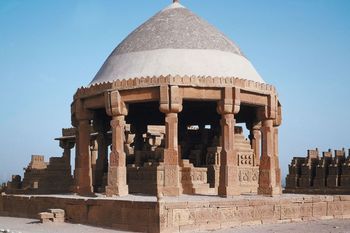 Watching the sun set behind the snowcapped mountains, shading the valley below left me with an impression of absolute beauty. To say that the view from Eagle's Nest was breathtaking would be robbing it from its true wonder.
In the past, I have traveled all over America and abroad. I have traveled to through London and Paris, but none of those adventures were as beneficial as my last expedition. Unlike most school trips, for this adventure we had 10 students and three teachers. We didn't stay in 5 star hotels and we didn't always have nice warm showers. We traveled to Beijing, China, where we spent four days visiting historically important places like Tiananmen Square, the Great Wall, and the Forbidden City.
We also attended lectures on Chinese culture, government, and language at Beijing University. From Beijing, we journeyed to the western city of Urumqi and to Turpan, where we were introduced to Uygher foods and customs. In Turpan we visited a school and spent time interacting with students.
This was my most rewarding experience with people. I was able to communicate with students my age that spoke very little English. The friendships I formed with the four students I talked to during this visit will stay with me for the rest of my life. After Turpan we explored the Livestock market, the Idkah Mosque, and the Apak Hoja Tomb in Kashgar.
Our first evening in Kashgar was spent walking the streets in the 'old city.' From the outside, houses in the 'old city' look poverty stricken and rundown. We were fortunate enough that a family invited us in to see that inside there is a courtyard surrounded by rooms.
I was amazed that each room was brilliantly painted with elegant designs and elaborate colors. The next day we traveled six hours on the 'Friendship Highway' to Tashkurgan, our last warm shower and stay in China until returning home. Once we reached Pakistan, we stayed in Karimabad for two nights.
Karimabad is located in the Hunza Valley in northern Pakistan. When I tell people that I traveled to Pakistan with my school, they gasp in disapproval. During my stay in Karimabad I learned that the media has horribly shaped Americans views of Pakistan.
Karimabad was the most beautiful stay on my trip. We hiked up to Baltit Fort, interacting with locals the entire two hours it took us to get there. The locals were extremely friendly and always waved as we walked past.
The concept of people smiling and waving at complete strangers was new to me, but it filled me with such pleasure, I did not stop smiling my entire stay. It amazed me that such a simple gesture could feel so right and made me decide that upon my return to America I would bring back that hospitality and say hello to everyone I saw.
That night in Karimabad we hiked to Eagle's Nest and watched the sunset over the spectacular peaks of Rakaposhi, Diran, Spantik, Lady Finger, and Ultar. The view was beyond beautiful and brought me to the reality, 'I'm alive'. From Karimabad, we ventured to Gulgit where we took jeeps up to see a carving of Buddha on Kargah Nala, a mountain overlooking the city of Gilgit.
The next day we traveled to our last destination in Gulmit where we experienced another great interaction with local pakistanians. While walking through the village we encountered some local boys playing volleyball. Once invited the majority of the students in our group stood to the side debating joining in. Anxious to see what type of memories I could create, I was the first student to openly jump in the game shortly followed by the rest of the group.
It turned into an America versus Pakistan volleyball game for fun. They beat us three times but remained kindhearted and sportsmanlike. This interaction was rewarding and fun for all of us. This trip left a footprint on me that no amount of time can erode. I experienced things most Americans never will and opened my eyes to the cultural diversity in the world. I feel I am a more optimistic because of my interactions with people and learned that the news will never tell us everything about a country. I have documented and scrap booked my expedition. Even with all the times we roughed it on the trip, I wouldn't have done it any other way.
Dear Reader: This page may contain affiliate links which may earn a commission if you click through and make a purchase. Our independent journalism is not influenced by any advertiser or commercial initiative unless it is clearly marked as sponsored content. As travel products change, please be sure to reconfirm all details and stay up to date with current events to ensure a safe and successful trip.
---