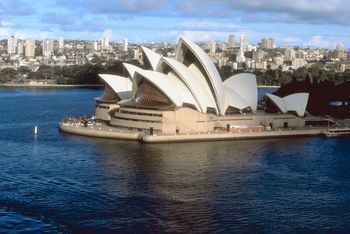 Two summers ago, I went to Australia on a People-to-People trip. People to People is a program where selected student are given the opportunity to travel to different parts of the worlds and learn about their history and culture. President Dwight D.
Eisenhower started the program to try to promote world peace through children. Today, his granddaughter, Mary Eisenhower, is the president of the company and still trying to spread the same peace through the world.Although we went in the summer, our journey really started in January. To complete the program, all the people in the San Jose area were required to attend monthly meetings to meet new people and learn about our destination.
Each month we would gather and discuss culture, history, and current events in the world.My family and I went to the airport in July, as I got ready to leave. I finally had all my clothes and things I would need stuffed in my suitcase, so stuff it almost busted. I walked into SFO airport with my burgundy-collared shirt, khaki pants, and a carry-on case, ready for my fight.
I saw a girl I had talked to a few times, Francesca and went over to talk to her. We were all waiting anxiously.The plane ride to Los Angeles did not take very long, but the seven-hour layover we had was extremely boring. We were all playing cards and twiddling our thumbs when it was time for us to board the plane.
Our whole group, consisting of twenty-five kids and three adults, boarded together and got in our seats. The long fourteen-hour flight was going smoothly until the pilot came on the intercom and said we would have to stop in Brisbane to fill up on gas. Our whole group was bummed because we thought we were going to miss our tour at the Sydney Oprah House.
Two hours later, we were cleared for take off and set out on another three hours of flying and boredom. When we finally arrived in Sydney, after what seemed like years, we meet up with the group from Southern California. The bus took off, with us all safely aboard, towards the world famous Sydney Oprah House.Before we actually got to go in and take a tour, we sat down to eat on a beautiful cruise around the Oprah House and under the Sydney Harbor Bridge.
We went outside to take pictures of the wonderful views. We got off the boat and meet our tour guide. As I walked through this amazing building, I learned about its history and architecture.
I was told that it was built with the design and shape to make the acoustics sound the best they could. Sadly, our day ended after the tour, but I know no one was upset to see a bed that night.Over the next three weeks, I did so much that has helped me. At a place called Full-On, I learned to conquer my fear of heights by jumping from a 30-foot platform onto a trapeze pole (but do not worry, I had a harness on.
I stayed with an Australian family and went to school with their two children. I had the chance to see what school was like for Emily and Nick, my home-stay sister and brother, and compare it to school in the United States.In the last week of my amazing journey, we stayed at an active running farm. The owners were so nice and treated us like nothing less than family, even though they had met us less than 5 minutes ago. I guess that is just how people form Australia is, nice and giving, well at least the ones I met. At the farm, I milked a cow and even drank the milk right from the utter. I thought it was one of the grossest things I have ever done, but it is one thing I can say I have done that most have not. The other thing I did that was gross and uncommon was eat cow testicles. I did not want to, but was persuaded and I am glad I did. Surprisingly, they tasted like shrimp and are actually a delicacy in Australia.
The next morning was so sad because we had to leave. Even though I had met these people just two days earlier, I felt like in some way, they were a part of my family.
 
Dear Reader: This page may contain affiliate links which may earn a commission if you click through and make a purchase. Our independent journalism is not influenced by any advertiser or commercial initiative unless it is clearly marked as sponsored content. As travel products change, please be sure to reconfirm all details and stay up to date with current events to ensure a safe and successful trip.
---