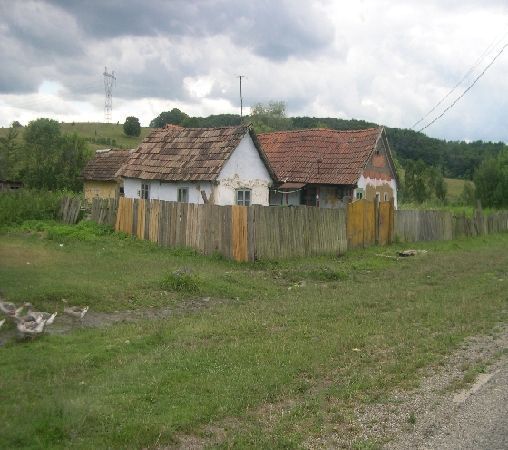 In the summer of 2007, my parents and I took a trip to Romania. Landing in the city of Timisoara, I noticed that this trip was not going to be the way I had planned. The airport was extremely small, maybe the size of a Kroger, and our luggage didn't arrive on time. We couldn't set off for our initial destination of Arad until the luggage arrived, which was four days later. Let's just say we started our trip off on the wrong foot. When everything was set to go, we left for Arad, one of Romania's largest cities. All along the way, I looked out the window of the car and was left speechless at what I saw. Nothing was I had thought it was going to be! Most of the cars on the road looked like they were going to break down any second, all the houses along the road looked like a strong wind could blow them over, and the road was horribly bumpy. This wasn't what I expected Romania to be after so many years of freedom from the communist regime. I figured it would come back up on its feet and rebuild.
When we arrived in Arad, things were looking a little bit better and my hopes were brought up, but not for long. My cousin lives in one of the apartment buildings built during the communist regime, and I went to go visit him. As I walked in, my mouth opened wide with surprise when I saw how small and primitive the apartment was. This was 2007 and these people were living as if it was half a century earlier! Thoughts swarmed through my head, adding to my surprise about Romania. Walking around through the city, I noticed the cracked roads, the massive number of homeless people, and the huge towering apartment buildings left from the communist time. It was time for me to get some answers so I asked my cousin to explain to me why things were as they were. He began telling me that it wasn't easy to rebuild Romania after Ceausescu's reign. People were living in the apartment buildings so they couldn't be torn down and new ones rebuilt in their place. Also, the salaries stayed extremely low, even to this day. It is hard for someone to make a decent living for themselves if they don't have a somewhat higher-paying job. It is even harder for them to receive health care so many people die from disease and sickness.
As we talked, I heard a voice in my head telling me, "These people need your help, Jane. These people need your help." It was at that moment that I knew I needed to go into medicine, in order to one day come back and be able to treat the people of Romania. That trip was an eye-opening trip, teaching me that there are so many areas in the world that need help in every aspect. Not every country is like America with our comforts and our healthcare system. That trip gave me the motivation I needed to choose to go into the medical field, and to choose to use my gifts to help others. I plan to go back to Romania as a medical missionary during and after I finish medical school. Nothing could have convinced me more about this calling than the people of Romania themselves.
Dear Reader: This page may contain affiliate links which may earn a commission if you click through and make a purchase. Our independent journalism is not influenced by any advertiser or commercial initiative unless it is clearly marked as sponsored content. As travel products change, please be sure to reconfirm all details and stay up to date with current events to ensure a safe and successful trip.
---