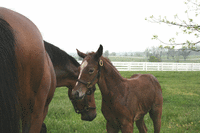 It's late afternoon, Saigon. Traffic has eased up a little, but the signature tropical humidity is still unbearably heavy. My mom and I are across the street from our hotel, taking pictures at Ho Con Rua, a circular, concrete area where young couples escape for an afternoon rendezvous. Translated, Ho Con Rua means "turtle pond," but there wasn't a single living organism in the murky greenish-black water when I looked. Compared to what I had seen of the city that day, though, the concrete "turtle pond" had that romantic, peaceful charm that didn't exist anywhere else in Saigon.
While my mom is taking pictures of me, I am secretly staring at a young couple enjoying a private moment. As soon as my mom is tired of taking pictures, I take the camera and pull my traveling stuffed squirrel, Nuts, from my pocket. I take a picture of the young couple, with Nuts poking his head into the moment. Then I run to the top of the tower in the middle of Ho Con Rua to take a picture of Nuts and a bird's-eye view of Saigon. Everyone stares at me as if I'd lost my mind while I hold Nuts at arm's length in front of the camera.
Nuts, the object of this vacation habit, has had the title of "traveling squirrel" since ninth grade, but the picture thing is recent. Back in elementary school, Nuts was simply the free toy I received in a Happy Meal. The mini-Beanie Baby collected dust on my desk, never venturing beyond my tiny bedroom. Then I entered high school, and my curiosity to see the world blossomed. This inspired the idea to take Nuts, my only travel-size stuffed animal, to all the places I or my friends vacationed to. Every place he'd been to was simply recorded on a piece of paper tied to his tail. Unfortunately, that piece of paper went missing in eleventh grade. I was upset about losing the only proof I had of Nuts's travels. Starting over again was a given, but instead of getting a new piece of paper, I decided to take pictures of the places he's been to, instead.
Hardly anyone I know understands why I want to send Nuts to as many places as possible. When I first tell my friends about him, they either dismiss the idea as a stroke of comedy or quickly compare it to the stuffed monkey in the AT&T commercial, even though the idea came to me long before the commercial was on TV. My cousin in Vinh Long completely missed the idea of my pictures of Nuts, evident when she took a picture of Nuts with the family cat and several other random, but cute, pictures around her house. When my dad saw my Vietnam pictures, he hooted everytime he saw Nuts in a picture, especially at the one of Nuts "climbing" a sugarcane plant in my grandma's jungle-like backyard.
Nuts is more than a running gag I do when a friend or I go on vacation. He fulfills my curiosity to see as much of the world as I can. Somewhere in the beginning of Nuts's career as my traveling squirrel, he became a part of me. The missing piece of paper and the pictures of all the places he's been to are my way of saying, "I was here."
As I snapped a picture from the top of the Ho Con Rua tower of Nuts and the Saigon midday traffic, I grinned, knowing that I loved every place I, and Nuts, had visited.
Dear Reader: This page may contain affiliate links which may earn a commission if you click through and make a purchase. Our independent journalism is not influenced by any advertiser or commercial initiative unless it is clearly marked as sponsored content. As travel products change, please be sure to reconfirm all details and stay up to date with current events to ensure a safe and successful trip.
---