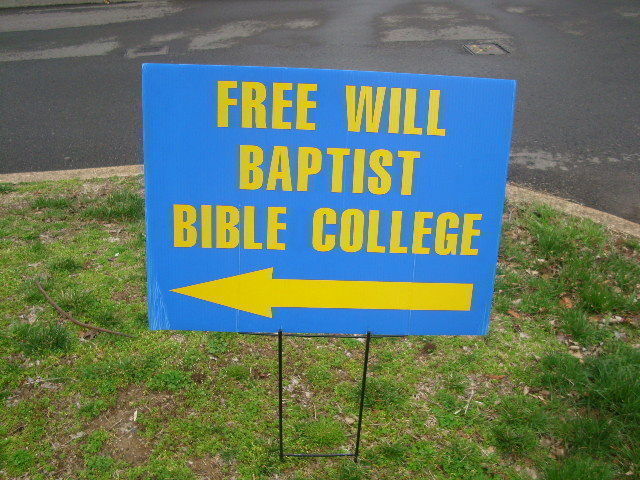 Imagine being on a van full of luggage, two adults, three teenagers and food and DVDs galore. Seems like the perfect trip doesn't it? About ten straight hours of watching movies, gossiping, pigging out, singing, playing those silly car games and just being in the company of your closest friends is a wonderful journey. Five people with one destination: Free Will Baptist Bible College.
Nashville Tennessee is a beautiful place. I traveled down there with my youth group to visit the college for "welcome days". While in Nashville we did some sightseeing and attended some college classes. This is an account of my experience.
We started out at the college and even though we wanted to be away from school, it was just a different environment. The people were so friendly. After we settled into our dorms we went and started our adventure. Our first stop was Centennial Park. It was so beautiful there. The trees, flowers, water and the bridge are simply breath-taking. After Lynsey and I took thousands of pictures and walked around we went on to continue our rendezvous.
Our second stop of the trip was any teenager's dream. We went to Opry Mills Mall. It was huge inside! We went in stores, took random pictures with people and statues, bought some souvenirs and even had lunch. The fellowship with the youth group was an added bonus to the wonderful mall that was all around us. The stores just catch your eye because you don't see the same items you normally see at home. You almost feel compelled to buy something because you never know if you'll ever find it again, or maybe that's just me!
After we left the mall we headed back to the college to settle in for the night and hang out with our dorm leaders. The college students taught us a lot and they make it exciting to be there. It feels like home. They have a wonderful college campus. It's beautiful inside and out. The professors and student body are some of the most kind-hearted people you'll ever meet.
On the last day of our trip we ventured over to Gaylord Opryland. I wasn't expecting the place to be so gorgeous. The indoor waterfall, atrium, flowerbeds, antique paintings and decorations were all astonishing. The boat ride around was icing on the cake. I wish I could have boat rides in my house. The outside with the water, plants, lights and gazebos were appealing at night.
At the end of our trip we waved goodbye to the college students, said a prayer and went our way to start our venture back to Cross Pointe Free Will Baptist Church. On the way back we reviewed our trip and looked through all our pictures. We had a blast! Who knew that college could be so fun and exciting? I sure didn't. I can't wait to go back. I miss Nashville.
---
This story was accurate when it was published. Please be sure to confirm all rates and details directly with the companies in question, and stay up to date with current events to ensure a safe and successful trip.