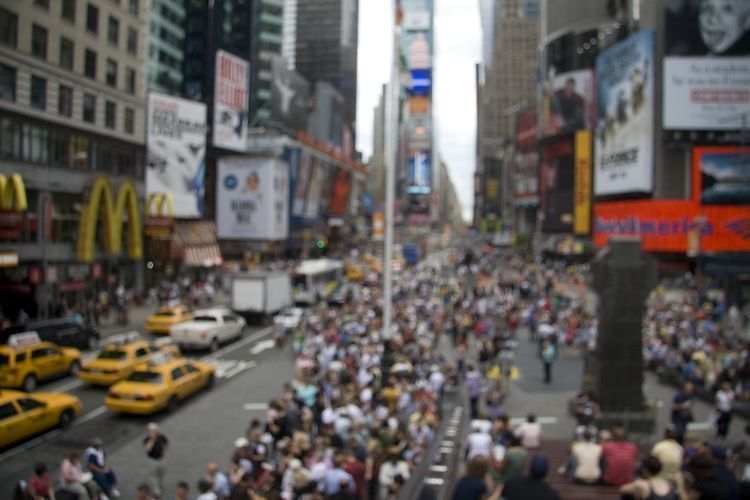 Can you just picture yourself immersed in the diverse cultures that fill New York State? What must it feel like to walk amongst people from all over the world?  I never thought I would be standing in the middle of Times Square gazing at the bright lights of the gigantic billboards. I had no idea this journey would have such a profound effect on my life.
I had had a difficult freshman year and I was so happy to be ending it with a trip to New York. I constantly had to deal with people asking rude questions and I had let their negative comments get to me. Things like "Why are you so pale?", "Are you bi-racial?" and "You need to go to the tanning bed" were frequently being thrown at me. It was as if they had never seen a light skinned African American before. My mom has always told me "Don't judge someone by the color of their skin; you should take the time to get to know them. So I just assumed that everyone had the same morals and they knew that it was impolite to make negative remarks about someone. So many things were going through my mind. Am I going to get weird looks like I do in Russellville? Is it wrong for me to walk around with my white friends?  How will people react? Should I really care what other people think about me or my friends.
Bright and early we loaded the Greyhound onward to the Ferry at Liberty Island, NY en route to the Statue of Liberty. This was the first place that actually changed my life and what I thought about America. As I looked around the ferry, I noticed we all just want to be Americans. Everyone, from Muslim women dressed in their traditional caftans to a welder dressed in overalls and work boots; A young mother holding her newborn to grandparents showing their grandson the statue of liberty, were joined together as one group. As an influx of people washed on board the Ferry, I was in awe of how polite the people that we know as crazy-rude-pushy-know-it-all New Yorkers actually were.
The next day we went to China Town, Brooklyn, Uptown New York, and Staten Island. Although certain cultures had their own areas they shared it with everyone. There was peace and harmony among the people. In New York, I never once got weird looks, or rude comments because of my skin tone; I finally felt a sense of belonging. We all blended together as one human race. I learned that I shouldn't let ignorant remarks get me down. People from different places come to my country because they want to be free and if they can deal with the criticism so can I. I have the right as an American citizen to live here freely and be happy with whom I am not what someone else wants me to be.
Since then I have taken so much more pride in being an American. I live in a country that entices people from thousands of miles away just because we're an accepting country (for the most part). In my hometown, some people judge others by the color of their skin. I have learned to accept myself despite what other people say. We all have a purpose here, I just hope people will stop judging one another and learn to live together as one human race. I know that I may not be able to change everyone's opinion but I hope I can influence someone.
Dear Reader: This page may contain affiliate links which may earn a commission if you click through and make a purchase. Our independent journalism is not influenced by any advertiser or commercial initiative unless it is clearly marked as sponsored content. As travel products change, please be sure to reconfirm all details and stay up to date with current events to ensure a safe and successful trip.
---