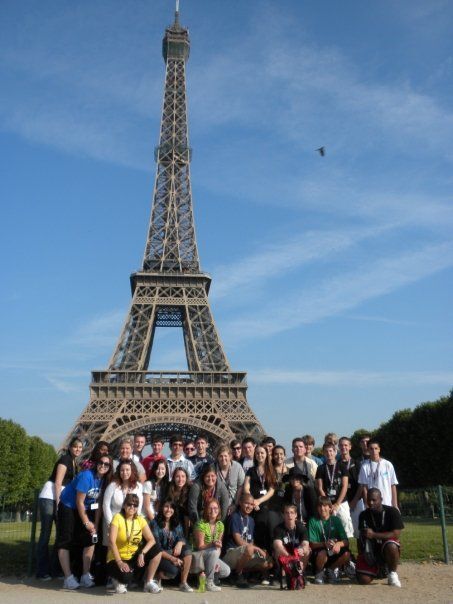 If you just so happened to be in England or France this summer perhaps you were lucky, or unfortunate, enough to come across a band of interesting people all sporting name tags and the same maroon polo shirt and khaki pants. Rowdy, excited and smiling all the way- we were an excitable bunch of high school students on the trip of a lifetime. The trip of a lifetime, of course, was a chance to travel with the Student Ambassador program known as People to People; being a aprt of it meant becoming an advocate of cultural understanding around the world.
     However, the trip not only helped us to meet and understand people in different areas of the world, their history and culture, but it helped us to grow and connect with the students from the same travel group, some of which we met on the plane ride over. Together we experienced the wonders and beauties of Paris, standing at the base of the massive Eiffel Tower and looking up and seeing only a portion of the massive Louvre, and the majesty of Versailles, being the first into the breathtaking hall of mirrors and watching the fountains start up as we walked by them in the gardens. We cried together in Normandy as we walked the paths where great casualties had taken place and many lives had been lost.  We helped each other back up when we fell while learning the art of windsurfing at the United Kingdom Sailing Academy on the Isle of Wight. We learned to love London in the rain as we scurried past the clock tower, being pelted by droplets, but still managing to get some good snapshots anyhow.
     Personally, I always knew that I wanted to travel to western Europe and discover the history, the wonder, the sheer greatness that it encompassed. I never imagined such a trip would change me as much as it did. I learned how much more beautiful the gardens of Versailles were when walking them with a group of friends who could make you laugh, or how alike we are when it comes to visitors from around the world coming to our schools, as we visited a school in England to find the younger children were fascinated by our accents and where we were from.
     Another important aspect of the trip, for me, was the independence I felt getting to break up into smaller groups and do as we pleased with whatever amount of time we were given. Exploring the streets and cities and museums with virtually no boundaries was a freedom that is seldom experienced by the youth of today, at least, in a foreign country. I will never forget how it felt to divide into a group of people who were ready to experience Stratford-Upon-Avon as Shakespeare's birthplace rather than just a shopping plaza with a statue of a Jester at the top of the street.
     It is rare that I look back at my experience from this summer and reflect on who I am after returning. I still spend time with the same friends, doing the same things, I still procrastinate when it comes to cleaning my room, so, it may not be obvious where the major changes are. No, the difference is not an apparent one, so maybe to others it is as if I never went on a trip that would change my life. Of course I am still the same person, but the trip was life changing. I learned that, no matter where you go in the world, it is not about being divided by our cultures, countries or beliefs. It is about how we are drawn together, all of us, by what we share: happiness, laughter and an undying sense of adventure.
Dear Reader: This page may contain affiliate links which may earn a commission if you click through and make a purchase. Our independent journalism is not influenced by any advertiser or commercial initiative unless it is clearly marked as sponsored content. As travel products change, please be sure to reconfirm all details and stay up to date with current events to ensure a safe and successful trip.
---