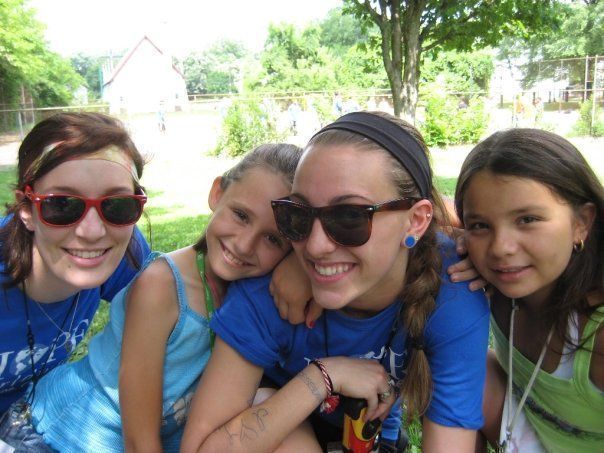 Home felt far away as I stepped out of the airport and into the warm Philadelphia air. The nerves set in as I looked around and realized that I knew absolutely no one. I was out of my comfort zone and I began to prepare to adapt to wherever I was going next.  It was day one of my five-week journey into my AmeriCorps internship. I was scheduled to be serving for three weeks in Philadelphia and two weeks in Baltimore. As we came into our introductory class, I was surprised at how welcoming and loving all my fellow AmeriCorps members were. Not one of us really knew any of the others and thus we were all bonded by this uncommon commonality.  As the first week progressed I began to open up to the people around me. It became clear that these people were not just temporary friends; I had found friendships that will last a lifetime.
                 We then traveled from Philadelphia to Baltimore where we would be mentoring kids from ages five to thirteen. I was assigned two girls; Breanna and Janessa who were thirteen and nine. These girls were full of life and an unusual maturity. This maturity came from the responsibility forced upon them as they grew up in families with little support and control. Every morning we woke at 6 a.m. and served  until 6 p.m. These long days were definitely exhausting but worth every ounce of energy. The time I spent with Breanna and Janessa taught me what it means to sacrifice, give, share, learn and grow. As I 'served' these young girls, I quickly realized I was able who was being served. These girls taught me how to more appreciate life and how to make a situation positive simply by changing my mindset. Breanna came from a broken family lacking love and compassion, yet every day she would show up full of joy and kindness. Her ability to sustain an optimistic mindset despite her challenges was so impacting to me.  I can honestly say it changed my life. I am so grateful that I was able to have Breanna and Janessa impact me and be a part of my life.
                For the remaining three weeks I was able to counsel at a youth camp in Philadelphia. The first week was great as I bonded with each of my campers and co-counselors. As the second week approached I was expecting another great, however, things were much different. Instead of being a counselor I was put on 'Youth Care'.  'Youth Care' are the volunteers at camp who take care of the kitchen, clean up messes, and generally keep order in the camp. Knowing that I'd be stuck inside the kitchen all day or cleaning up trash instead of participating in the camp activities was definitely discouraging. However, as the week progressed I was so thankful that I was a part of 'Youth Care'. Having to constantly serve (most times without recognition or gratitude) really showed me how to be a genuinely caring and giving person. I was able to see the flaws in my character and was thus able to make changes and grow as a person.
                My five weeks on AmeriCorps impacted me and taught me more than any other experience of my life. I was surrounded by hardworking and encouraging people who kept me eager and determined to continue giving all of my heart to the trip. I have grown tremendously because of this trip and every day I use the skills and lessons I learned to become the person I aspire to be.
Dear Reader: This page may contain affiliate links which may earn a commission if you click through and make a purchase. Our independent journalism is not influenced by any advertiser or commercial initiative unless it is clearly marked as sponsored content. As travel products change, please be sure to reconfirm all details and stay up to date with current events to ensure a safe and successful trip.
---