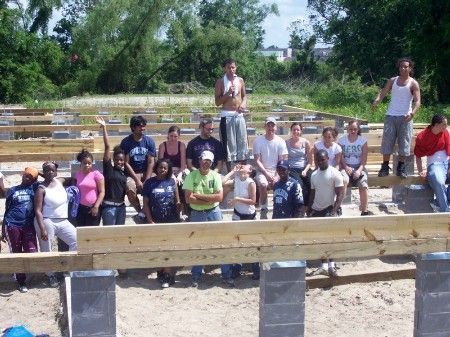 Community Service Essay
 
              "Uh-huh wear them jeans, girl!" These words spoken from a true New Orleans native who is just as much a part of the nightlife as the many lights that surround him. Standing in the heart of the French Quarter, I could hardly believe that I was there. Only 48 hours ago I was safely tucked in my bed ignorant of all the culture and customs that are on the verge of extinction due to lack of help and funding. Here I was experiencing Creole culture first hand for the very first time. That weird man dressed in all gold yelling all types of cajolery is but one of many people who I encountered during my stay in Louisiana.
               "A meeting for New Orleans will be after school promptly at 3:30. All who are interested in going should attend." When I heard that announcement during 6th period about English High's service trip to New Orleans, I was ecstatic. At the time (my junior year), I didn't really know much about service trips. I figured I'd just go to New Orleans, have some fun, and return home with lots of pictures, memories, and of course, souvenirs. At the meeting, they explained to us that we would be there to help the citizens of St. Bernard Parish in New Orleans. They also explained to us that we would be working with Habitat for Humanity constructing houses for people whose lives were dramatically affected by Hurricane Katrina. It was then and there that I decided that I would go to New Orleans and give back to my fellow man and stop thinking about myself and trying to get a "cheap vacation." 
             "The trip costs about $1000 per student, however you will be responsible for only paying $350." $350 is a lot of money, but I knew that it would be worth it in the long run. I have never been so excited about spending $350 in my life. The best part about it was that it was not for a materialistic good such as a phone or a pair of boots, it was completely selfless.   We had a big monetary goal ahead of us so we began fundraising immediately. We ran bake sales, classroom clean-ups, food sales, and we even set up a Valentine's Day secret flower messenger service. We met regularly to discuss our progress in reaching our goal to support each student's trip. We talked about each individual student and how things were going in terms of reaching their fundraising goal. By April we were all known as team N.O.L.A, and met nearly every day.
           Jet lagged and tired we crammed into the vans that would soon transport us from the New Orleans that we only heard about on television to the New Orleans that we would soon have a real connection with.  As we gazed out the windows looking for destruction and peril, a look of confusion washed upon our faces. What we saw was what I imagined Florida to look like. Palm trees and sun galore. As we panned our surroundings quizzically, we asked; what exactly are we here for? We drove for about fifteen more minuets and came into a scene straight from the Brady Bunch.  We could not stop gawking at the beautiful perfectly square-shaped houses that is until they started disappearing and transforming into dingy old shacks. Block after block after block all we saw were run-down apartment buildings and empty abandoned lots. Most of the houses that we encountered were extremely dirty and to our surprise they looked "lived in". There were so many people standing outside of these slums as if they standing proudly outside of the Ritz Carlton. We soon learned that people had moved back in, not because they wanted to but because they had no other choice in the matter. The houses that were standing were in such terrible shape and they all had a weird spray paint looking design on them; we would soon learn the meaning of these marks. There was a circle divided into quadrants; in one quadrant were letters, which stood for the organization that searched the house after the storm. In another quadrant, it had numbers, which stood for how many dead bodies were found in the home. Then in the top right corner there was another number that stood for how many pets were found. In the top left corner there were more numbers, which happened to be the date the house was searched. We rode in silence, amazed at watching the numbers on the doors grow greater, but nothing shocked us more than the big abandoned lots that clearly once held booming businesses such as Wal-Mart or Home Depot. Four years after Hurricane Katrina, the city of New Orleans was still in desperate need of help.
          "Are we there yet?" was all we said after riding for about twenty minutes through the destruction. Our eyes were glued to the window as we pulled up to Camp Hope, our temporary home for the next week. During that week we worked on two projects: one was called a "hold-and-mold," which consisted of stripping down a home, wiping it with a solution so that the mold infestation dies, and then repainting it. The "hold" part of the title means there isn't enough funding to finish it. This project that seemed so simple took us roughly three days. The second project involved working on the actual foundation of a house. This project allowed us to work very closely with Habitat for Humanity and their experienced volunteers. The house we worked on was part of a community, built just for New Orleans musicians, called Musicians Village. The village was created to help Creole musicians who had been left homeless from Hurricane Katrina. Though beads of sweat fell from our face while we worked under the harsh rays of the sun, no one complained. We kept picturing the expressions of the grateful worthy people that we were helping.
        The Greeks believe that the name Katrina means Pure Maiden. When I was down there I thought how can something so "Pure" destroy so many lives, hopes, and dreams? Traveling to New Orleans made me realize how important it is to look out for one another as human beings. Being down there truly changed me as a person. I felt a sense of responsibility that I had never experienced before. It was both enjoyable and rewarding for me and the people I helped. I have never shaken so many hands and received so many thank-yous in my life. Even till this very day I meet people from New Orleans in Boston and they extend their gratitude, which is only one of the reasons I've decided to go back next year with my school. When I think back on my experience in Louisiana, one quote comes to mind: "Never doubt that a small, group of thoughtful, committed citizens can change the world. Indeed, it is the only thing that ever has."- Margaret Mead
Dear Reader: This page may contain affiliate links which may earn a commission if you click through and make a purchase. Our independent journalism is not influenced by any advertiser or commercial initiative unless it is clearly marked as sponsored content. As travel products change, please be sure to reconfirm all details and stay up to date with current events to ensure a safe and successful trip.
---