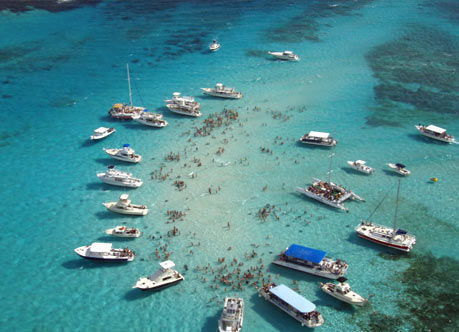 Ever since I was young I loved to go places. It didn't matter where I went. If it was just a trip to the store with mom then I was happy. I just hated staying home. I really wanted to travel and I've been to many places like Orlando, West Palm Beach, Juno Beach, Fort Lauderdale and the Florida Keys which were extremely fun and so was Georgia and New York. These places were lots of fun and had so much to see. The beach is probably my favorite place to be. So therefore, no trip can beat the time that I visited the Cayman Islands.  My dad was on a business trip there and was already there for 6 months. After half a year of his help, they wanted him to stay longer and he said he would if the company flew his wife and kids out for 2 weeks. They agreed and we got to come visit our dad and a beautiful island.
It was May 20, 2005 around 2:00 PM when I walked off the plane into the Cayman Airport. I ran outside and took a deep breath. It was the first time I've ever been out of the United States.  I was ready to run to the beach. As I unpacked my mom tells me that the beach in front of our apartment is called the 7 Mile Beach.  As soon as everyone was unpacked we walked over to the beach and it was beautiful. The sand was blinding white and amazingly soft. The water was clear, light blue and so gorgeous. It was ten times better than Florida beaches.  I was only there for five minutes and I was sure that I never wanted to leave. It was the best feeling ever. I fell in love with the clear blue skies, a striking beach and amazing weather.
            After a couple days of relaxing at the beach, my family and I started to get into some of the activities that were around. For example, we went snorkeling in a place called Smith's Cave. There was a countless amount of colorful tropical fishes and we even saw a barracuda. The predatory sea fish was long and harmless but that's only because we did not go near it. We just glanced at it through our goggles and moved on. We didn't want to threaten or scare it in anyway. Next, we went on a boat trip and it took us out to the sandbar. The sandbar was up to my waist and the water was wonderfully clear. The sandbar was called Stingray City, which the ultimate unique experience of touching and feeding a Stingray, together with snorkeling amongst magnificent coral reefs and colorful tropical fish. A Stingray City snorkel trip in Grand Cayman will definitely be the highlight of your vacation.  In this intimidating but fun area, you are surrounded by more than two dozen "tamed" Atlantic Southern Stingray's that love being around humans. These Stingray swim freely with humans in three feet of water at the shallow Sandbar area. This was my favorite part of the trip.
This was my favorite travel experience and the best time of my whole life. I've never had so much fun and have never been so relaxed at the same time. Being with my family in the most beautiful place ever was the time of my life. If I could go back into time, I would replay these two weeks over and over again. Family is the most important thing in life and you should cherish every moment.
Dear Reader: This page may contain affiliate links which may earn a commission if you click through and make a purchase. Our independent journalism is not influenced by any advertiser or commercial initiative unless it is clearly marked as sponsored content. As travel products change, please be sure to reconfirm all details and stay up to date with current events to ensure a safe and successful trip.
---