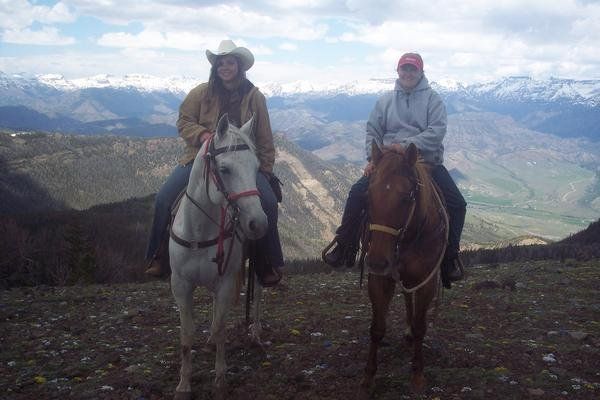 In a song titled Wide Open Spaces by The Dixie Chicks it says "…a young girl's dream no longer hollow, it takes the shape of a place out west…" This song created a new theme for my life in the summer of 2008. It was a time and a place that will always remain as a paramount event in my life. It was a place where there are friendly people, breathtaking landscapes and dreams that run as wild as the mustangs do…a place called Cody, Wyoming.
â–º Quarter Finalist 2011 Teen Travel Writing Scholarship
It all started on Sunday, the fifteenth of June. That morning we departed on that humid day from Charlotte, North Carolina. We were on a journey to a place that held in store for me nothing that I had ever fathomed.
When my grandmother and I boarded the plane that Sunday, I was feeling guilty for not being at church. I believed my extreme phobia of flying was God's way of punishing me for that absence. Exiting the plane in Cody, I was already mesmerized by the beauty that surrounded me. The drive down the highway revealed sights only an artist could paint: majestic rocky and snowy mountains as well as desert scenery and the biggest blue sky imaginable.
After we arrived at Rimrock Ranch and began exploring, we passed a full corral of horses where one grey Arabian elected to approach me. Ironically, that same grey horse, named Buck, was assigned to me the next morning.
As we started out on an all-day horseback ride, it was warm enough to wear a t-shirt; but as we climbed the mountain, we ended up bundled up in thick jackets. The crisp air was so comfortable compared to the humidity back home. The smell of sagebrush was remarkably refreshing; I can still imagine it's fragrance that helped me sleep those cool nights along with the trickling creek behind our cabin. The incredible view on top of Table Mountain was the most exuberating moment of my life. We were level with the clouds, with pebbles and flowers covering the small area our horses were standing upon. It felt as if we were on top of the world; however, one misjudgment of step and we would fall down the steep mountain.
The trail ride across Table Mountain was the best memory of my western experience; however, there was one thing that became equal in comparison. While becoming close to the wranglers and staff, they found me mature enough as a person and rider to help them herd Rimrock's horses at dawn and sunset that week. The first evening at the ranch when we saw the horses being herded, I immediately wanted to be a part of wrangling. It was like watching wild horses on a movie screen running free, but now tangible. I stood awestruck as tears fell from my eyes as the magnificent horses appeared seemingly close enough to touch. Seeing them run somehow gave me a new sense of freedom and hope.
There was nothing like becoming one with a spirited horse under the Wyoming sky. I could yell, because no one could hear me but the horses. I could have chosen to not fence in land, because land was so large horses would never reach the outside boundaries. I could wear my boots and cowboy hat, because there I wasn't out of place.
Wyoming made a difference to me because it never failed to offer me something new. Rimrock was the trip of a lifetime. It reminded me of the person I am, gave me peace, and a dream. Wyoming became my heart's home.
Dear Reader: This page may contain affiliate links which may earn a commission if you click through and make a purchase. Our independent journalism is not influenced by any advertiser or commercial initiative unless it is clearly marked as sponsored content. As travel products change, please be sure to reconfirm all details and stay up to date with current events to ensure a safe and successful trip.
---