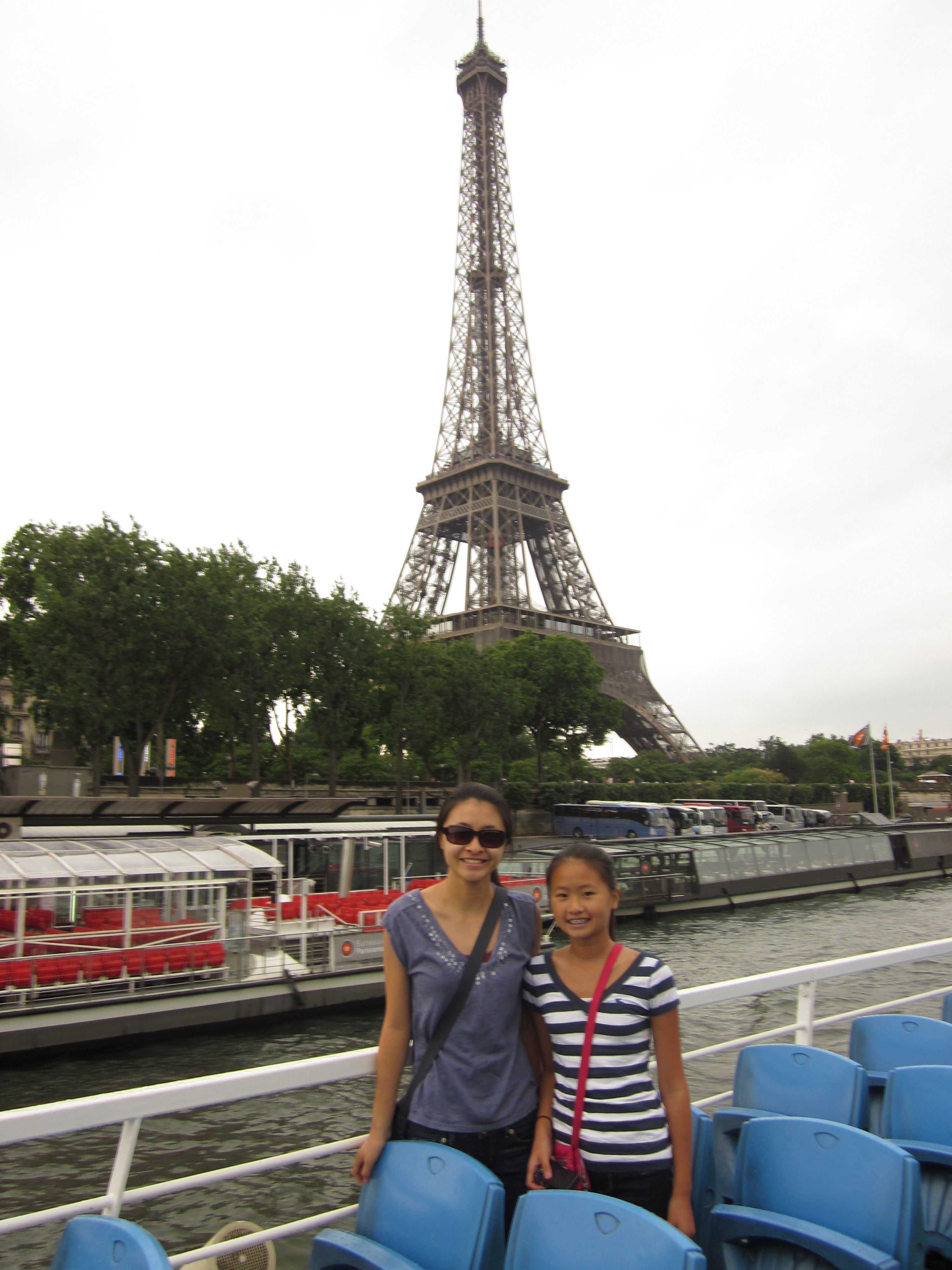 I have had the privilege to travel to many places with my family, such as Mexico, the Carribean, Alaska, Canada, and Taiwan. My whole life, my parents had talked about visiting Europe some day when my sister and I got older, so on my sixteenth birthday last year, I was estatic when my parents revealed that we would be going to Paris. It was a new experience for all of us; since my mom wouldn't be going on this trip, my dad and I had to do all the planning, which meant that this was the first time I was given a say into every detail of the trip, from the restaurants we would eat at to which monuments we would see.
Finally, July 12 came around, and at 2 am, we left the house in our gray minivan. When we arrived at the Charles de Gaule Airport in France, I was overwhelmed. I hadn't actually planned out where we would go after we got off the plane, and French airports were completely foreign to me. I found ourselves being pushed along with the general direction of the crowd, as we tried to blend in and pretend that we knew where we were going. Insecurities started to flash through my mind; I had read about scammers in airports who tried to trick flustered and unknowing American tourists, so I tried to look as cool and collective as I possibly could. Luckily, my dad spotted an Tourist Information Desk and we got general directions to get to our hotel.
I was ushered into the first available train by a man who asked in a heavy French accent, "Paris?" and gave me a reassuring grin when I nodded my head "yes." And then we were off; at some stops, beggars came onto the train and prodded us for money. I was taken aback, but I tried not to show it and only stared ahead.
We stayed in the 12eme arrondisement, in a small hotel called Hotel Magenta. Our room was very charming–small, clean, and fairly modern. During our stay, we took the trains to the heart of Paris, visiting the Louvre, Eiffel Tower, Jardin de Luxembourg, Arc de Triomphe, Notre Dame, Musee d'Orsay, and Palace de Versailles. We took a river boat tour on the River Seine, which essentially connects all the major monuments in Paris. And at night, we took an elevator ride to the top of the Eiffel Tower and descended in a swirl of twinkling lights, as it lighted up for a 5 minute show.
My time in Paris was unforgettable. I got a chance to practice my French (thank goodness I took French at school for 10 years so I was able to communicate fairly well) and bought train tickets (or billets), ordered food in restaurants, and interpreted signs. The culture of the Parisians is so unique. They are truly gracious, if you make the effort to speak just the slightest bit of French; they eat outdoors, near the sidewalks and indulge in people-watching; and their life can be incredibly fast-paced.
I was forced to take on more of a leadership role this trip because of the language barrier my dad faced as well as having only one parent with me. As a result, I felt myself mature incredily. I was in charge of making the itinerary, figuring out the maps, and getting us to our destinations. My trip to Paris was a whole new experience for me on so many different levels, as a I learned a great deal about myself and Parisian culture.
Dear Reader: This page may contain affiliate links which may earn a commission if you click through and make a purchase. Our independent journalism is not influenced by any advertiser or commercial initiative unless it is clearly marked as sponsored content. As travel products change, please be sure to reconfirm all details and stay up to date with current events to ensure a safe and successful trip.
---