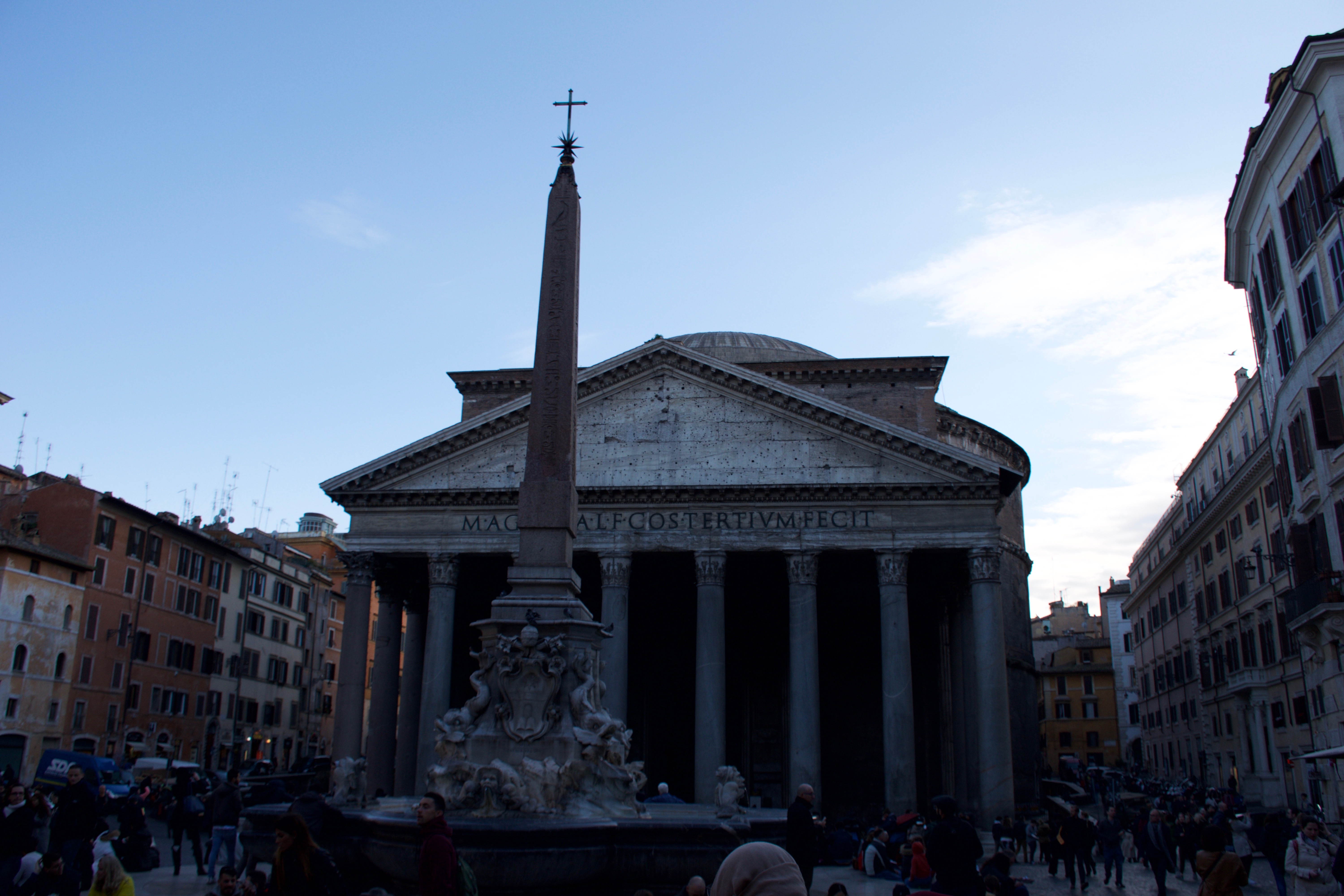 Walking out of the cafe I see an elderly artist painting in the corner. I remember seeing this artist only two days ago in Babington's Tea Room; another cafe with a rich history, found at the base of the renowned Spanish Steps. I had seen him painting there in a similar fashion, and went over to speak to him before I left. He had grabbed my pullover and subsequently pointed at his painting, indicating that I had been part of his illustration. Moving his painting palette and brushes aside, the aging man leafed through his various paintings showing me his other works. Before exiting the establishment, the man announced "Caffè Greco, Caffè Greco!" pointing west across Piazza di Spagna.
There I was two days later, finding my way down bustling Via dei Condotti towards the famed establishment of Antico Caffè Greco. I duck into the café, eluding the drizzle outside. Once seated, I flip to the last page of the menu, which tells the history of the café. Here I learn how "it's tables played host to the most eminent painters, sculptors, musicians, and literati of the age who flocked there from across Europe," for convivial sharing amongst the élite. I imagine how Caffè Greco habitué Johann Wolfgang von Goethe spent countless days in the same café 238 years ago. A waiter in an elegant suit walks by briskly, snapping me back to reality. Casanova and Goethe disappear from the neighbouring tables, replaced by groups of tourists instead. To my left sit a man and a woman speaking Russian silently. In front of me there are a cluster of Portuguese people, their ripples of laughter filling the air, slapping their knees every other minute. The group is composed of five relatively young women and two bearded men. I shyly shift my gaze quickly as one of the men catches me looking. The sun has now set as the soft spoken Russians prepare to leave after spending only a short period of time in the café. Turning my focus back, I look around and see the antiquated paintings, photographs, and sculptures that furnish the walls. I am distracted again as half of the group of the Portuguese stand up, pushing the tables back to exit their booth. The constant flow of people rushing in and out of the café doesn't seem to cease, as a group of three Asian men install themselves in the place where the Russians had been.
Finally, it is my time to go after spending nearly two hours here. My mind is at peace as I slowly make my way out of the café. I see the old Italian artist before exiting, and take a detour to walk towards him instead, curious to see if he remembers me from the tea room two days earlier. He lowers his brush stained with acrylic paint as I approach. He greets me with a warm smile and exclaims "Babington's!" in his rich Italian accent, referring to our encounter two days ago. Sitting down, I show him my sketches I had drawn in the café to which he compliments. We attempt to hold a conversation despite his broken English and my complete lack of knowledge of Italian. I hold back a smile as I shake his hand and stand up. I leave Antico Caffè Greco with a grin on my face, bracing for the cold outside. The Italian artist remains in the café, taking his time to let the paint brush dance across the canvas like a graceful ballerina performing a pirouette over a wooden floor.
Dear Reader: This page may contain affiliate links which may earn a commission if you click through and make a purchase. Our independent journalism is not influenced by any advertiser or commercial initiative unless it is clearly marked as sponsored content. As travel products change, please be sure to reconfirm all details and stay up to date with current events to ensure a safe and successful trip.
---